Pergola / Arbor Pictures & Design Ideas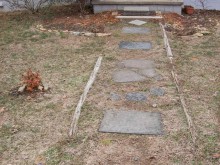 We see quite a few yards in need of a makeover here at YardShare, and this one is probably in the top 10. Owner George Graf describes his yard as downright ďscaryĒ. Itís littered with rotting wood and broken stone....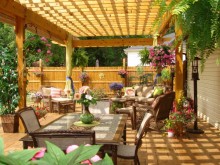 A pergola is more than four posts and a roof. This ďhardscapingĒ feature only works if itís done right. Here are tips to keep in mind when you are constructing yours......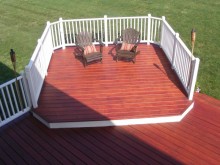 For easily-accessible outdoor entertainment space, itís hard to beat a deck. As a rule, decks typically feel more like a part of the house than a part of the garden. But if you have a deck, thereís probably no better vantage point from which to view your gardenÖ and there may be no part of your outd...
Concrete. Itís cold, itís grey, itís boring. Hold onto those suppositions for just a moment. Itís been calculated that concrete is the second-most-consumed substance on earth, behind only water. Or think about it this way: there is almost one ton of concrete produced for every single human on the ...
So youíve decided to take the plunge and create your own outdoor kitchen? Good for you. Letís face it, wheeling out that dusty grill every time you want to fire up some dogs and burgers is pretty lame. Permanent, built-in structures dedicated to outdoor cooking are all the rage, and itís not a fa...
One of the main reasons a lot of us do not spend more time outside is the heat. No matter how great your yard is, who wants to go hang out and get battered by the blazing hot sun? Shade is a necessity for any landscape thatís meant to be enjoyed. In fact, Iíd be willing to bet that thereís a part...