Pool Pictures & Design Ideas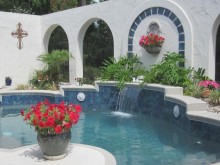 "Oasis", "tropical resort", "paradise" - pool owners tend to get a little carried away in describing their backyard. But some folks really do manage to create a poolside Shangri-La. How do they do it?...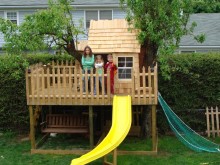 I grew up next door to a vacant lot. On any given weekend, it was a football/kickball/wiffle ball field, home to dawn-to-dusk "capture the flag" marathons, a BMX test track, an obstacle course, hide-and-seek homebase, or the site of our neighborhood Olympics. Maybe vacant lots are just rare these da...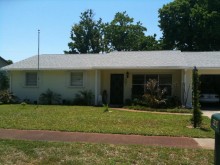 Brenda shared a single shot of her South Daytona front yard with a simple (and politely worded) request: "Make Me Pretty, Please." Okay, Brenda, let's give it a whirl. First, a look at the yard......
Ah, the trees. They bud out to let us know spring is coming, they shade us in the summer, they put on their own little fireworks show in fall, and even when they're bare, they provide interest and structure in the dead of winter. But not all of us are blessed with tall mature trees in the landscap...
So you're making some changes in your yard. What's on your wish list? If you're like most, "adding color" is a biggie. And if you're like most, this is along the lines of what you have in mind......
Concrete. It's cold, it's grey, it's boring. Hold onto those suppositions for just a moment. It's been calculated that concrete is the second-most-consumed substance on earth, behind only water. Or think about it this way: there is almost one ton of concrete produced for every single human on the ...
Letting your landscape creativity run wild is easy when you have a sprawling piece of property to work with: a big, blank canvas ready and waiting for whatever your imagination dreams up. But what about when space is at a real premium, as in: you don't have any? If your "yard" is a high-rise balco...
In the Biblical story of creation, water shows up on the universe's very first to-do list on, like, the third day. So why is it that so many backyard landscapers forget to include it entirely?...
There may not be a landscape feature that allows for more wild creativity, extreme customization, and personal expression than a swimming pool. It used to be that the only pools you saw were either above-ground circles or in-ground rectangles. There might have been a diving board or a big plastic ...
Unfortunately, many of us don't think about "lighting" in our landscapes except for the month of December, when we drape a few measly strings of half-twinkling bulbs over our evergreens or, at the other extreme, fire up an animatronic-reindeer display that would put Clark Griswold to shame. But you...
Drainage is a huge consideration when it comes to almost any landscaping project. One professional landscaper I know has told me that drainage is far and away the top item that he fields calls about. Seems like everyone thinks they have some sort of drainage problem… but do they really?...
Have you ever walked into a backyard and paused because the landscaping is so uniquely breathtaking? It's like viewing a painting that grabs your attention and pulls you in. When a landscape is in harmony with the house and region, it can look like no other landscape design could ever fit in that s...