Outdoor Kitchen Pictures & Design Ideas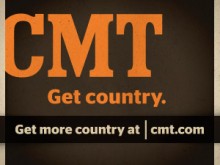 Ever watched one of those reality landscaping shows and thought, "My yard is waaaay better than their yard."? Here is your chance to prove it! Country Music Television is looking for homeowners with fantastic, fun, creative yards in America for the new series Lawn Wars....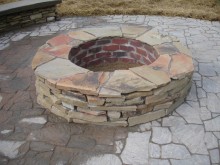 The caveman instinct within us comes alive when we cuddle up to an outdoor fire. That need for warmth, a way to cook our food and a hot blaze to light up the night. It's a comfort that we all instinctively crave....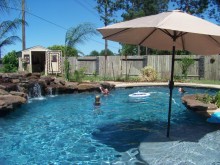 With summer fast approaching, your teenagers will soon be out of school. This time of year, teens need a place to gather that's safe and fun. Why not make it your back yard? If you make your yard inviting enough, yours can be the "cool" house where all the neighborhood teens gather. ...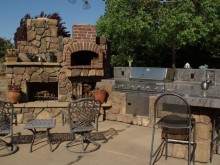 One of the most pleasant aspects of having an outdoor kitchen is being able to spend time in the fresh air. On cool days, it's also nice to have the sun shining down on you. But most people want some shade over their cooking area to help beat the heat during the prime BBQ season of summer....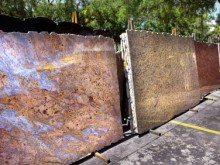 In many landscapes, the outdoor kitchen is the focal point, the centerpiece, the crowning touch of a painstakingly-designed and highly-anticipated entertainment space. And sometimes, it needs just that little extra something to make it really pop. More and more grilling stations and exterior bars ar...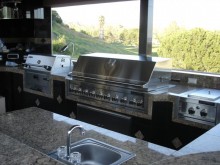 "Ah, spring. When a YardShare member's fancy turns to thoughts of grilling." (With sincere apologies to Alfred Lord Tennyson.) Nothing stokes a case of spring fever like a column of fragrant smoke wafting over the fence from your neighbor's BBQ. If this is the year you're planning up to upgrade your...
In our last article on outdoor kitchen construction, we explored the ins and outs of framing a BBQ island. Whether you opt for concrete block or steel studs for your island's inner framework, the outer skin that you use to cover that skeleton is what makes the difference in your finished landscape. ...
Anyone who has ever contemplated constructing their own outdoor kitchen knows there is a long list of ingredients to consider. But while it's easy to get caught up in the fun decisions like grill size, bun warmers, and beer taps, there's a fundamental issue that has to be dealt with first: How will...
For most of us, our landscapes say a lot about who we are and what's important to us. You can spot the yard of an avid gardener from a mile away. That backyard vegetable garden probably belongs to someone who's concerned about where his family's food is coming from. Take a look at this personal w...
Unfortunately, many of us don't think about "lighting" in our landscapes except for the month of December, when we drape a few measly strings of half-twinkling bulbs over our evergreens or, at the other extreme, fire up an animatronic-reindeer display that would put Clark Griswold to shame. But you...
So you've decided to take the plunge and create your own outdoor kitchen? Good for you. Let's face it, wheeling out that dusty grill every time you want to fire up some dogs and burgers is pretty lame. Permanent, built-in structures dedicated to outdoor cooking are all the rage, and it's not a fa...