Pond Pictures & Design Ideas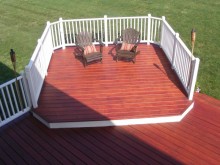 For easily-accessible outdoor entertainment space, it's hard to beat a deck. As a rule, decks typically feel more like a part of the house than a part of the garden. But if you have a deck, there's probably no better vantage point from which to view your garden… and there may be no part of your outd...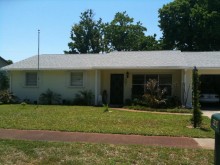 Brenda shared a single shot of her South Daytona front yard with a simple (and politely worded) request: "Make Me Pretty, Please." Okay, Brenda, let's give it a whirl. First, a look at the yard......
There's nothing quite like a pond in the landscape. Gorgeous focal feature, destination spot, miniature ecosystem of aquatic plants and animals. Lucky for DIYers, it's also relatively easy to pull off. If you're pondering a pond for your garden, take a quick peek at how some of your fellow YardShare...
There is no commodity more precious to us yard lovers than water. But with many areas around the country experiencing severe drought conditions in recent years, professional landscapers and backyard gardeners alike have had to find ways to make the absolute most out of every drop....
Searching for unique ideas on what to do with that small, secluded corner of your yard? Look to the East. Asian-themed gardens are prized for their simplicity, their meditative peacefulness, their effortless flow, and their exquisite balance of traditional elements. While designing a true Japanes...
In the Biblical story of creation, water shows up on the universe's very first to-do list on, like, the third day. So why is it that so many backyard landscapers forget to include it entirely?...
What Makes a Garden Organic? - An organic garden is one in which you do not use synthetic products on the plants or soil. Synthetic products include things such as pesticides and fertilizers. Essentially, an organic garden is designed to replenish the resources it uses....
A lot of us look at our gorgeously-planted and perfectly-manicured yards and think, I could just about live out here.; Well, for many wild animals, your landscape really is their home. And inviting the local wildlife to hang out and share our outdoor spaces is just another way to get a lot of enjo...
My daughter came home from kindergarten announcing that we needed a vegetable garden. The class had dropped a few seeds in some plastic cups and set them on the windowsill. A few days later, I'd been recruited to become Farmer Brown....
Some of us create our outdoor spaces to suit our needs for a private sanctuary. While others, like myself, design our yards specifically for entertaining. If you entertain often, you might keep this in mind while constructing your yard or making improvements. ...