"Ah, spring. When a YardShare member's fancy turns to thoughts of grilling." (With sincere apologies to Alfred Lord Tennyson.) Nothing stokes a case of spring fever like a column of fragrant smoke wafting over the fence from your neighbor's BBQ. If this is the year you're planning up to upgrade your grill, you've got plenty to think about.
For many modern outdoor kitchens, a big built-in stainless steel gas grill dropped into a cooking island is the standard. It's a clean and classic look that fits in just about any landscape. Nadia from CA shows us a great example: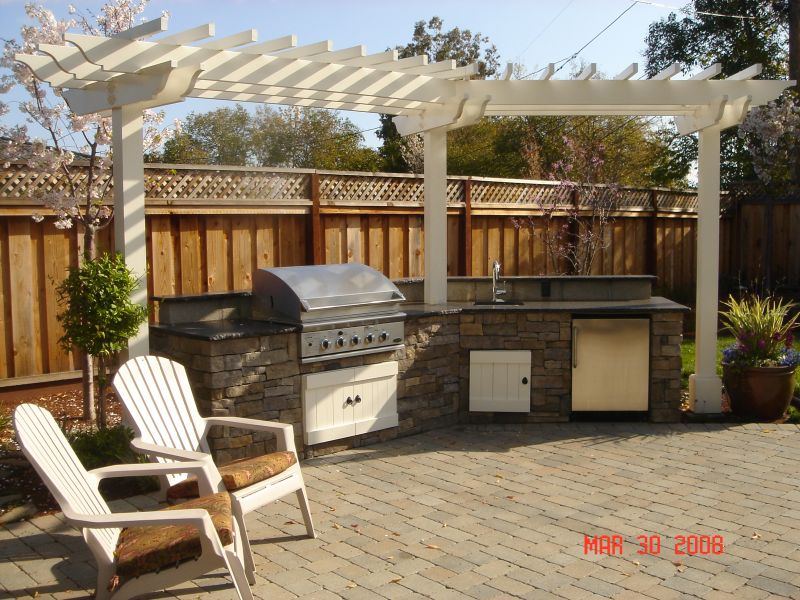 Of course, sometimes the landscape plan calls for a smallish kitchen setup. No problem; there's a grill for that. Check out DrDave's in Escondido, CA: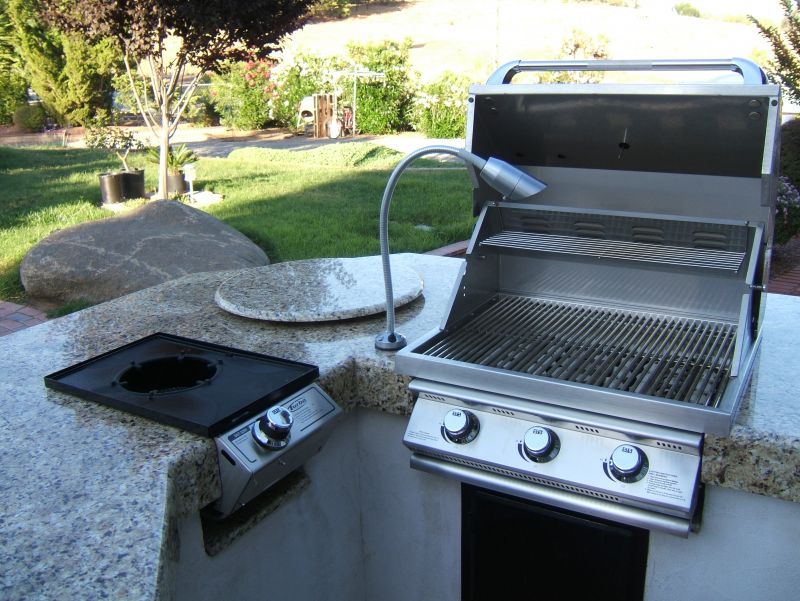 But, hey if you have the space, why not go super-sized? Looks like myakinsass is ready for a serious backyard barbecue in CA. Holy cow! No, really, you could grill an entire cow on this thing: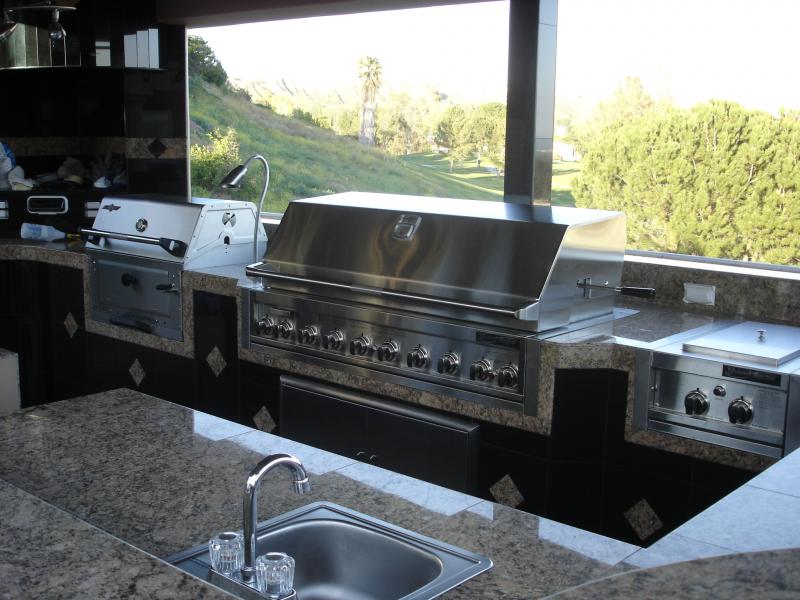 Shopping for stainless? Know that there are different grades of stainless steel, and it's sometimes tough to tell the high-quality stuff from a grill you'll have to replace in a few years. Bring a refrigerator magnet with you to the store; if it sticks to the grill you're considering, it's probably cheap stainless steel. Keep shopping.
Keep an eye out for accessories. Lots of grills (built-in and portable) feature side propane burners. Sounds great, right? You can do side dishes! You can heat up your sauces! Truth is, though, grill side burners are usually slower to heat than indoor ranges, and more often than not, they can't burn hot enough to keep side sauces at a nice, gentle simmer. You might be better off saving that cash for an accessory you'll actually get more use out of… like a rotisserie. It's the ideal add-on for large cuts of meat like roasts or whole birds. (Caution: once you grill a Thanksgiving Day turkey, you'll never go back.)
Infrared is a hot word in grills these days. On some grills, there's an infrared setting; Some grills use this technology exclusively. An infrared grill uses gas to superheat a ceramic tile, directly cooking the food with the radiation that's generated. With temps that can reach over 900 degrees, infrared grilling is way fast and produces an amazing sear on steaks and such. (Fans even claim it leaves the meat juicier than other grilling styles.)
Not every built-in grill has to be gas. Even charcoal aficionados can have the full-blown outdoor kitchen experience, as Todd Brock shows in his Marietta, GA yard. Be aware, though, that a charcoal grill like Todd's needs airflow to the firebox. Apart from the vents built into the grill itself, air intake ports must also be built into the island to keep a fire going.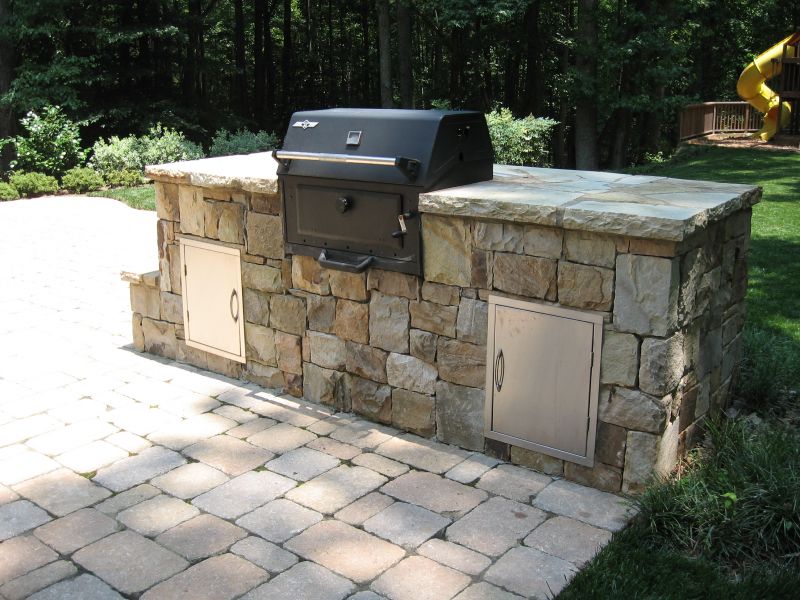 Some owners of backyard kitchens have even opted not to have the grill permanently set into the countertop. They simply leave a hole and roll in a portable grill of corresponding size, like missrhonda shows in SC. Now she has the best of both worlds: a tricked-out garden cookspace… with the flexibility to move that grill to another part of the yard at a moment's notice.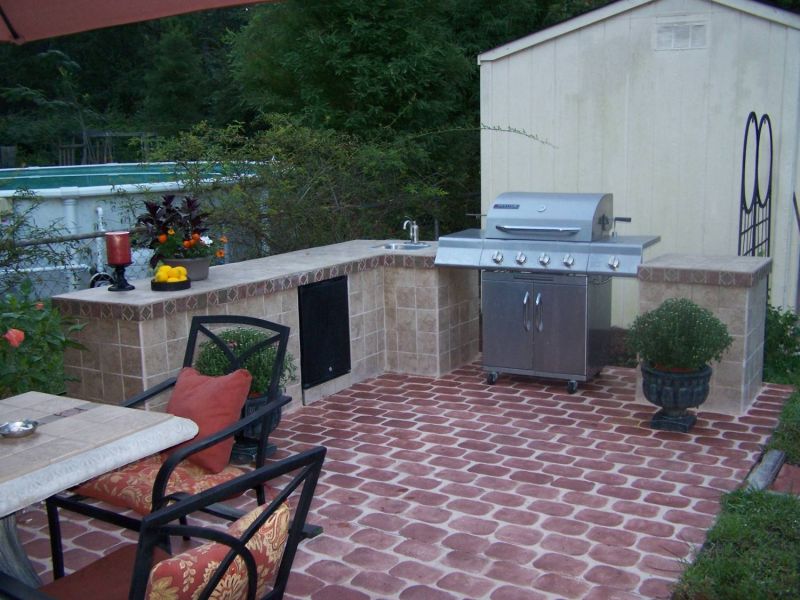 Speaking of portability, think about how far and how often you'll move your wheeled grill. Try giving your top choice grill a test-drive push around the store before you pull the trigger. If you'll have to bring your grill in and out of a garage or storage space- or over uneven terrain, like a paver patio or flagstones- a set of cheap plastic casters may have you cursing with every cookout. A grill with big, easy-rolling wheels will be tougher to find, but may pay off as the grilling season goes on.
Many old-school grillers still swear by their Weber kettle grills, and more than one owner of a fancypants outdoor kitchen keeps a well-worn Weber on stand-by as a backup… or when they just have to have that charcoal taste. It's certainly a cost-effective way to grill, with a basic 22.5-inch kettle selling for under $100. But don't let a modest cooking surface stand in your way; the company now sells a model called the Weber Ranch ($1,000) that's over three feet wide: that's 1,104 square inches of cookspace… on a charcoal kettle grill!
Can you kamado? Lots of BBQ enthusiasts are getting into outdoor cooking on egg-shaped ceramic grills called kamados. Coming from the Japanese word for "steam cooker," these grills use very little charcoal (or sometimes wood pellets) and a small top vent to generate high heat and contain it inside the ceramic egg. They look gorgeous, cook extraordinarily well, and make an awesome conversation piece in your outdoor kitchen.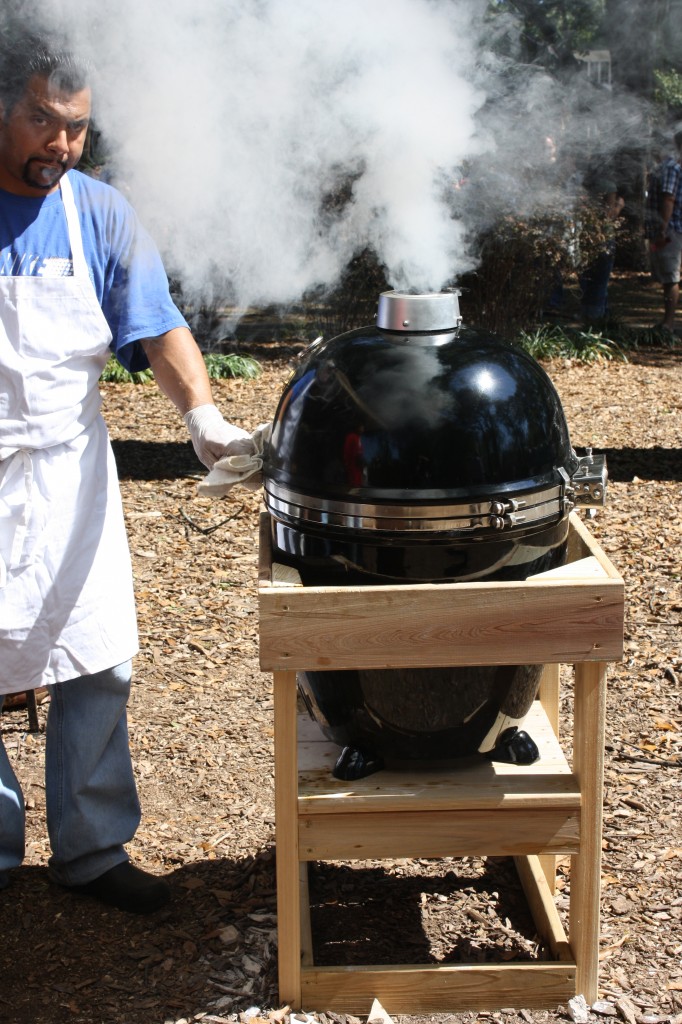 BBQ die-hards will tell you that there's grilling, and then there's smoking. Smoking (like true BBQ joints do) means holding the food for a longer time over a much lower heat, allowing the smoke from the wood-fueled fire to permeate the meat. Smokers, therefore, are different from grills. Take a look at the smoker rig that smash created himself in his CA backyard. For a step-by-step look at how he modified the rig and added a vertical smoking tower, check out all of his pics.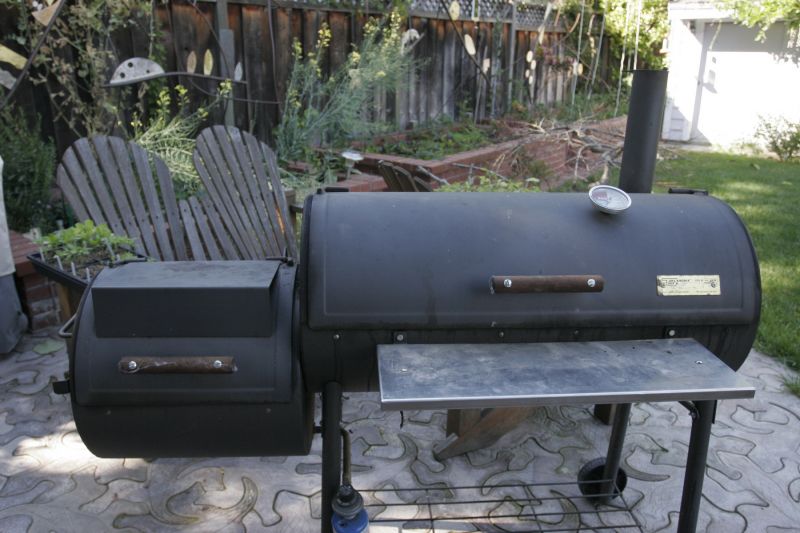 Want to try smoking on your own grill? Charcoal grillers often soak chunks of hickory or mesquite in water and then set them in the burning coals to create smoke. On a gas grill, you can do it by either placing soaked wood chips in a metal smoker box or wrapping them in a "log" of aluminum foil (with holes pierced in it to allow the smoke to escape). You can also buy freestanding smokers called "bullets" or even electric plug-in models.
But you know, for all the shiny toys and all the bells and whistles that come with today's grills, you can get the same results with next to nothing. Need proof? Here's perhaps the ultimate "minimalist" grill, from rem_2007 in Alabama: