Water Feature Pictures & Design Ideas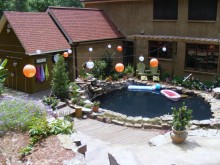 Actually, these homeowners tossed 3 million pennies in their pond to make their landscaping dream come true. Thirty grand isn't a bad price for a water feature of this size and complexity. Here's a blow by blow of the entire landscaping project....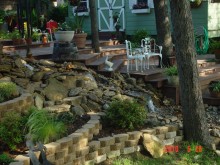 Whether your yard is naturally sloped or if you want to add height as a design ploy, terraces offer a very flexible landscaping solution. They've been used for thousands of years in disciplines ranging from agriculture to architecture. ...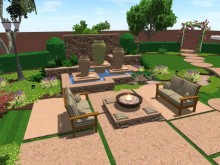 One of the great things about being a YardShare member is that you get to see examples of model yards created by professional yard designers. It is fun working with graph paper and a mechanical pencil to draw up a layout the old fashioned way; but the 3D imaging software the pros use is pretty cool!...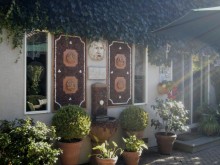 It's rare to find a painting that's sufficiently weather-proof to hang on an exterior wall. So, you've got to find other ways to deck these spaces with art. Metal work is nice, and so are tile murals. But there's nothing like a fountain to add sound and motion to your outdoor décor....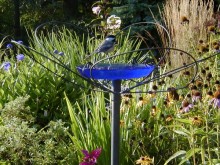 Many people like to share pictures of beautiful art work they have installed in their yards. We love it when they post examples here at YardShare. It gives us ideas for how we can spice up our own lawns or gardens. Lark from Wisconsin shared quite a few original pieces of artwork......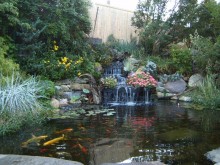 For many homeowners, having a small waterfall that dribbles gently into a pond or pool is enough to satisfy their need to watch the interaction of water and gravity. But for others, that's just not enough drama. Some of us like to make more of a splash. ...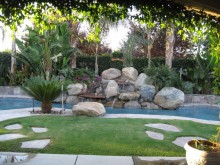 Water lovers around the world agree: even in the smallest yard, there's always room for a pool. Sure, it might seem like Chris Farley's fat guy in a little coat, but you can make it fit! Actually, your pool can look just fine if you pay attention to detail....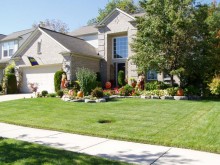 It's pretty common for participants here at YardShare to write in asking for help. Here's an example of a Plain Jane yard posted by Crystal Hebert. The fact that it's not a sloping lawn is actually a good thing from one perspective. ...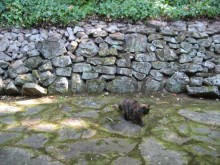 You may keep your favorite pet rock in a shoe box in the closet, but the rest of the mineral family has to make its own way in the cold, hard world outside. That's OK. There are plenty of places in your yard where they can feel right at home. ...
There is no commodity more precious to us yard lovers than water. But with many areas around the country experiencing severe drought conditions in recent years, professional landscapers and backyard gardeners alike have had to find ways to make the absolute most out of every drop....
In the Biblical story of creation, water shows up on the universe's very first to-do list on, like, the third day. So why is it that so many backyard landscapers forget to include it entirely?...
Drainage is a huge consideration when it comes to almost any landscaping project. One professional landscaper I know has told me that drainage is far and away the top item that he fields calls about. Seems like everyone thinks they have some sort of drainage problem… but do they really?...