Native Garden Pictures & Design Ideas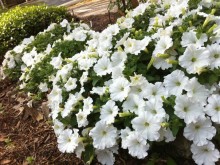 There are just too many flowers that help other plants – companion plants, we call them. Either that, or these columns are too short. In any case, I find myself compelled to write about some more helpful flowers that are wonderful companions to their friends....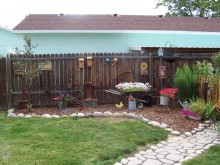 Sometimes you want to do things just for the fun of it. Here are three easy gardens to plant this spring and enjoy all summer long. Do this just for the child inside you—or, for the one—or ones—beside you....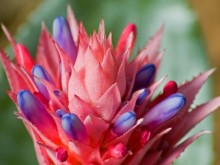 All they need is the air they breathe, bright light—but no direct sun—and a bath two to three times a week. Do not add soil; they'll just hang out wherever you plop them down and in whatever container you plop them in....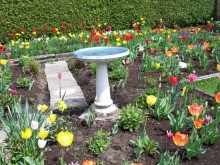 Whether considering a small space or a complete yard make-over, you'll need to assess and analyze the area—or areas—of your landscape that you are wanting to enhance or in which you're going to create a new garden....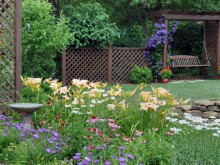 What with global warming and climate change and maybe full moons, it really seems as if drought is more widespread than it used to be. If you want to tread softly on the earth, you may be interested in using more drought-resistant plants in your landscaping....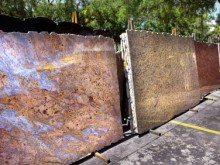 In many landscapes, the outdoor kitchen is the focal point, the centerpiece, the crowning touch of a painstakingly-designed and highly-anticipated entertainment space. And sometimes, it needs just that little extra something to make it really pop. More and more grilling stations and exterior bars ar...
While over a thousand YardShare members have used this site to proudly post photos of their own landscape transformations in the hopes of inspiring others, many folks have come here looking for inspiration of their own. Surf around a while and you'll run across a few yards like the one shown in thi...
Concrete. It's cold, it's grey, it's boring. Hold onto those suppositions for just a moment. It's been calculated that concrete is the second-most-consumed substance on earth, behind only water. Or think about it this way: there is almost one ton of concrete produced for every single human on the ...
A sprawling, lush carpet of thick, green grass is as much a part of the American Dream as white picket fences, cul-de-sacs, and minivans with built-in DVD players. When everything is right, lawns look awesome....
A bed line not only separates the lawn from your flower beds, a well designed bed line gives form to the yard. It shows that thought was put into the beds and landscaping, and that the shrubs weren't planted just anywhere. It's a great way to turn a bare corner of the yard into a beautiful flower be...
Have you ever walked into a backyard and paused because the landscaping is so uniquely breathtaking? It's like viewing a painting that grabs your attention and pulls you in. When a landscape is in harmony with the house and region, it can look like no other landscape design could ever fit in that s...