Lemon Balm (Melissa officinalis) - Perennial
Lemon balm, a member of the mint family, is a hardy perennial that comes back every spring, bringing with it dozens of its offspring. It spreads quickly, so if you have an area in your yard or garden—sun or shade—that you would like a green carpet that grows to about three feet high, plant one or two plants. Or, if you want to keep it in control, contain it in pots. The heart-shaped, golden-green leaves of lemon balm have scalloped edges and give off a pleasant lemon scent when crushed. For culinary uses, pick the leaves just before the flowers open. Young leaves are better; older leaves can be tough and bitter. After blooming, cut the plant back by at least one-half to prevent it from seeding. Lemon balm is often used on its own to make a soothing and relaxing hot tea, but it can also be combined with lemon verbena to make iced tea. Fresh leaves are often added to salads, sauces, stuffing, or mayonnaise, or combined with other herbs in fish, mushroom, chicken, or cheese dishes. Lemon balm is good in fruit salads and in many vegetable dishes. Lemon balm is a mild sedative, and as a tea, it can help in promoting sleep and reducing stress. Make the tea from the dried herb by steeping 1 teaspoon of lemon balm per 1 cup of boiling water. Cover the tea while steeping to prevent the medicinal components from being carried away with the steam. After 10 minutes, strain the lemon balm leaves from the herbal tea before drinking. You can also make lemon balm tea from the fresh herb by steeping 1 1/2 tablespoons of lemon balm per 1 cup of boiling water. There is no benefit to using the dried over the fresh herb, but when your plant is growing during spring and summer, cut some stems for drying and enjoy this lemony herb all winter long.
Lemon Balm Pesto
2 cups fresh lemon balm
1/2 cup extra-virgin olive oil
3 or 4 cloves garlic
Blend all ingredients together in a food processor until chunky—don't over-blend. Use this pesto to baste broiled or grilled fish or chicken, or serve it as traditional pesto over pasta. Makes about 2 cups
Cheesecake with Lemon Balm
Pastry:
1 cup flour
4 Tbsp. butter or margarine
Pinch of salt
Filling:
4 Tbsp. butter or margarine
2 Tbsp. honey
12 oz. cream cheese
2 eggs, beaten
6 Tbsp. lemon balm, minced
Preheat oven to 400 degrees. To make the pastry, sift the flour and salt into a medium bowl. Cut in butter until the mixture resembles fine breadcrumbs. Add enough water to make a soft dough. Roll the dough out to line a 7-inch quiche dish. Bake unfilled for 15 minutes. For the filling, beat the margarine, honey, and cream cheese together in a bowl until soft and creamy. Beat in eggs and fold in the minced lemon balm. Reduce oven temperature to 350 degrees. Pour filling into baked pastry shell. Bake for 45 minutes or until the filling is golden and set, but not cracked. Chill before serving with whipped cream or cover with a thin layer of sour cream. Makes 6 servings.
Lemongrass (Cymbopogon citratus) - Tender perennial above zone 9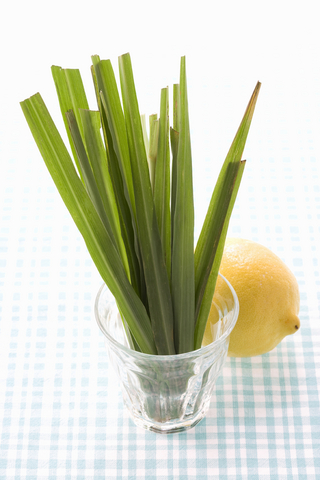 Lemongrass, with its slender, reed-like green blades, looks good in the garden. It's a tender perennial, so in cold climates, plant it in pots for overwintering inside. It is often used in Caribbean, Asian and Thai dishes. The clean, citrus flavor of this herb goes well with garlic, cilantro and chilies. You can use both the stalks and blades for cooking. The drying process causes lemongrass to lose a lot of its essential oils—flavor—so it's best to use the plant parts fresh or frozen. You can freeze both the stalks and blades or keep them in the refrigerator for up to three weeks. The tough, outer leaves are good for adding a citrusy flavor to soups and stews. As with bay leaf, be sure to remove them before serving. Add minced tender leaves, including the white bulb, to stuffing, salads, or stir-fries.
Lemon Grass Sesame Chicken with Snow Peas
3 stalks fresh lemon grass, sliced
1 1/2 inch piece fresh ginger root, peeled and diced
3/4 cup coconut milk
1 Tbsp. soy sauce
1 lb. boneless chicken breasts, sliced 1/4" thick
2 Tbsp. sesame seeds
1/2 Tbsp. canola oil
1 clove garlic, minced
1 1/2 Tbsp. canola oil
3 carrots, peeled and cut into 2" matchsticks
2 green onions, sliced (about 1/4 cup)
1 small head Chinese cabbage thinly sliced (about 4 to 5 cups)
1/2 lb. fresh snow peas, strings removed
8 oz. cooked bean threads
In a blender or food processor, combine lemon grass, ginger root, coconut milk and soy sauce; blend until smooth, then set aside. Toss sliced chicken with sesame seeds in a medium bowl; set aside. In a large skillet or wok, heat 1/2 Tbs. oil to medium-high. Cook sesame-coated chicken and garlic until chicken is no longer pink—about 5 minutes. Remove chicken from skillet and set aside. Heat remaining 1 1/2 Tbs. oil in skillet to medium-high. Add carrots and green onions and stir fry for 3 minutes. Stir in Chinese cabbage and cook for 2 to 3 minutes more. Add snow peas and stir fry about 1 to 2 minutes. Stir in lemon grass sauce and cook until heated through; about 1 to 2 minutes more. Serve on a bed of cooked bean threads or steamed white rice. Makes 4 servings.
Lemon Thyme (Thymus x citriodorus) - Perennial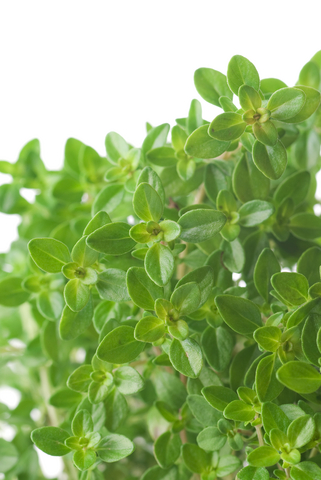 Lemon thyme is a low-growing evergreen shrub with a spreading mound of tiny, fragrant leaves that is an attractive addition to an herb garden, rock garden, or border. It also makes a good container plant, either alone in a small pot or mixed with other herbs in a larger pot, and it is useful as a groundcover as well. This lemon-flavored herb is best used fresh rather than dried. Harvest leaves throughout the growing season, and cut the plant back by about one-third after it blooms to encourage new growth. Lemon thyme is often added to steamed vegetables, poultry, fish and seafood. It's also terrific in marinades, stews, soups, sauces, and stuffing. Fresh sprigs may be used as a garnish. Chop lemon thyme just before using and add it at the end of cooking, as it quickly loses flavor and can discolor.
Lemon Herb Cheese Dip
12 servings
8 oz. cottage cheese
3 oz. pkg. cream cheese, softened
1 Tbsp. chopped fresh parsley (1 tsp. dried)
1 ½ Tbsp. chopped fresh chives (1 ½ tsp. dried)
2 tsp. fresh lemon thyme (2/3 tsp. dried)
2 tsp. chopped fresh lemon balm (2/3 tsp. dried)
Blend cottage cheese, add cream cheese and beat until smooth. Stir in remaining ingredients, cover and refrigerate several hours. Serve with crackers or fresh vegetables.
Lemon-Rosemary Butter
2 sticks butter at room temperature
1 tsp. fresh lemon juice
1 Tbsp. fresh rosemary
1 tsp. fresh lemon thyme or lemon verbena finely chopped Combine ingredients and refrigerate, or wrap well and freeze for later use. Use on muffins, steamed vegetables, and tea breads.
Lemon Verbena (Aloysia citriodora) - Tender perennial above zones 9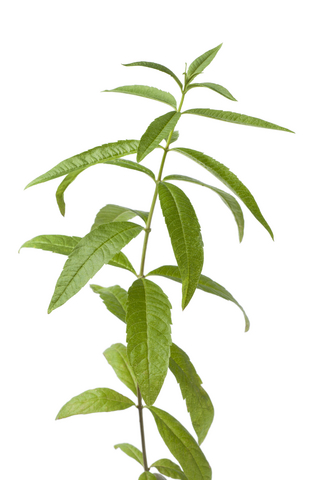 Lemon verbena has the most intense, true lemon scent of all the lemon herbs. Its long, pointed, light green leaves have a bright, lemony fragrance. Lemon verbena is a tender perennial that grows to about three feet high. When overwintering inside, it will probably drop its leaves, but they will grow back. Keep it on the dry side when overwintering during fall and winter. The leaves can be harvested any time during the growing season, but will have the best flavor and fragrance if cut them just before the plant flowers. Don't cut more than one-third of the plant at one time. Fresh leaves of lemon verbena are tough, so be sure to chop them very finely before adding to a recipe. Lemon verbena is best when added at the end of cooking, as its flavor diminishes as it cooks. Although commonly used for tea, lemon verbena is great in other beverages or as a garnish for cold drinks. Its flavor can enhance fruit salad, pudding, sorbet, custard, tarts, cakes, cookies, and other desserts. In main dishes, it combines well with ginger, garlic, green onions, cilantro, and mint.
Lemon Verbena Bread
1 stick unsalted butter
1/4 cup fresh lemon verbena leaves, chopped
1 cup sugar
1-1/2 cup sifted flour
2 large eggs
Pinch of salt
1 teaspoon baking powder
1/2 cup milk
Grated rind of 1 lemon
3/4 cup chopped nuts (optional)
Glaze
1/2 cup sugar
2 Tbsp. lemon verbena leaves, chopped
Juice of 1 lemon
Cream butter with verbena leaves in mixer or food processor. Add sugar and beat well. Then add eggs, salt and remaining ingredients.
Grease 1 large loaf pan (or 2 small ones) and pour in batter. Bake at 350 degrees for 60 to 65 minutes. Bake until bread tests done with a toothpick or cake tester. Meanwhile, prepare the glaze.
Leave loaf in pan. While it is still hot, punch small holes in the top of the loaf and pour glaze over it. Let it sit several hours and remove the loaf from pan. Wrap it in foil to seal in flavors overnight before serving, or freeze immediately.