Most achievements in life begin with a plan. When contemplating your future career, you probably considered the education or training required to successfully qualify yourself for that particular field of employment. You then followed a plan to acquire that education or training. For that trip-of-a-lifetime across the US, you probably examined a road map and planned your route to take in all the sights you wanted to see. Well, it's the same for a garden: you need a plan, man!
Whether considering a small space or a complete yard make-over, you'll need to assess and analyze the area—or areas—of your landscape that you are wanting to enhance or in which you're going to create a new garden. Here, we'll consider an area within your landscape—perhaps an area that is not currently being used for any particular purpose: a small nook between the garage and the house; an area of open lawn that's not too attractive; a shady spot where nothing seems to grow. You'll often find that the particular area you've chosen will dictate the type of garden you can successfully grow and enjoy there. The following information may be useful in helping you to choose your spot and decide what to plant in your chosen area.
Made in the Shade
What can you do with a shaded area where nothing seems to grow? Why, the answer, of course, is to plant shade-loving plants and take advantage of the cooling effect of the area for summer out-door living activities. First, consider your family. Do you have small children? If so, a playground in a shaded area will provide many summertime hours of enjoyment. You might also consider the area as an out-door dining room for the entire family.
If the area you have chosen for your new garden can be seen from a window in the house, it may be perfect for your own wildlife garden. Many shade-loving trees, shrubs, and native plants and flowers are favored by birds, bees and butterflies. Add a birdhouse, bird feeders and bird baths and watch from inside while they flock to the area. Don't forget to add a bench in an almost-hidden area where you can sit outside and watch these winged critters' activities and enjoy nature's beauty.
Lovin' the Sun
A sun-drenched area creates opportunities for many specialty gardens. Sun worshipers include most herbs and vegetables and many flowering annuals and perennials. Choose a location on the south side of your property where the sun casts it's life-giving rays at least 6 to 8 hours daily. Now decide what you want to grow in your sunny garden. Forget what you've heard about roses being hard to grow—not true!—and create your own private rose garden and enclose it with a picket fence. Or, consider a flower cutting garden; you'll have fresh flowers for your home all summer long. Maybe you want to help cut down on the family's food budget by providing fresh vegetables from your own kitchen garden. Don't forget to add a variety of herbs in the vegetable plot for seasoning your food and for the beauty and interest they provide.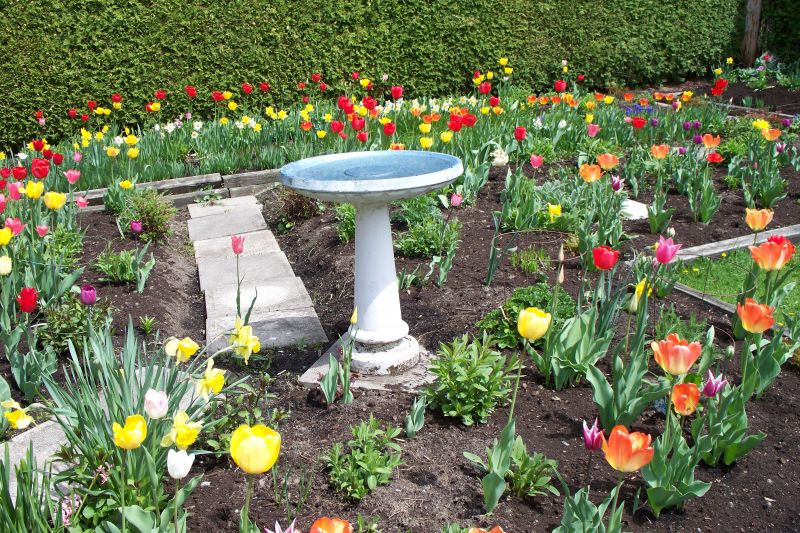 So, get ready—make your plans; decide what and where you'll grow. Get set—prepare the soil; make a plant list. Go—the growing season is just around the corner—happy gardening!