In many landscapes, the outdoor kitchen is the focal point, the centerpiece, the crowning touch of a painstakingly-designed and highly-anticipated entertainment space. And sometimes, it needs just that little extra something to make it really pop. More and more grilling stations and exterior bars are getting graced with granite as that final detail that puts it over the edge and takes it from so-so to sssssweeet!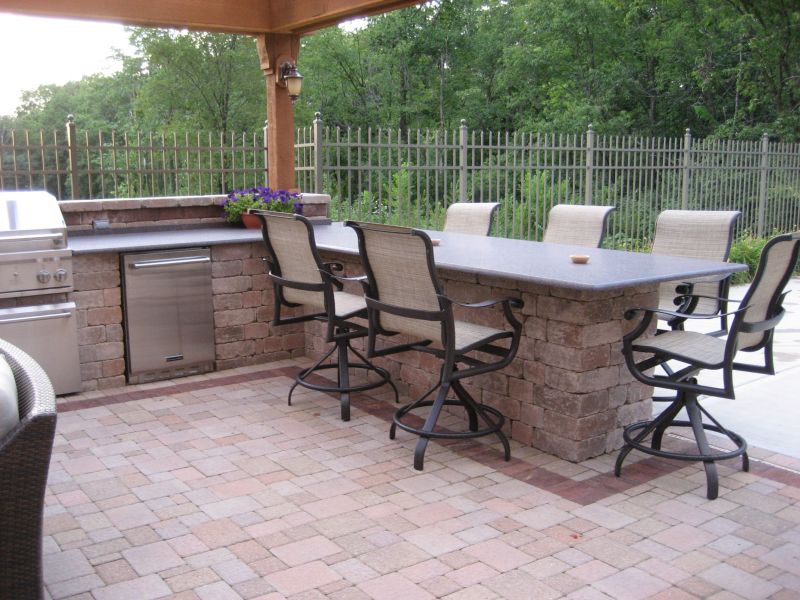 (Kim Davern, New Lenox, IL)
There's no quicker way to give your patio a sophisticated, luxurious look than with a high-end slab of the same stuff you'd use inside your kitchen. Granite is very strong and incredibly durable- it's stone, after all. It's a breeze to clean, super-easy to care for, and a cinch to maintain over the long haul. It is costly, and therefore for many homeowners, it's overly excessive. But if you're looking to make a bold statement with your outdoor kitchen, nothing rocks like genuine granite. For all of its benefits, though, installing a granite countertop is not generally considered a DIY kind of job. This is one you'll want to leave to the pros. And it all starts with a trip to the stoneyard.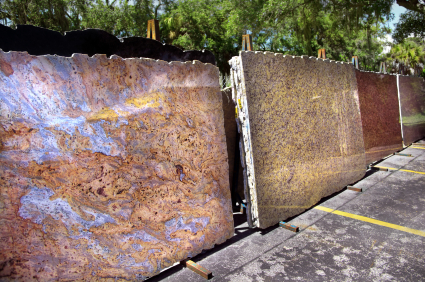 If you've never been to a showroom like this, you're in for a treat. It's way cool to walk around these massive slabs of stone and be legitimately awed by the colors and textures and patterns that Mother Nature can create with stone. From deep, rich blacks and browns to bright greens and reds to stunning golds and silvers- even crazy hues like purples and yellows- they're all on display for you to imagine in your cookspace or bar. Some are uniformly solid in color, most have iridescent flecks and sparkles embedded throughout the surface, and some feature wild veining and variegation. Talk with an expert at the stoneyard about the color range you're interested in, and ask to see some options. Remember that you're selecting an actual slab of granite here, not just deciding off of a sample swatch and letting the staff fetch one from the back room.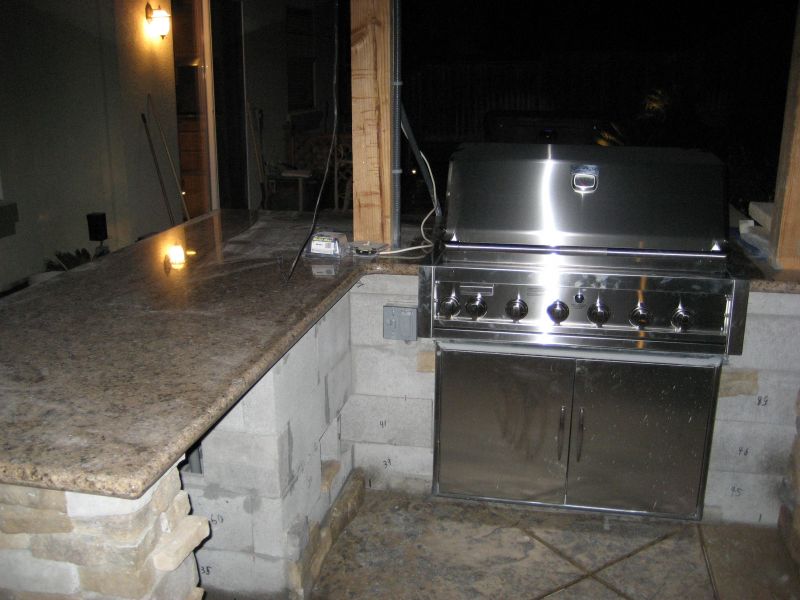 (Gehrke, Dublin, CA)
It's important to know how much sun exposure the countertop will see in the finished landscape. Some colors of granite will fade and change in the sun, and the color you pick out at the showroom may not last more than six months in direct sunlight. Other colors are impervious to the sun's rays but may become so hot to the touch that your grill island will be the last place your guests will want to belly up to. Keep these things in mind as you shop, and let your salesperson steer you in the right direction. In a newly-constructed kitchen, the island generally needs to be completely built before the slab can be cut. That's because a crew will come take careful measurements the island and usually create a life-sized template of the actual top out of cardboard, builder's paper, or balsa wood. This template will be taken back to the stoneyard and used as a giant stencil for cutting your new countertop from the slab you've tagged.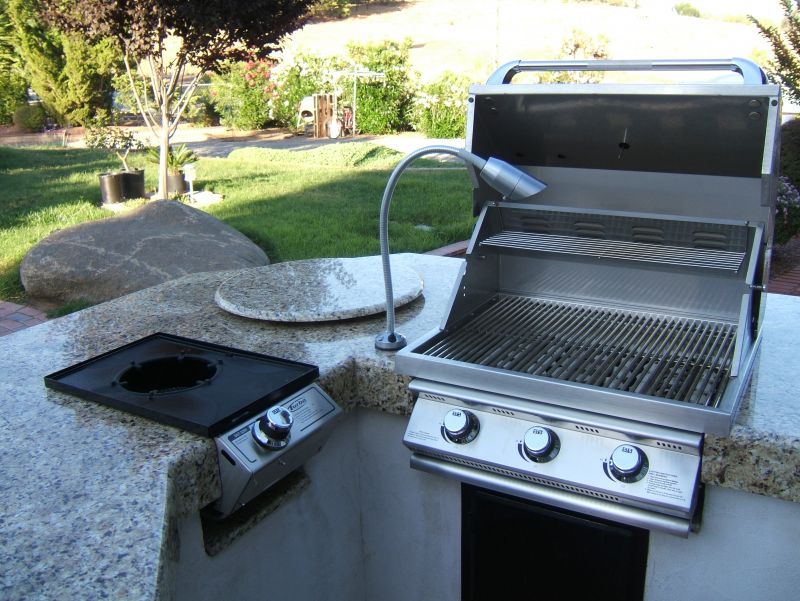 (DrDave, Escondido, CA)
If you've chosen a slab from an indoor part of the showroom, ask the staff to take it outside. Your slab will live outdoors; don't make a final choice based on how it looks under the fluorescent bulbs of a warehouse. (Be pretty sure about the slab, though, as they won't want to drag more than a couple of the enormously weighty slabs out to the loading dock for you to hem and haw over.) If you like the look of granite, but are gun-shy about the cost, you may be tempted to use an alternative like quartz… or one of the many manmade options (Corian, Silestone, Cambria, etc.) available for indoor tops. Be aware that these materials are typically not recommended for exterior use at all, and often not covered by warranty if used outdoors.