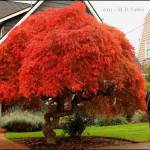 M. D. Vaden
Mario Vaden, with 30 years experience and Certified, is responsible for the services including landscaping improvement and skilled Japanese Maple tree pruning.The landscape & design improvements have been enjoyed in north Oregon, but smiling customers extend 340 miles south. Our 2 menus lead to over 200 other pages. For Portland tree services near Beaverton, Hillsboro and Lake Oswego, review Portland Tree Services.
Expert Business
(503) 626-1904

Quite a few homeowners also take advantage of on-site consultation: landcaping design ideas, tree inspection, maintenance suggestions, drainage and tips for DIY tree pruning. These are very affordable and average 1 hour.
My Favorite Yards
M. D. Vaden hasn't favorited any yards yet.