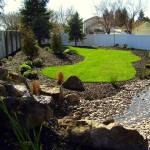 Natures Image
Located in Manteca, CA, Natures Image is an award winning landscape design firm dedicated to providing .exceptional customer service. Our goal is to assist you in making the right decisions when you are ready to make improvements to your landscape, including plant selection, water features, entertainment and play areas. With our help, you can create an outdoor environment tailored to your budget and needs.
Expert Business
1830 East Yosemite Avenue

,

Manteca

,

CA

,

95336

(209) 823-9220

If you are a homeowner, the first part of our service is to assist you in developing a well planned landscape that will make your outdoor areas as pleasing, functional and comfortable as those surroundings you enjoy inside.
My Favorite Yards
Natures Image hasn't favorited any yards yet.