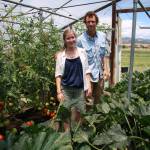 FoodShedProductions
Husband and wife, students till December 2011 at www.thelivingfarm.org I (August) am working towards a masters in Non-Profit Management with a focus on the expansion of existing programs. -"Organic food is not expensive to grow, only to buy."I (Marion) am a Graphic Designer trained in France but enjoy any creative process from start to finish. -"As long as we believe, anything is possible."

A French/American couple, after living and working in the organic capital of Paonia, Colorado, at thelivingfarm.org and Education Center, August Miller and Marion Frebourg are competent and capable organic growers. Their experience growing over 40 varieties of vegetables on ~130 raised beds and 3 'lasagna gardens' can turn your backyard into your own organic vegetable market. The owner/manager and recipient of organic farmer of the year in the valley, Lynn Gilespie, recognizes the value and need for suburban self-sufficiency. She has agreed to mentor August and Marion into maturity and keystone roles in the suburban and urban food security, slowfood, and locavore movements.
Expert Business
(720) 878-7878

Resident education for backyard organic garden planning, building, managing, harvesting, & preserving. We will work with you from the beginning of the season through the end to ensure that your organic garden is producing what you want. We can offer each household their choice of 40 vegetables - Creating the opportunity for better health while saving money & time spent at & going to a grocery.
My Yards
My Favorite Yards
FoodShedProductions hasn't favorited any yards yet.