Sport Court Pictures & Design Ideas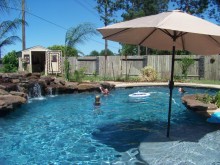 With summer fast approaching, your teenagers will soon be out of school. This time of year, teens need a place to gather that's safe and fun. Why not make it your back yard? If you make your yard inviting enough, yours can be the "cool" house where all the neighborhood teens gather. ...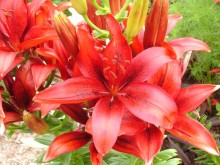 Why not create a garden of sensuous scents? A small plot in your yard devoted to only flowers that titillate the nose, that make you breathe so deeply that you're transported to a more restful, heavenly place. ...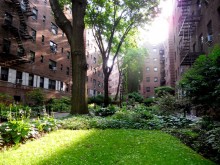 Having your own garden is a richly rewarding experience; but there's something even more enjoyable about introducing your friends and neighbors to the joys of landscaping. In the true spirit of YardSharing, some of our members are involved in creating and maintaining community gardening areas....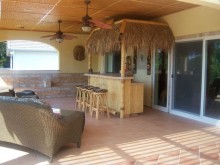 Whether you're a Jimmy Buffett "Parrothead" or just daydreaming of the warm sands of Waikiki, nothing says "tropical" better than a tiki bar. So tune up the Macaws and Birds of Paradise, mix up some Mai Tais, and join us on our virtual tour of Polynesia as we visit some great tiki bars!...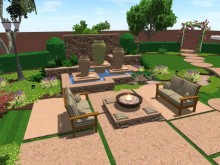 One of the great things about being a YardShare member is that you get to see examples of model yards created by professional yard designers. It is fun working with graph paper and a mechanical pencil to draw up a layout the old fashioned way; but the 3D imaging software the pros use is pretty cool!...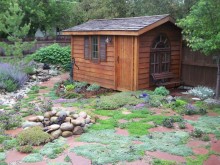 We all yearn for a room of our own, a little shed located outside, away from the main house. It could be an alluring destination for both practical and passionate endeavors, a place to escape from the demands of daily living, a place to meditate, to create, a place for personal enjoyment....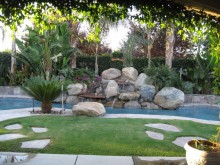 Water lovers around the world agree: even in the smallest yard, there's always room for a pool. Sure, it might seem like Chris Farley's fat guy in a little coat, but you can make it fit! Actually, your pool can look just fine if you pay attention to detail....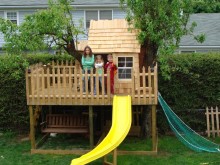 I grew up next door to a vacant lot. On any given weekend, it was a football/kickball/wiffle ball field, home to dawn-to-dusk "capture the flag" marathons, a BMX test track, an obstacle course, hide-and-seek homebase, or the site of our neighborhood Olympics. Maybe vacant lots are just rare these da...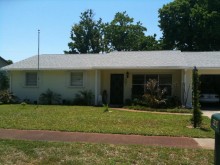 Brenda shared a single shot of her South Daytona front yard with a simple (and politely worded) request: "Make Me Pretty, Please." Okay, Brenda, let's give it a whirl. First, a look at the yard......
For most of us, our landscapes say a lot about who we are and what's important to us. You can spot the yard of an avid gardener from a mile away. That backyard vegetable garden probably belongs to someone who's concerned about where his family's food is coming from. Take a look at this personal w...
My daughter came home from kindergarten announcing that we needed a vegetable garden. The class had dropped a few seeds in some plastic cups and set them on the windowsill. A few days later, I'd been recruited to become Farmer Brown....
A sprawling, lush carpet of thick, green grass is as much a part of the American Dream as white picket fences, cul-de-sacs, and minivans with built-in DVD players. When everything is right, lawns look awesome....
Have you ever walked into a backyard and paused because the landscaping is so uniquely breathtaking? It's like viewing a painting that grabs your attention and pulls you in. When a landscape is in harmony with the house and region, it can look like no other landscape design could ever fit in that s...