Toni Capito in Clayton actually has a front porch, a back porch, and two side porches. This decking wraps around her house like fashionable wooden Ray-Bans. Pair a huge house with an enormous flat yard, and you've got a project that's going to take some extensive landscaping.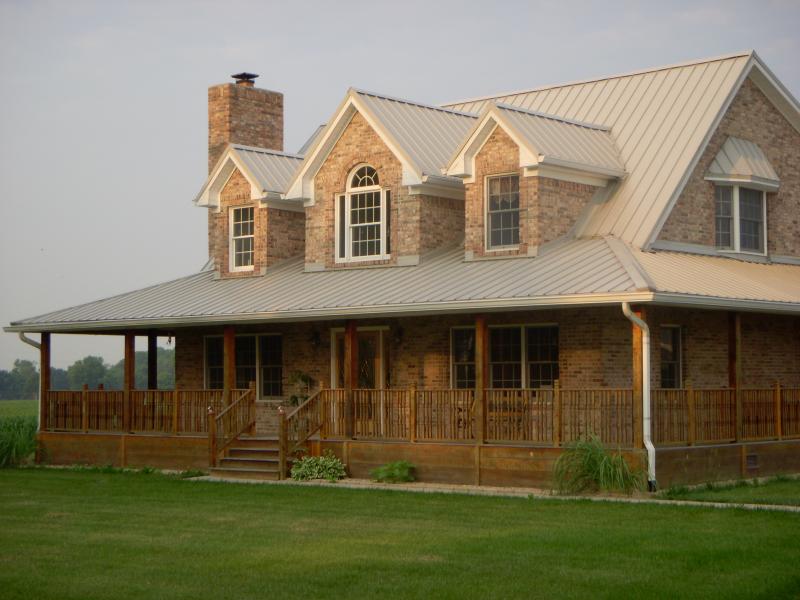 As with most large spaces, designing to scale is one of the most challenging aspects of yard improvement. Trees will take a while to grow in, so let's consider some faster ways to accessorize this massive lawn. First, it's important to understand the role the porch plays. The current, clear-cut differentiation between the raised decking and the surrounding yard needs to be blurred. This will give the landscaping height and make the porch into a transitional area.
Where to Plant?
Since there is a narrow paved pathway surrounding the porch, it's not possible to plant flowerbeds directly against the wood siding around the foundation. This means the porch itself will need to provide soil space to support plants. Hanging containers from the eaves is one option. However, supplementing with large pots and raised garden beds constructed on the porch itself would be another great choice for a quick transformation.
Toni might want to consider getting a few of these gorgeous wooden gardening tables from The Able Gardener. They are designed to make landscaping accessible for people who can't kneel down and work in the dirt. Besides making porch gardening simple, they would blend well with the wood motif: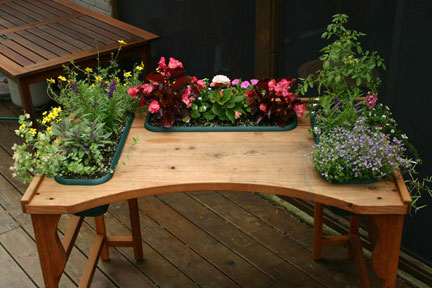 Around the outside of the path, a series of garden beds with an irregular, wavy border supplemented by landscaping islands featuring ornamental grasses and shrubs further out in the lawn would break up the "square" look of the house. The gaps between the islands could be accented with winding grass or gravel pathways to provide additional softening of the hard edges of the house design. Here's an example of a house that incorporates grass pathways and landscape islands along with potted porch plants for a gently curving effect: