Whether you're a Jimmy Buffett "Parrothead" or just daydreaming of the warm sands of Waikiki, nothing says "tropical" better than a tiki bar. So tune up the Macaws and Birds of Paradise, mix up some Mai Tais, and join us on our virtual tour of Polynesia as we visit some great tiki bars! These homeowners built a traditional tiki bar covered with raffia. They placed just the right number of barstools in front for friends to sit on and enjoy a tropical cocktail and some relaxing conversation.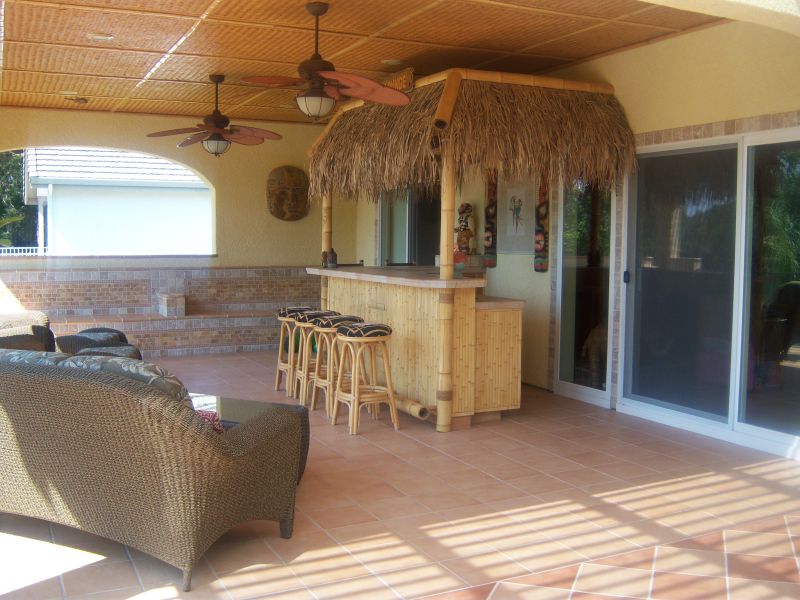 To protect you from that hot tropical sun, you could add a roll-up bamboo shade like this one by TikiMan.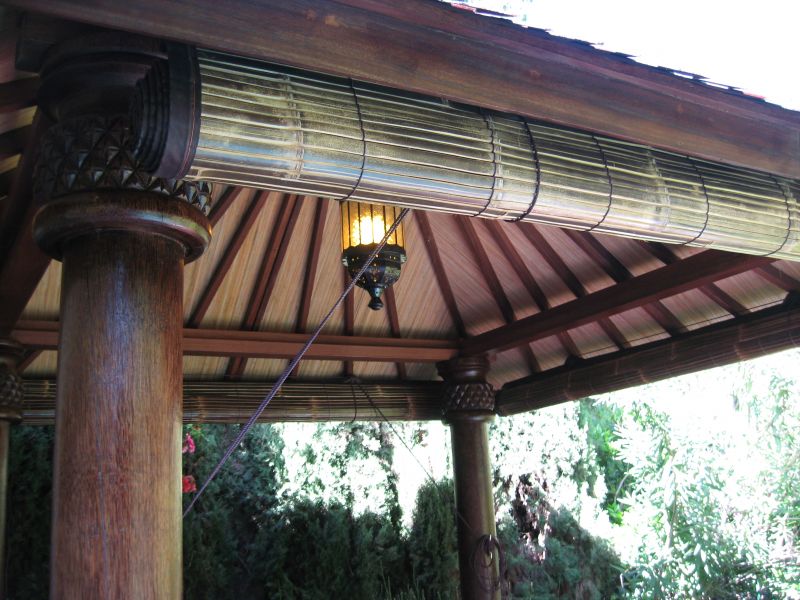 TikiMan's Balinese-themed back yard hut sports beautiful pillows that allow his guests to lie back and relax while they enjoy a nice platter of pupus. (That's Hawaiian for hors d'oeuvres.) Serve up some bacon-wrapped pineapple, rumaki, and coconut shrimp skewers along with that Blue Hawaii cocktail, and your guests will feel as if they've landed in paradise.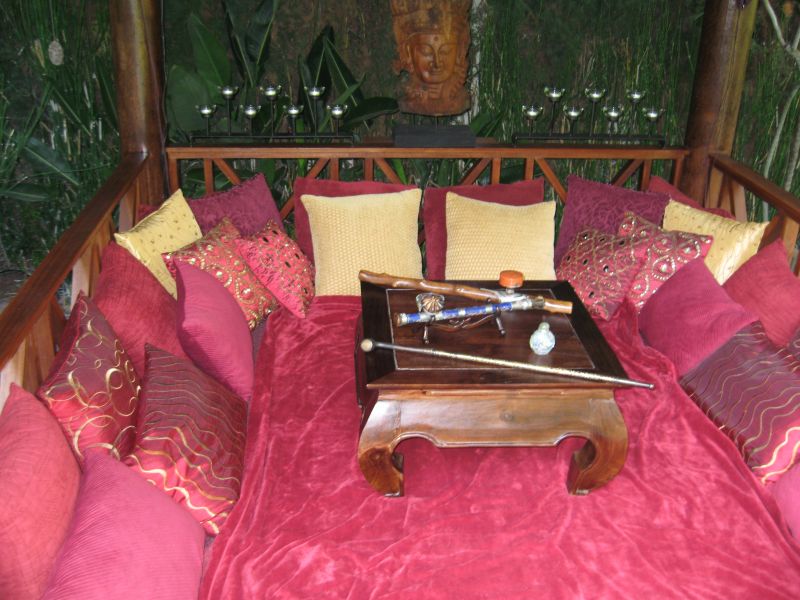 These homeowners built an entire enclosed hut and decorated it with a whimsical Tiki painting.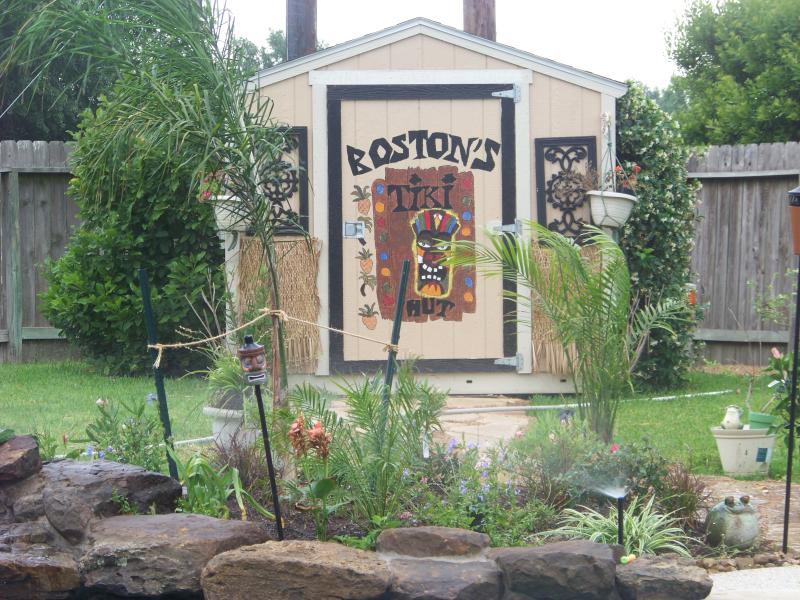 As the sun sets over the beautiful Pacific, I wish you Aloha. I hope you've enjoyed our little virtual vacation. But it doesn't have to end now. Just build a Tiki Bar in your own back yard, cook up some pupus, stir up a Lava Flow, and enjoy! Here are a couple of cocktail recipes to get you started.
Blue Hawaii
- 3/4 oz. Light Rum - 3/4 oz. Vodka - 1/2 oz. Blue Curacao - 3 oz. Pineapple Juice - 1 oz. Sweet & Sour Mix Combine all ingredients and mix well. If using ice, mix the ingredients in a blender. Serve in a tall glass. Garnish with a slice of pineapple and a cherry.
Mai Tai
- 1 oz light rum - 1/2 oz lime juice - 1/2 oz orange Curacao - 1/2 oz orgeat syrup (See cook's note) - 1 oz dark rum - maraschino cherry for garnish Pour all the ingredients except the dark rum into a shaker with ice cubes and shake well. Strain into an old-fashioned glass half filled with ice. Top with the dark rum. Garnish with the cherry. Cook's note: Orgeat (pronounced "or-zat") syrup is an almond-flavored syrup that is used in Mai Tais as well as other tiki and classic cocktails. It is available at liquor and gourmet coffee stores and online.
Lava Flow
- 1 oz. light rum - 1 oz. Malibu® coconut rum (See cook's note) - 2 oz. fresh or frozen strawberries - 1 small banana - 2 oz. unsweetened pineapple juice - 2 oz. coconut cream Blend the two rums and the strawberries in a blender to form a smooth paste. Pour this mixture into a tall (Collins or Hurricane) glass. Rinse the blender. Blend the banana, the coconut cream, and the pineapple juice in blender with crushed ice until smooth. Pour this mixture very slowly into the glass with the rums and watch as the strawberry mixture oozes its way to the top along the sides of the glass creating the flowing lava effect. Garnish with a pineapple wedge and paper umbrella. Cook's note: If Malibu® coconut rum is unavailable, you can use 1 1/2 oz. of light rum and 1/2 oz. of coconut cream.