Here at YardShare, we look at some pretty disastrous yards and offer advice on how to turn them around. This time, the starting point isn't quite so dreary. The landscaping around this colonial style home isn't horrid, it's just somewhat unimaginative. The owner wants to find a way to spice things up and highlight architectural details like the door and windows.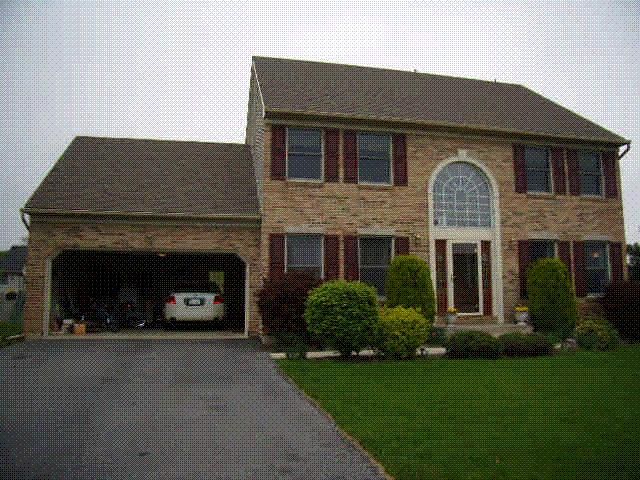 The first step is to take out the bushes that are obscuring the window areas. The yard will need height added in other areas to make up for this loss. A nice hedge would work along the edge of the driveway to draw the eye up the drive and toward the house. A shade tree would be another nice addition to the front yard, perhaps on the right side of the yard (as you are facing the house). A tree in that area would frame the house without blocking the view of the home from the street.
How Do You Showcase the Windows and Door?
Framing the windows at edges of the house with arbor arches is a potential solution. The arch shape would mimic the radius window above the doorway drawing attention to the central design. The arches would need to be painted to match the house trim. Then, they could be planted with climbing roses for an elegant Colonial touch. If the homeowner wants to focus attention on the wood shutters rather than the window panes, the arches could be centered between the two windows on each side of the door. The remaining area beneath the windows can be filled in with tall, flowering plants that draw the eye upward. Wall sconce style planters on each side of the door (below the lamps) with cascading flowering plants would serve to frame the door. Adding a flagstone paved area in front of the porch where the two low bushes are now would open up the area even further. This paved section could be decorated with plants in urns and perhaps a small Colonial style fountain. What would you do to make this yard over? Let our YardShare readers know in the comments.