There are times when burgers and dogs off the grill just won't cut it. Maybe it's a special occasion, maybe it's a party, or maybe you want to kick off Memorial Day Weekend with a surprise your guests will never expect. This dish from Uruguay is called a matambre, which apparently means "hunger killer." It's a flank steak, stuffed and rolled with all kinds of awesome and unusual ingredients. There are lots of things I like about it. Here are just a few:
It's totally easy, even thought it looks like you worked on it all day
It's totally customizable, so you can use ingredients you like better or have handy
It's totally hands-off as it cooks, so you don't have to be chained to the grill (unless you want to be)
It's totally unique, so it's unlikely that your guests have had it a thousand times before
With a tip of the chef's hat to Steven Raichlen, award-winning author and all-around grill guru, here's an only-slightly-altered version of his matambre.
1 flank steak, between 1.5 & 1.75 pounds
1-2 sausages, cut into long ½ inch strips
1 red bell pepper, seeded and stemmed, cut into long, thin strips
6 oz. block of Romano cheese, cut into thin strips
1 peeled carrot, peeled and sliced into thin strips
1 large Portobello mushroom, cut into thin strips
2 hard-boiled eggs, peeled and quartered
6 slices bacon
1 tsp dried oregano
½ tsp dried sage
Salt & pepper
1) Butterfly the steak. Slice through it horizontally at the midway point, starting on one long side. Cut almost all the way through the opposite long edge, but not quite. When you're done, you should be able to open the steak like a book and have a 12 to 15-inch square of meat.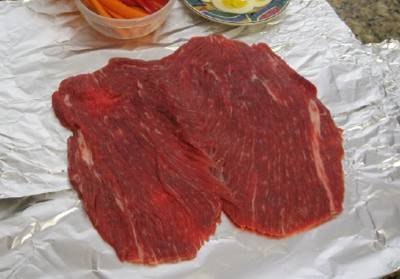 2) Situate the opened steak on top of 6 slices of raw bacon, all lined up parallel to your countertop work surface. Sprinkle salt and pepper on the steak to taste, follow with oregano and sage. 3) Arrange long, thin rows of ingredients on the steak, keeping them parallel to the work surface and starting with the edge closest to you. Go the order listed above. Repeat with what you have left over. Leave a strip of bare meat at the far end.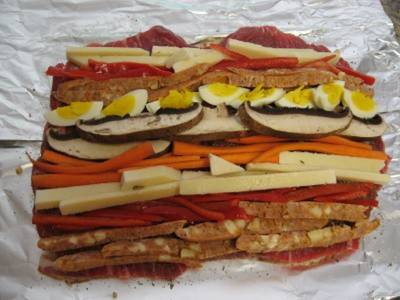 4) Roll the entire thing away from you like a jellyroll. Use the foil to help keep the roll as tight as possible. Crimp the top shut with foil, use skewers to hold it closed, or tie it closed with butcher's string. Twist the ends like a sausage. Poke a few holes in each end to allow steam to escape. 5) Prep the grill for indirect cooking (all heat on one side of the grill), place a drip pan on one side.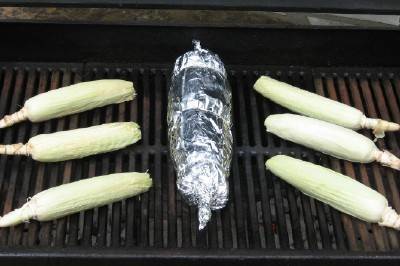 6) When fire is ready, place matambre over drip pan (not over fire). Grill covered for 90 minutes to 2 hours. You should be able to pierce the roll easily with a skewer, and it should be very hot to the touch upon removal. Transfer to a cutting board and let rest for 15 minutes. 7) Remove foil and skewers or strong, slice and serve.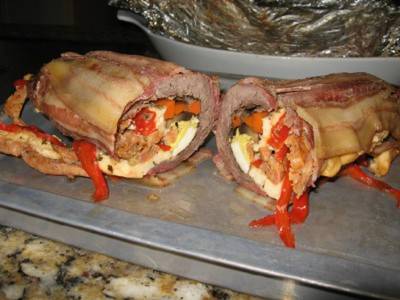 Recipe slightly adapted from "The Barbecue! Bible" by Steven Raichlen, Workman Publishing, 1998.
A few notes:
I think it's supposed to look more like a neatly-spiraled pinwheel than a giant burrito. Mine is overstuffed because, well, that's the way I roll. ("Roll," get it? Insert rim shot here.) I think my strips and row should be much thinner next time. And my rolling technique could use some work. My apologies to Mr. Raichlen if I've completely botched his recipe. I used some thick gourmet bacon I had, and I now wish I hadn't. It didn't cook up well, I think because it's so thick, and this technique basically steams it on the grill. I'll go with cheap, store-bought, thin bacon next time. I said it was customizable. The original recipe used green bell pepper where I used Portobello mushroom. I also see no reason why you can't order the rows of ingredients however you like. Don't be afraid of how much this makes. Yes, it's a good bit. But I think it's meant to be feed a party or a big crowd. And, hey, the warmed up leftovers rock.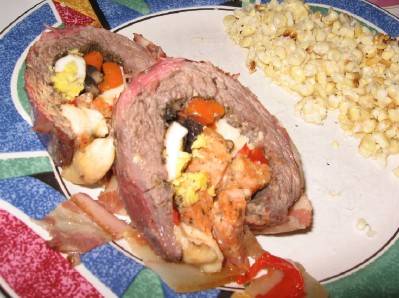 I'm obviously still working on my technique with this one, but it's a fun recipe, it tastes amazing… and isn't "practice-makes-perfect" half the fun of grilling?