A backyard pond can be a nice touch, but if you don't have a pool it can seem like a bit of a waste. Why should the fish get to have all the fun? That's the attitude of YardShare contributor Sandi Clarke. Her small yard in Garland, TX wasn't big enough for a pool and a pond. So, she decided to convert her tiny pond into a spa. The actual process of draining the pond, digging the hole bigger, installing rebar, and pouring the concrete was critical for the underground transformation. However, topside, the biggest changes were in landscaping. What to keep and what to replace was the question.
Here's the "before" picture:
Obviously, having lily pads floating on the roiling water of a jetted spa wasn't going to work. Those had to go; and so did the rushes along the water's edge. The empty container at the far edge of the pond gave the place a feeling of seclusion – as if it had long been abandoned by civilization. A red glass ornamental lamp was hanging from the nearby tree. These accessories weren't quite the right flavor for a modern spa.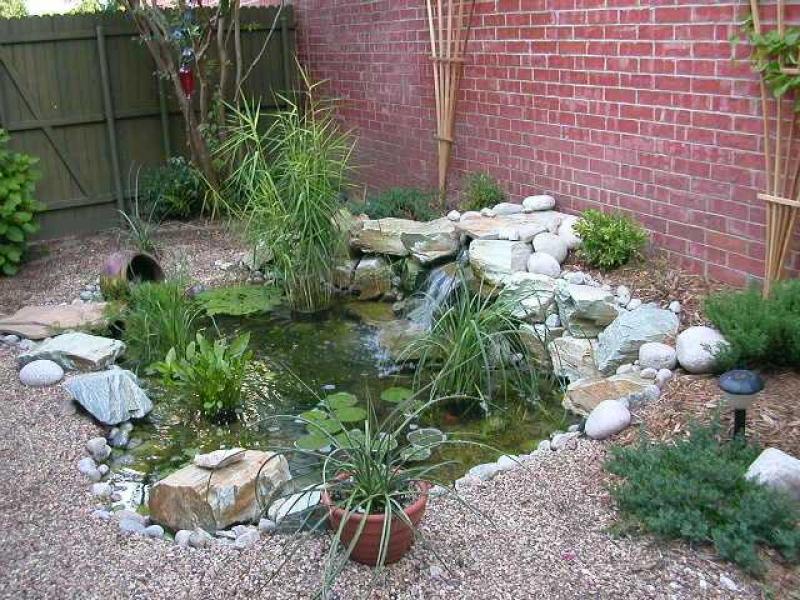 Here's the "after" picture: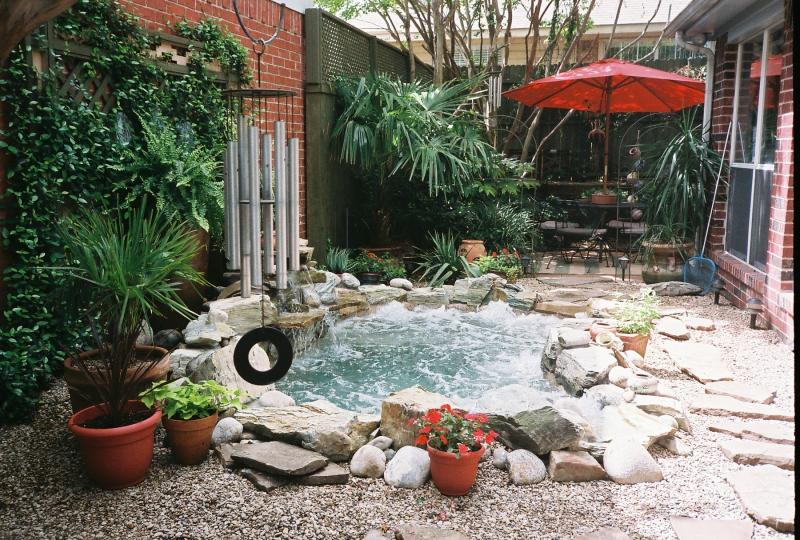 Sandi made a very smart move by keeping the waterfall feature. The waterfall has been built up higher for a more dramatic effect, but it's in the same location as before. The boulders framing the new spa are actually the ones that lined the original pond - recycling rocks! From a landscaping perspective, the spa still needed some greenery. This was accomplished with potted plants since gravel isn't known for its ability to support healthy plant life. Notice that most of the plants are fairly low profile and they are placed outside the frame of rocks. That's a good choice. Too many people have potted plants teetering on the very edge of their spa, just waiting for a stray elbow to send them to a watery grave. The finishing touch is a wind chime in the foreground. You can just make out its twin in the background by the patio. The jangling of chimes combined with the rush of water jets adds acoustic privacy so those in the spa can hold a conversation (or plot revenge) without being overheard. Check out all of the construction pictures at
Sandi's yard
.