Name one garden plant that offers handsome—sometimes striking—foliage that takes on eye-catching color in the fall and interesting flowers that become showy seed heads which linger throughout the winter; a plant that offers visual delight in all seasons and demands only minimal upkeep in payment for these rewards. Grasses! Plant them now and forget any maintenance (except occasional watering) until late next winter!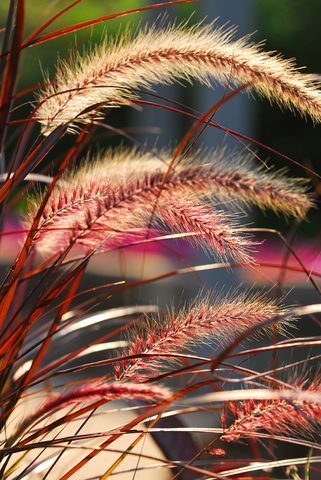 Dances with Sun
There are many reasons to want to include ornamental grasses in the garden. Their relationship with light is a primary one. Placed in the right location, the sun can add its magic to these wonderful plants. Sidelighting and backlighting can create a dramatic glow to the foliage, illuminating and delineating the distinctive shapes and textures of leaf, flowers and seed heads. Simply site the grasses in an area where they will be lit by the sunrise or sunset and watch them shimmer when the sunlight caresses them. Enjoy the show throughout the day as the quality of light changes.
Moves with Breeze
If there's a breeze a blowin', these beauties will sway to and fro', offering another visual treat. Many varieties have finely-textured leaves—with a lacy or feathered appearance—that catch the wind and follow it as if in choreographed movement. There are also varieties with medium-textured and broad leaves. The foliage of many flowering perennial and annual plants is barely—or non-noticeable—but when paired with grasses, an additional level of interest is created. Fine-textured grasses make an excellent backdrop for bold daisy-form flowers, for flowers with flat tops or rounded flower clusters and for blooms that are dramatically shaped, such as sea hollies.
Changes with Seasons
Ornamental grasses outperform most other plants in longevity of interest in the garden. In spring, their green shoots begin to peek up through their flat-top haircut that was given to them by the accommodating gardener in late winter. Within just a few days, the garden is enhanced by their willowy appearance. Throughout the summer they continue to offer beauty and interest as their flowers and seed pods form and they take the spotlight in sunlight and dance with the winds. Then, their fall foliage will set the landscape ablaze. Many varieties will hold their brilliant colors well into winter. But when the colors fade, don't cut the stalks down yet. Leave them upright in the landscape—they may be one of the last things standing. They can add cheer to winter's white landscape, marching like soldiers in an otherwise bleak yard. Just before spring shows signs of appearing, cut the dead foliage down to about one or two feet and wait for the magic to appear again when winter disappears and the new season begins.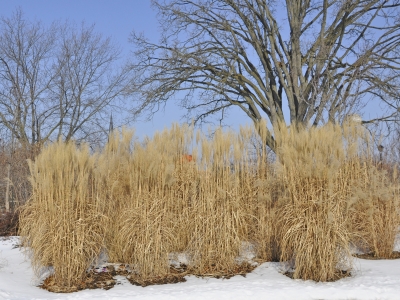 Makes Few Demands
The cutting back in late winter is often the only maintenance required for most ornamental grasses, although newly planted grasses will need watering during dry spells. There are, however, a number of grasses that spread freely from creeping roots. Most grasses can coexist with other plants in borders or beds, but be aware that there are those that demand the full stage and will try to muscle out their neighbors. Either plant these in their own, private areas so you can control them by digging up sprouting roots, or, plant them in containers. Check with your local Cooperative Extensive agent to find out which species are considered a problem in your area. Here is a partial list of these beautiful bullies: purple pampas grass (Cortaderia jubata), scouring rushes (Equisetum spp.), Variegated manna grass (Glyceria maxima 'Variegata'), Japanese Silver grass (Miscanthus sinensis), fountain grasses (Pennisetum spp.), black bamboo (Phyllostachys nigra), golden bamboo (Pleioblastus viridistriatus) and cattails (Typha spp.)