"Oasis", "tropical resort", "paradise" - pool owners tend to get a little carried away in describing their backyard. But some folks really do manage to create a poolside Shangri-La. How do they do it?
Pick a Shape – and Stick with It
One important secret is consistency. A pattern imposes order on chaos. Most really awesome pool designs are based around an identifiable theme. This element is demonstrated on a large scale in the shape of the pool itself. Then, it's complimented by all the surrounding pool landscaping details. Here's an example of a "curves and arches" theme carried out in masonry and accented with decorative tile by Cheryl Meyne of Jacksonville Beach.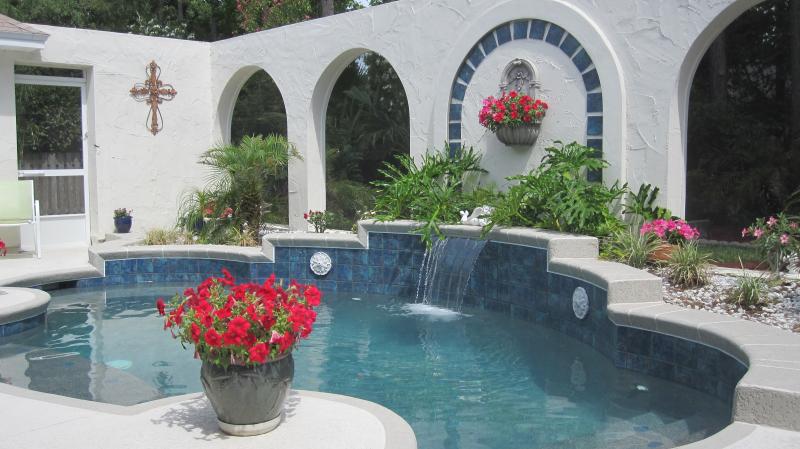 Smaller details like the Spanish cross and the elaborate planter on the wall were carefully selected to fit the overall theme. Even the gently arching fronds of the palms in the background are part of the picture. Not feeling the curves? Here's a more angular theme from Zaynea Niazi in Corona, California: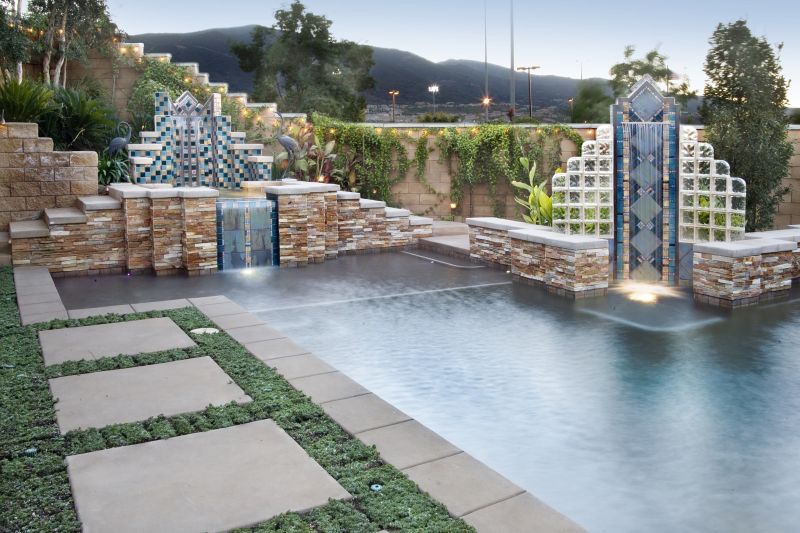 Check out the stair-stepped wall, the square-topped stacked stone columns, the pavers in the foreground, and the glass blocks by the waterfall on the right. These give the impression that the overall shape is square. However, stained glass accents add a slight diamond twist. This variation on the theme lightens the feel and gives the whole pool a feeling of serenity. Your shape theme is set in stone (so to speak) early on. It makes sense to build these permanent pool landscaping elements like walls and waterfalls out of materials like concrete, tile, stone, and glass.
Use Color Boldly
Add color using more transient stuff like textiles and flowering plants. These pieces can be changed easily to update the overall look any time. Big blocks of color are your friend in an outdoor setting. Think awnings, umbrellas, furniture cushions, and curtains. Here's Anita Birch's Perrysburg, Ohio pool and adjacent living area decked out in placid blue: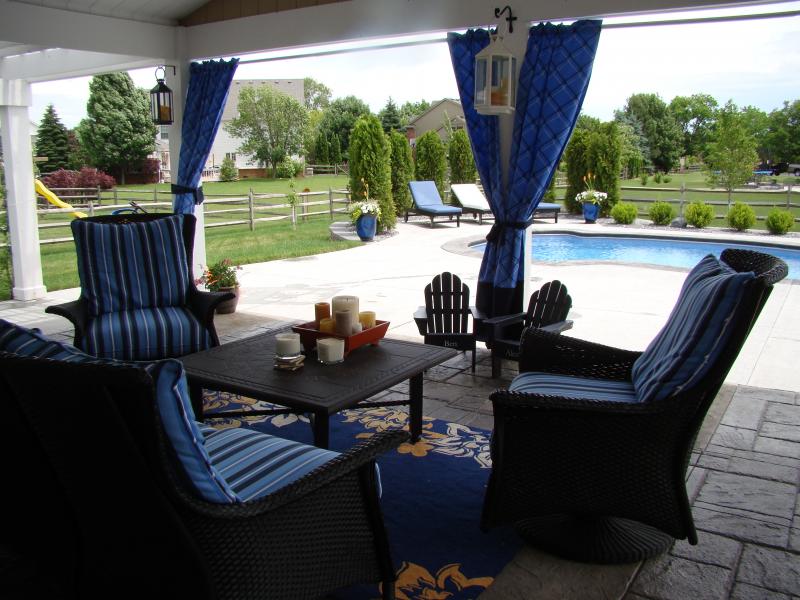 The curtains, upholstery, and pottery aren't "matchy matchy", but they all have the same feel. Remember, consistency is good. Don't shy away from combinations. Here's a stunning example of the use of tangerine, red, and yellow together. You can see the same range of vivid colors in both the textiles and the flowers. Was Judith in Miami going for a tropical oasis? I think she nailed it with this one!