For easily-accessible outdoor entertainment space, it's hard to beat a deck. As a rule, decks typically feel more like a part of the house than a part of the garden. But if you have a deck, there's probably no better vantage point from which to view your garden… and there may be no part of your outdoor space where you spend more time. A deck is a fantastic project for the DIYer of almost any skill level. And once you get the hang of working with lumber, it's a cinch to customize your deck and turn it into something spectacular. Every deck starts with a framing system underneath, a structural subfloor made up of joists that support your finished deck surface. Vertical posts are almost always anchored in the ground and encased in concrete, with an outer band of heavy framing members fastened to them. Inside this outer band (which is often visible in the finished deck) is a network of joists; think of them as wall studs for your deck flooring. PonY from Oregon took some photos of his deck joists in mid-build: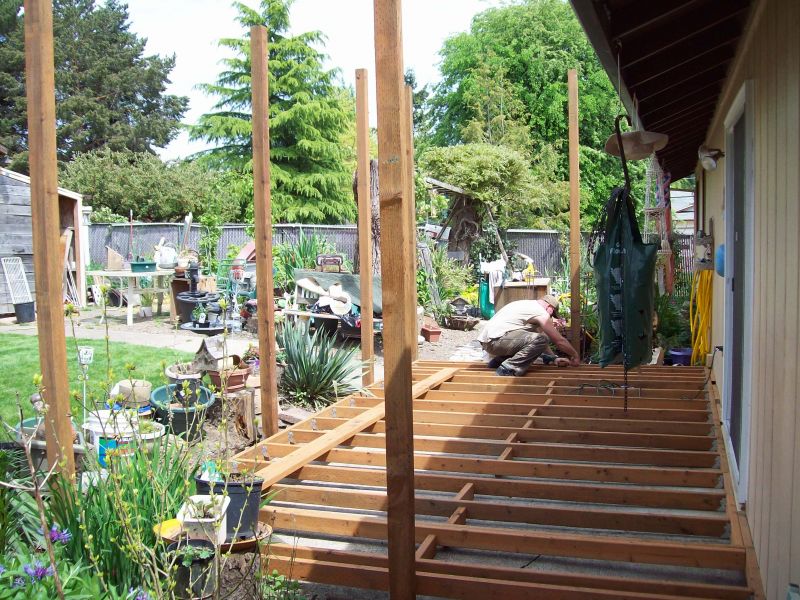 When you're designing a deck, remember that the deckboards you'll walk on will need to be oriented perpendicular to the joists underneath for proper support. If you run your joists parallel to the house, the deckboards will (usually) meet the house at a 90-degree angle. Because PonY installed his joists at a right angle to the house, his deckboards will run parallel to the house, which is often the preferred look. But if you mix up your joist orientation, your deckboards don't have to all run in the same direction. That can create unique visual interest- especially if your deck will be viewed from above, say, from a second-story window. How cool does Justin's deck in Seattle look using this trick?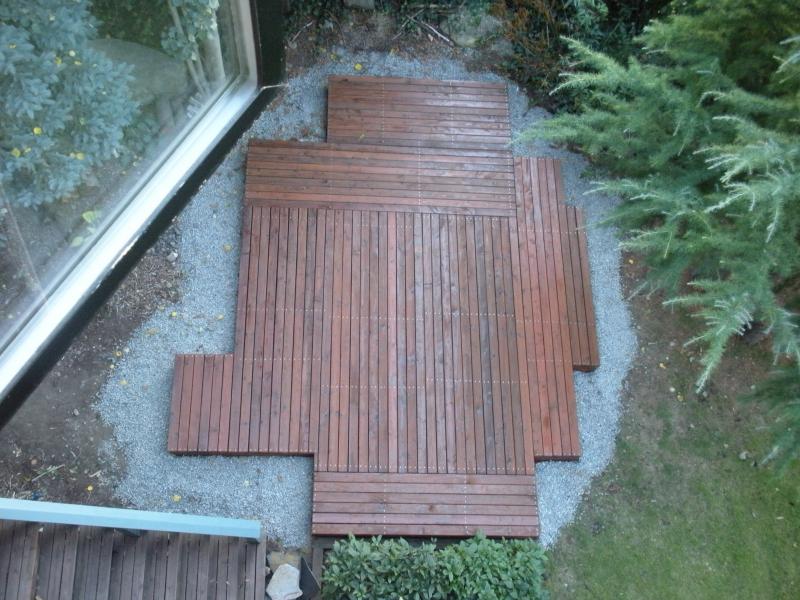 And you're not limited to right angles. With some careful measuring and patience at the saw, you can install your deckboards on a 45-degree angle to the joists. For a really striking look, run a double diagonal (also called a single herringbone pattern in the deck biz), where the two fields of angled deckboards meet at a center line. Vonnie from Texas shows us a textbook example: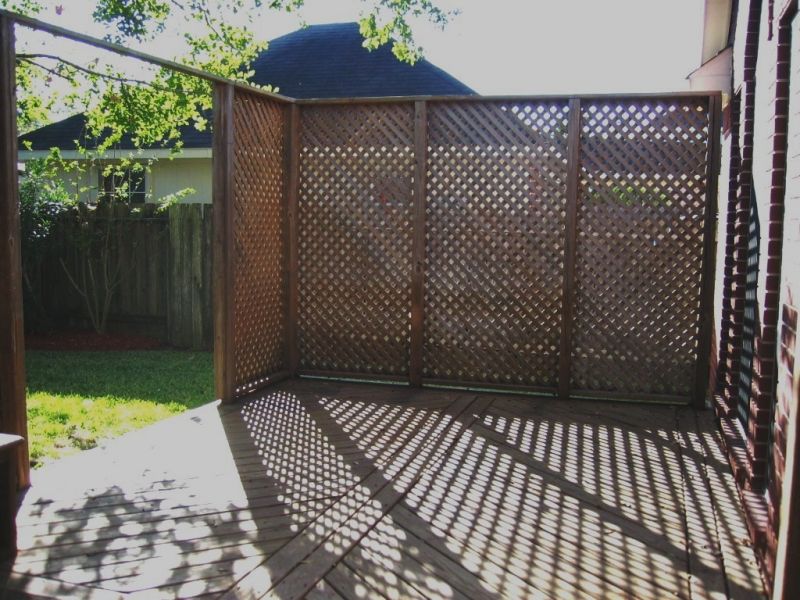 Want to create a new look on a deck that's already down? Deck and floor paint, baby. It's formulated to stand up to foot traffic better than regular exterior paint. Some even contain anti-slip texture. And while you could easily paint the entire deck a new color, you could also get super-creative and paint yourself an outdoor rug right on the deck itself! Here's how it looks on Bill Moore's deck in Murfreesboro, TN: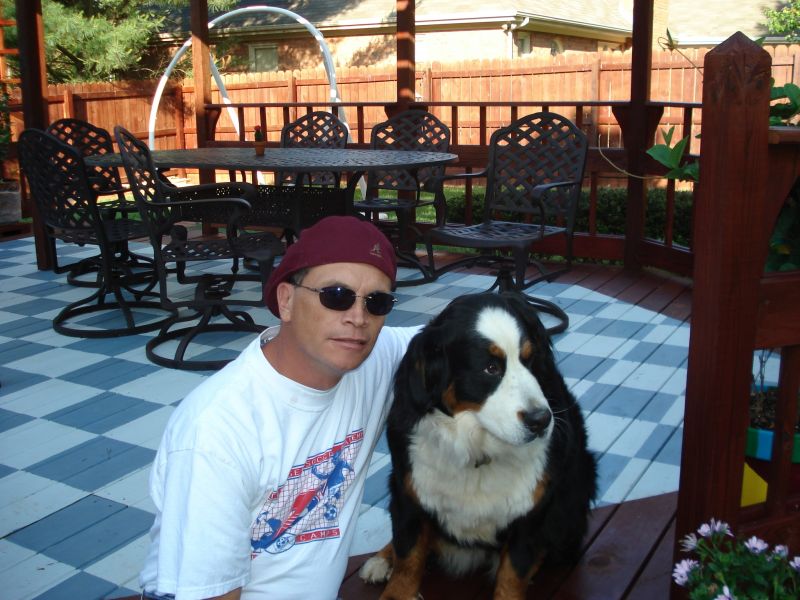 There's also no rule that says your deck has to be all one level. Sectioning off a deck and elevating some sections a step or two higher than the others can give you the feel of different outdoor "rooms." Duce's deck in Pennsylvania features a cozy little seating area off the main deck: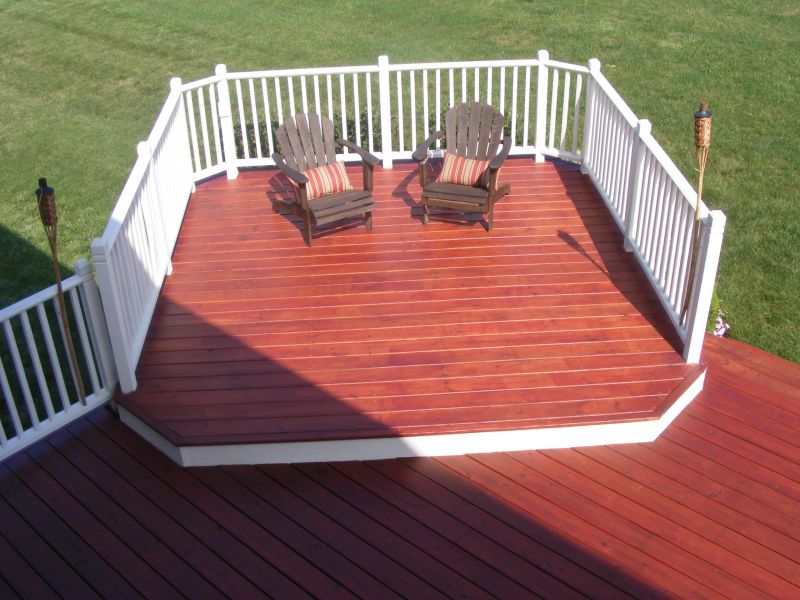 Treating your deck as an outdoor room of your home is a favorite technique that makes the space more livable (and even ups the re-sale value of your home). While the deck serves as the floor of your outdoor room, you can go way over the top by adding a pergola as the ceiling, too! Knoxville, TN's Scott Brun did just that with his deck: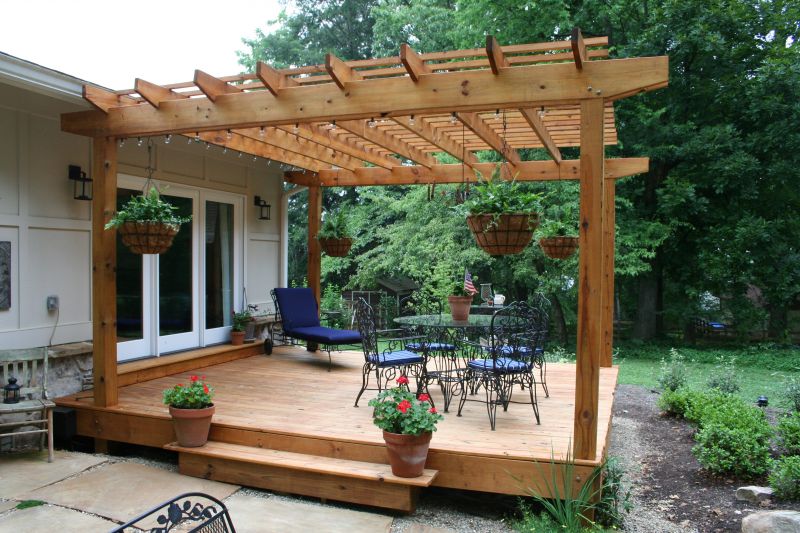 Most people who add a deck do so to create entertainment space. But if you want a really big entertainment space, you don't necessarily have to build a monster deck. Karen Nelson shows in her Laguna Beach, CA yard how a deck sited adjacent to a stone patio turns the entire thing into one gigantic party place, with each component retaining its own intimate personality: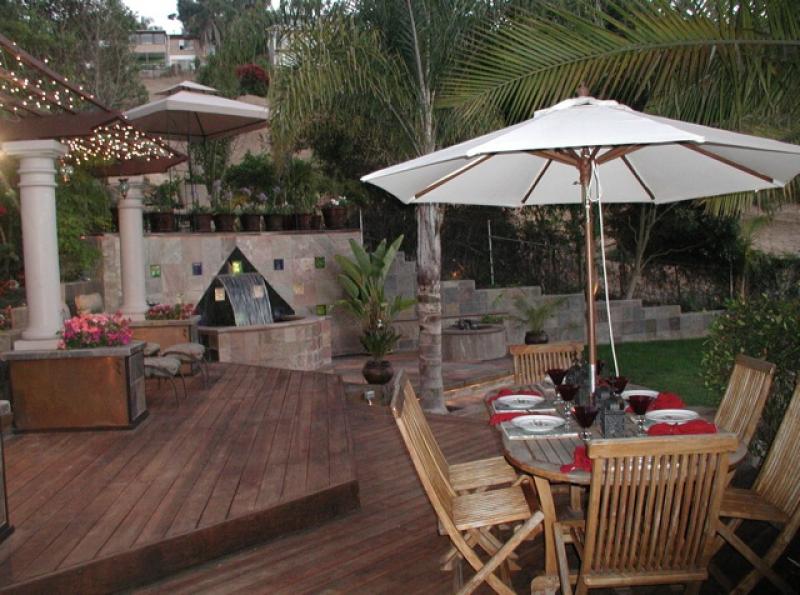 Local codes will dictate when your deck will need safety railings around the edges, but you don't have to impede the view with a wall of wooden spindles. Look at the deck of Todd Evans in Union, KY. Notice how using black wrought-iron spindles instead of chunky pieces of lumber allow your eye to pass right through the railing system, taking the focus off the structure of the deck itself and keeping it on the view beyond: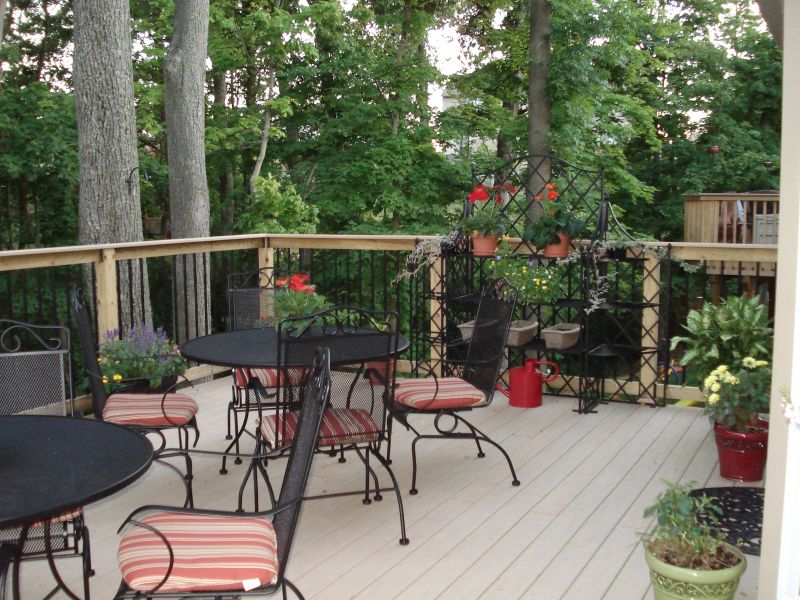 Sometimes you can get away with not building a true rail at all. Michelle Wainwright has an adequate barrier around one edge of her Salisbury, MD deck, but does so with an attractive and handy built-in bench: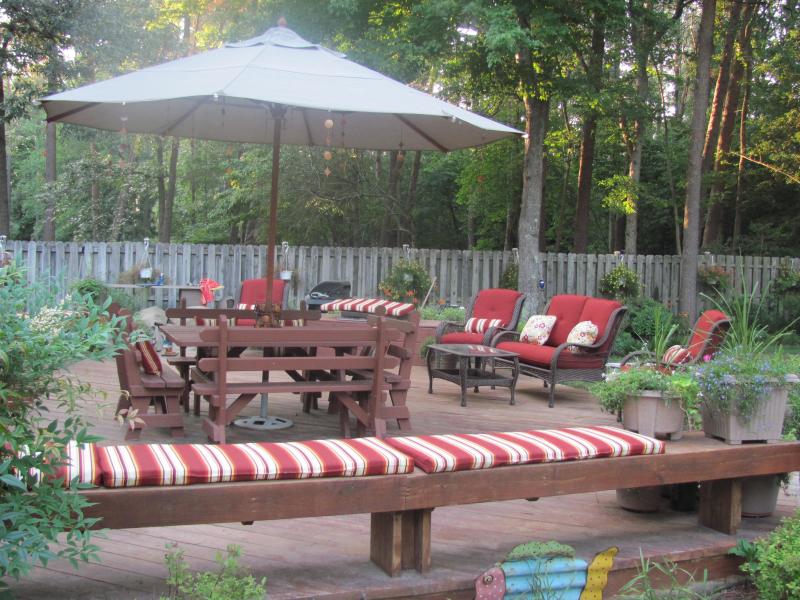 For some, a deck's big drawback is the maintenance: a regular schedule of staining, sealing, and waterproofing that makes the deck less of an amenity and more of a chore. Thanks to new materials, that's no longer an excuse for not having a deck. More and more decks are being built from composite lumber- long boards that are manufactured from things like sawdust and recycled plastic! They're quite a bit more expensive than true lumber, but they require little to no maintenance. You can cut them, drill through them, and drive nails and screws though them just like wood, but you never have to paint or stain them, and (depending on the maker) have to seal them far less frequently. Check out Karen W's deck in Millington, MI and see if you can tell that it's not real wood: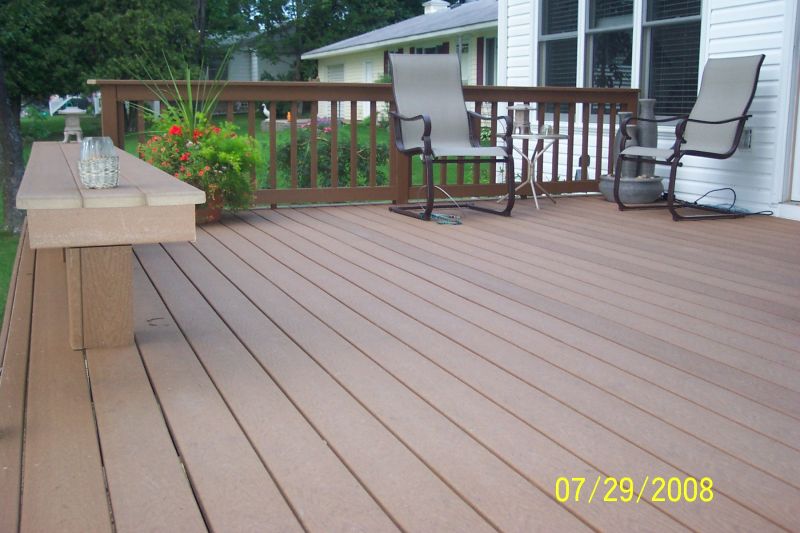 Another benefit to composite lumber (brand names include Trex, Evergrain, Veranda, and GeoDeck) is that it's far more flexible than conventional lumber, allowing even a beginning builder to create some "outside the box deck designs… like the yin/yang deck of Tracy and Wendy Evans in Hurricane, UT: