Brenda shared a single shot of her South Daytona front yard with a simple (and politely worded) request: "Make Me Pretty, Please." Okay, Brenda, let's give it a whirl. First, a look at the yard: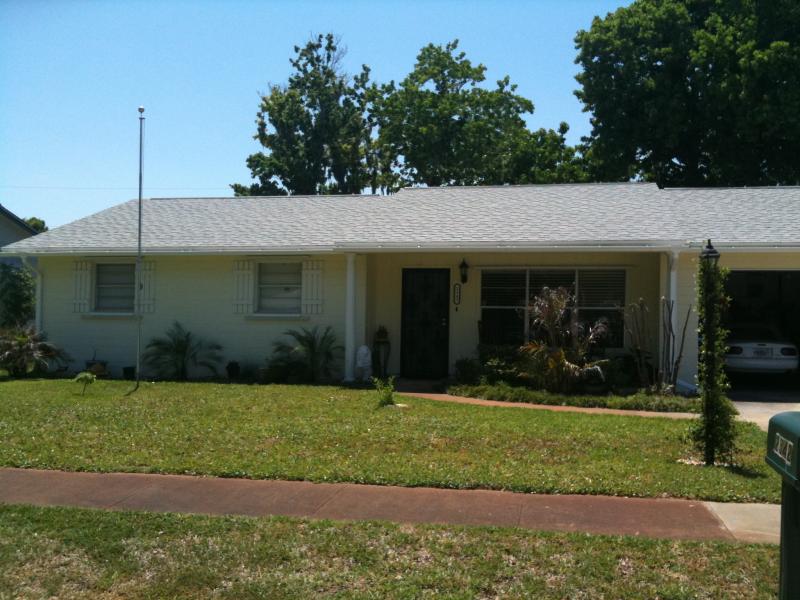 As Brenda herself efficiently summarizes, "No focal point. No architectural interest." That's okay. A blank slate is actually easier to start with for many of us since it means you don't have to do a lot of reimagining… or demolition. What I see are some good, basic bones and some strong lines to work with. The first thing I focus on now is the bare flagpole. You could fly the Stars and Stripes or the official state flag of Florida (which is pretty cool looking)… hell, you could have some fun with the colors of your alma mater or your favorite sports team (you have quite a few down there in the Sunshine State) or even the Jolly Roger. But if you're not going to actually fly a flag, there's no reason for a flagpole to be the first thing I notice about your landscape. I'd lose it. Now with a good chunk of real estate to work with on that side, I'd create some screening between you and your neighbors. Nothing obnoxious; just some nice separation between the two yards. Maybe a nice plant that gets 15 feet or so tall and wide with showy light-blue flowers and bright yellow berries for interest. Say, like the Golden Dewdrop you've already planted straight off the front door. You say it's already 5 feet tall; it's well on its way to being a great border plant, something that keeps my eye from wandering off to the neighbor's property. We've framed that side of the yard, now let's fill the frame. How about a nice waterfall? Check out this example from Enviroscape in South Bay, CA:
Maybe build a small berm, bring in some boulders to create a natural-looking outcropping of rock, and just add water. You'll love the sound, and you've taken care of your "no focal point" problem. Go pondless… or since you have plenty of room, turn it into a trickling stream that meanders over to the center of the yard and empties into an intimate pond. That would give you the opportunity to add all kinds of water-loving plants (with their awesome colors and textures) along the streambed, and even aquatic plants in the pond itself! A pond and waterfall pulls the focus away from the foundation of the house; you might even be able to re-incorporate those palms that are now up against the house on and around the rock waterfall berm. Of course, there's a lone plant right about where I envision that waterfall, right next to the flagpole. You say it's a Chinese Parasol Tree, about 3 feet tall now. Perfect. I'd transplant that baby to right about where your light pole is living. The Chinese Parasol Tree could hit 40 feet tall. With its huge fan-shaped leaves, it's an outstanding shade tree and would be a welcome addition to that corner where your driveway meets the sidewalk. In fact, it's often used as a street tree, so why not follow suit? Ah, yes, the light pole. It might fit in nicely at a cottage-style house or with art-deco contemporary architecture, but here, it just dates the home. Assuming that it works and you have electrical power already running there, why not update the existing wiring with a really stunning nightlighting plan? Throw an uplight on the Chinese Parasol Tree, tuck some underwater lights in along the stream and in the pond, pepper some pathlights along that walkway to the front door. If you need a good reminder of how the right lighting can improve a landscape's appearance, look no further than Bill & Jeri Barry's inviting Palm Springs front yard: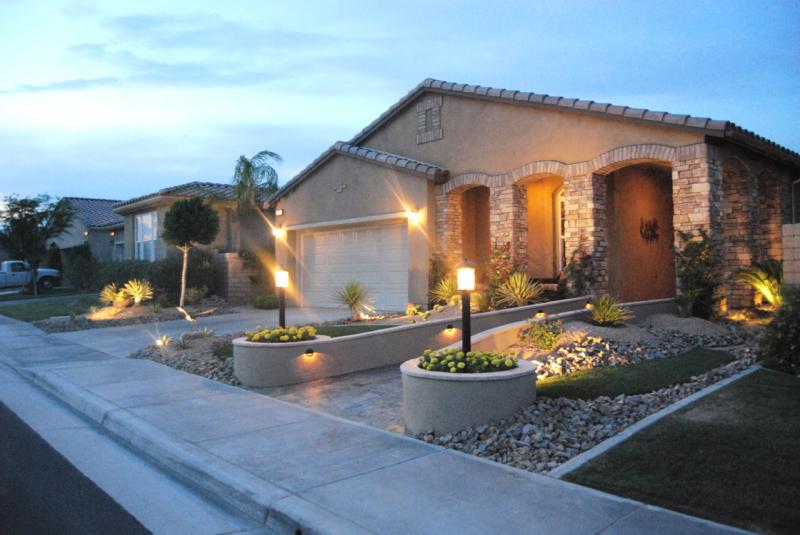 The entryway looks like it has some nice plantings going on already, so you may not need to do much there. The centermost plant (some sort of palm?) is your focal point; build everything else off of it. Add some bright pops of color underneath it and along that walkway, perhaps replacing that border of what looks to be liriope with reds, oranges, or yellows. My guess is that the crepe myrtle to the right competes with it when it's in bloom; it might be better off on its own somewhere where it can really shine the way a crepe myrtle should. Your walkway has a nice gentle curve to it, but if it's plain concrete, you could make more of a statement to guests and visitors with just a minimum of effort. Look into a stamped concrete overlay. A crew can spread a thin "skim coat" of new concrete right on top of the old and give it 3-D texture with giant rubber stamps. Look at just one possible effect in this Damascus, MD backyard from Traceysdesigns: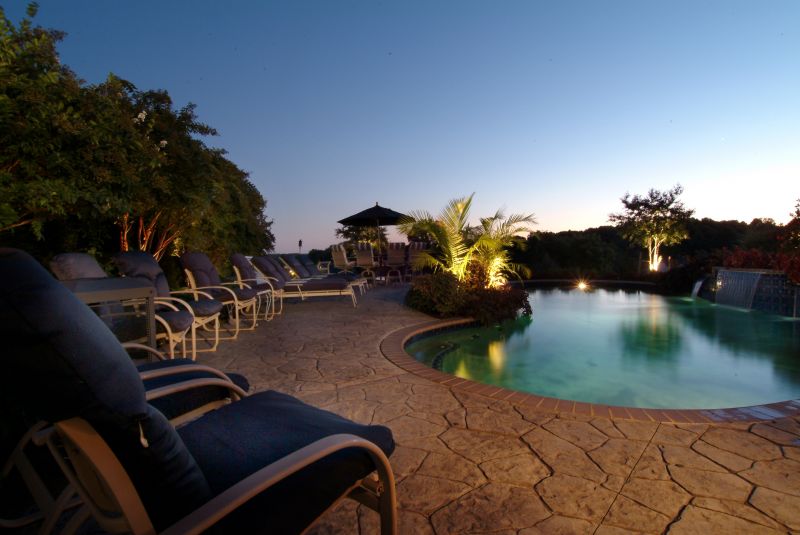 Or just jazz up the color of the walkway with an acid treatment. Lunagy Designs did just that on this Las Vegas patio: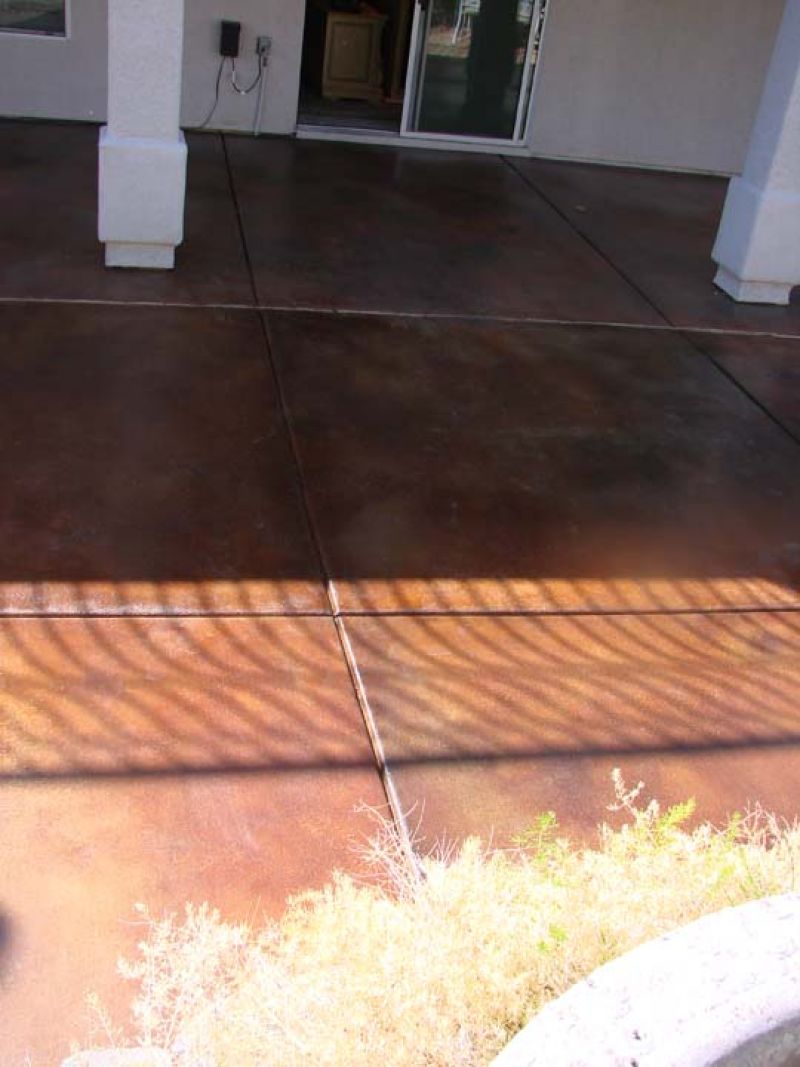 You could choose a new concrete color and then use it as a jumping-off point for other features of the landscape: boulders, accent pieces, statuaries, furniture, maybe even give that front door a shot of color to get rid of the cave effect on the porch. What about you, YardShare members? What do you see in your mind's eye when you look at Brenda's front yard???