Stacy Carpenter from Raceland, KY has a familiar dilemma.  She bought a new home recently and wants to put her own stamp on the front yard landscape, but doesn't know where to begin.  She's turned to the YardShare community for help, posting a series of photos and asking for suggestions. I'll get the ball rolling with a few ideas and then turn it over to you, YardShare Nation.  Let's put on our thinking caps and help Stacy out with a front yard plan that will have her new neighbors as green with envy as her new metal roof.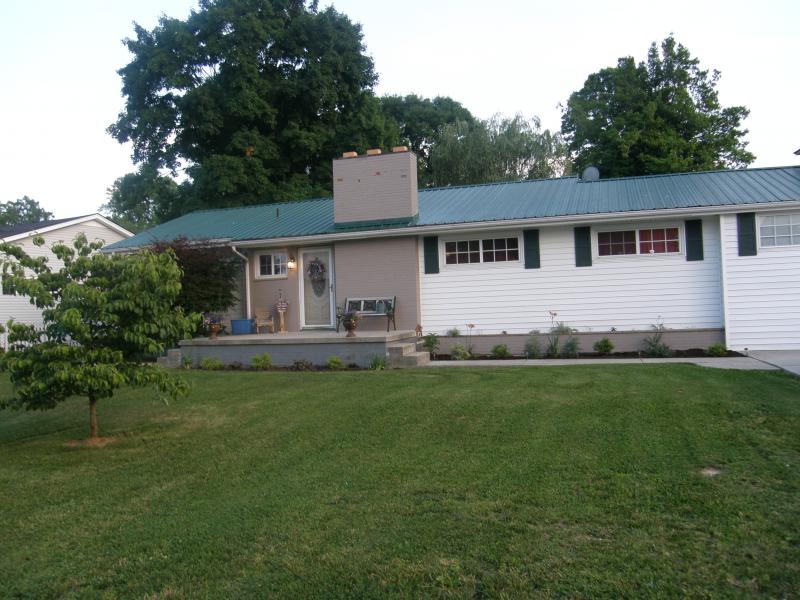 Standing back at the street, the first word that springs to mind when I see Stacy's house and yard is "linear."  Look at all those straight lines: the siding, the roof panels, the long straight walkway, even the brick of the chimney and the concrete block of the porch.  Priority One for me would be to soften up and minimize those lines with flowing, curving shapes.  Anywhere and everywhere possible.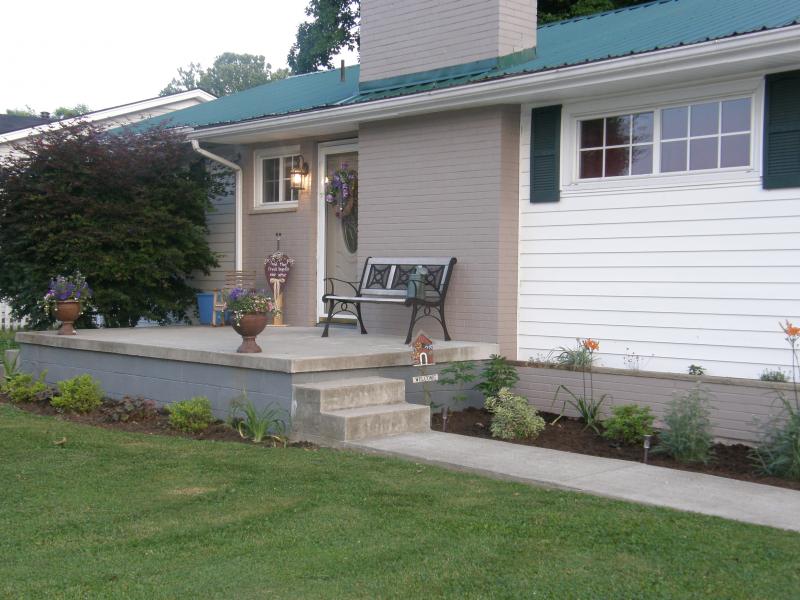 Start with the front bed.  Stacy says the small bed in front of the porch is new.  I think it's a good start.  You need some plant material there to hide that unattractive grey cinderblock wall.  But I'd think about making that bed much, much bigger.  Drag that bedline out into the yard to allow you to get several layers of plants in it.  Nothing too tall; you probably don't want things that will get much higher than the level of the porch floor, but with a nice deep bed, you can put in a dark evergreen backdrop along the wall and then introduce some new colors in front. Lark did it in her Dousman, WI front yard: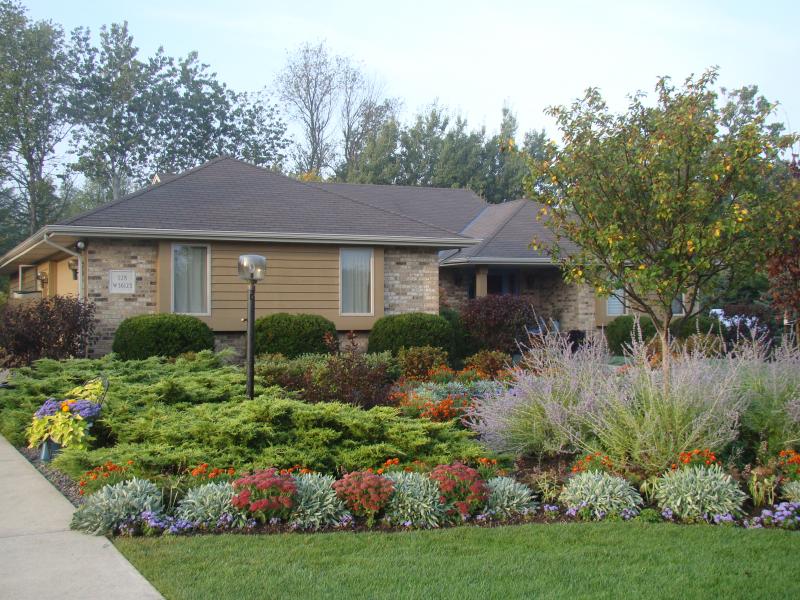 A green background with bursts of reds, yellows, pinks, and oranges in front draws your focus out to where the color is and creates a full-feeling landscape.  (It also cuts down on how much grass you have to mow!) I'd also consider extending that same bedline past the front edge of the walkway.  That straight-shot of concrete just reinforces the straight lines.  You can't do anything about the shape of the narrow bed against the house, but creating one super-sized planting bed that borders the front porch, right-side steps, and walkway gives the impression that the walkway cuts through large sweeping masses of plant material.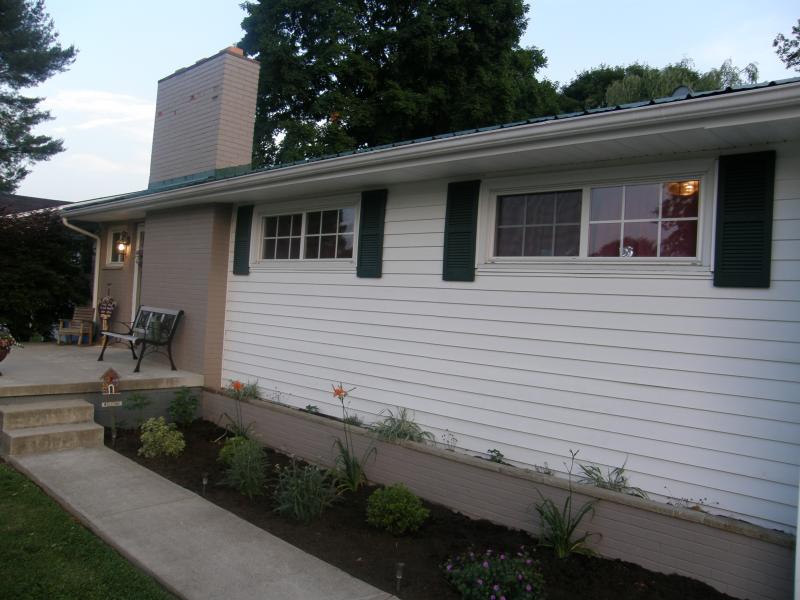 In the narrow bed against the house, you've got an opportunity for some color.  Thanks to that roof and the nice lawn, green is the predominant color you'll have to work with.  For your new plants, I'd strive for varying colors.  Maybe you plop something tall and green where the chimney, porch, and steps meet, and maybe you do something else that's a different kind of tall and green down where the walk meets the driveway.  But in between, there's a lot of square footage of plain white siding to stare at.  It's a great spot to try an espaliered plant- one that grows flat on a trellis.  Take a peek at the flowering clematis growing on a trellis up against the home of MLK in Bloomington, IN: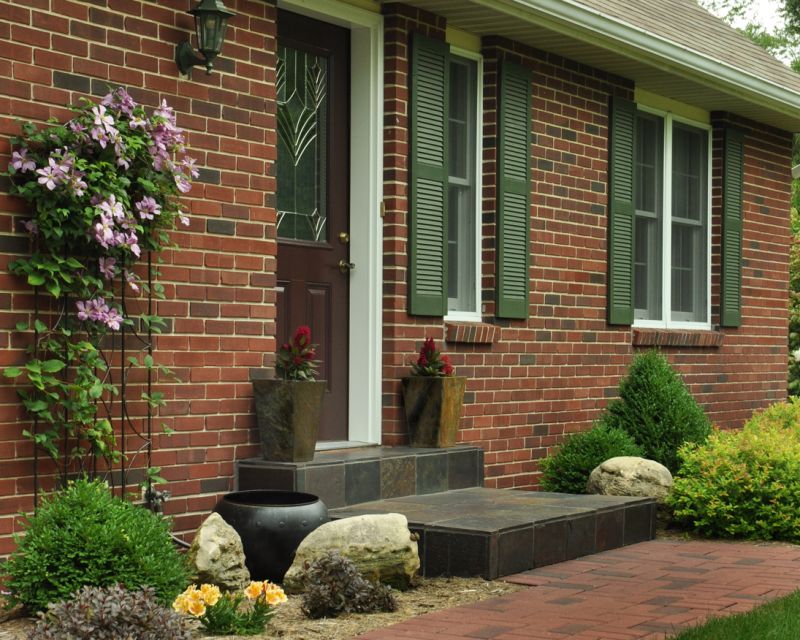 Talk to a local nursery for suggestions on a specific plant that will do well in your Zone 6, but something with non-green foliage would be ideal, or perhaps a plant that produces colorful blooms, fruit, or berries.  Pyrocantha, for example, is easily trained to grow on a trellis and practically explodes with bright red berries that the birds will love.  Jam a line of those up against the house, and fill in the rest of the bed with smallish shrubs and perennials for masses of interesting colors and textures.  Aim for big blobs of plants, not straight lines.  And whatever goes up against the walkway in that bed, put a few more against the walk in the larger bed.  This helps create the illusion that the walk slices through an established grouping of plants.  Professional landscapers often use repetition along walkways; check this example out from Anderson Design Services in Minneapolis: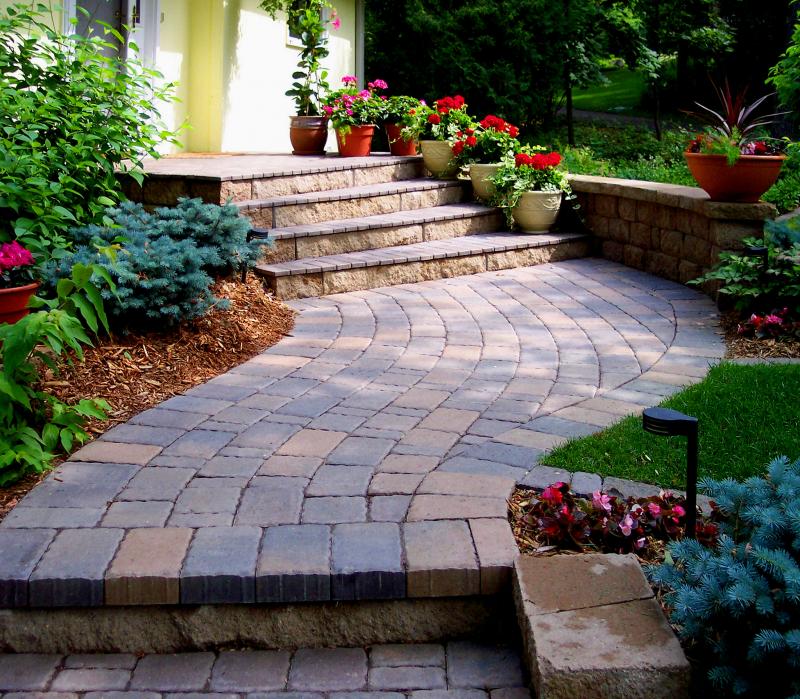 See the blue-green shrub at lower right?  Now look for another of the same plant just to the left of the stairs.  Visitors are subconsciously led down the path with this kind of zig-zagging placement.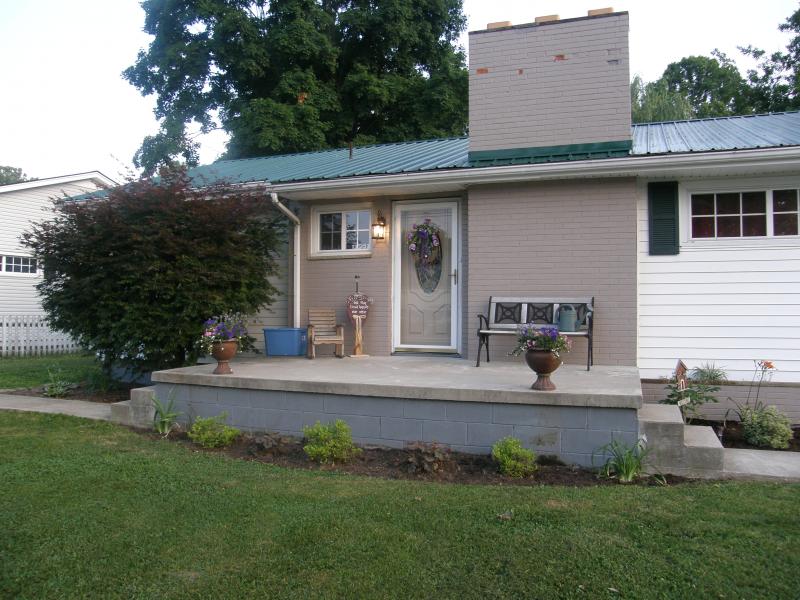 Meanwhile, back on Stacy's porch, the small urns are a good idea, but these particular planters get lost in the bigness of everything else around them.  Go for some monster pots- one on each corner.  Something you could hide in if you had to.  Really.  Bigger pots allow you to plant bigger plants in them, and allow for more trailing plants to cascade over the sides, helping to visually eat up that concrete floor and cinderblock wall.  Additionally, consider replacing the bench with another very large container against that chimney and some tall plant material in it (maybe a spiral-pruned juniper or arborvitae to obscure some of that brick and highlight the front door).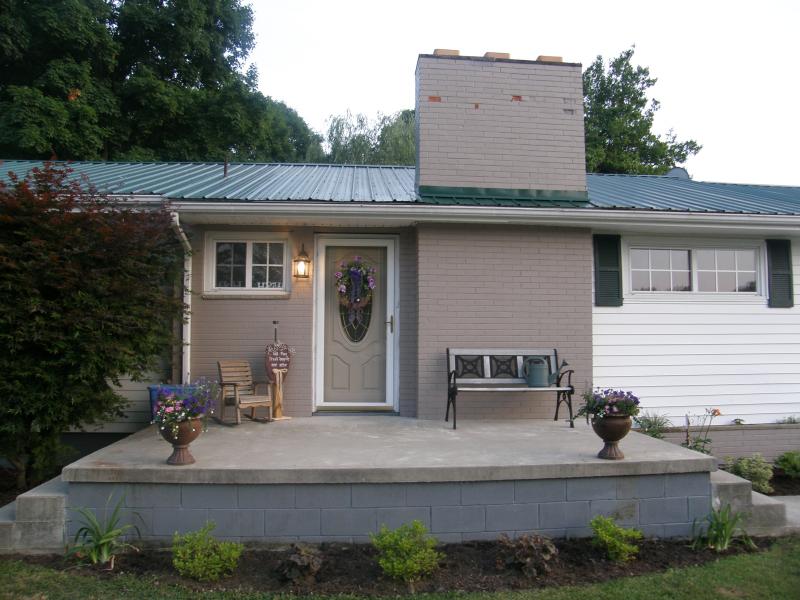 The bench so close to the front door creates a feeling of separation between the house and yard; its placement says that there's no reason to venture into the landscape, no action anywhere but up here at the house.  If the super-sized bed in front is deep enough, put the bench out there in the garden.  Even if no one ever actually sits on it in the landscape, it at least gives the unspoken impression of an inviting landscape awaiting exploration.  If not the bench, you can do the same thing with a birdbath, a fountain, a statue, or even a large sitting boulder.  (By the way, investing in a few big-ass, gotta-have-a-skid-steer-to-move-them-in-place boulders is an instant upgrade to almost any landscape.) Do you have any ideas that could help inspire Stacy?