Letting your landscape creativity run wild is easy when you have a sprawling piece of property to work with: a big, blank canvas ready and waiting for whatever your imagination dreams up.  But what about when space is at a real premium, as in: you don't have any?  If your "yard" is a high-rise balcony twenty stories off the ground, does that mean you're simply out of luck when it comes to creating a garden to call your own?  No, for true visionaries, a challengingly-small space just provides more opportunity to make a huge impact. Check out what's behind Jacque's apartment in Lincoln, NE: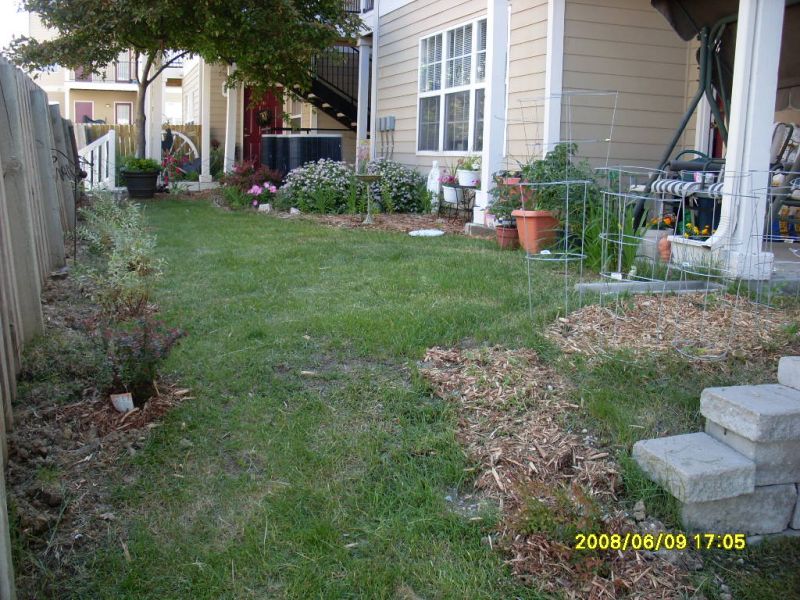 Jacque's apartment happens to be on the ground floor, so she has some actual earth to landscape.  But look more closely and you'll see that the majority of the plants are in containers.  So if you have an upper-floor apartment or condo, you can plant to your heart's content in pots of varying sizes.  Small topiary trees, leafy shrubs, colorful perennials, even vegetables like Jacque's tomatoes!  Now you have a landscape that can easily be changed out with the seasons or your moods… and when the lease runs out, just pack up your garden, put it in the cab of the moving van with you, and re-locate it when you reach your new address. If you do live on the ground floor and have some greenspace that your landlord is willing to let you play with, know that you can work wonders on even a tiny lot.  Cindy did just that with a cottage garden in Campbell, CA, even though her "cottage" is an apartment: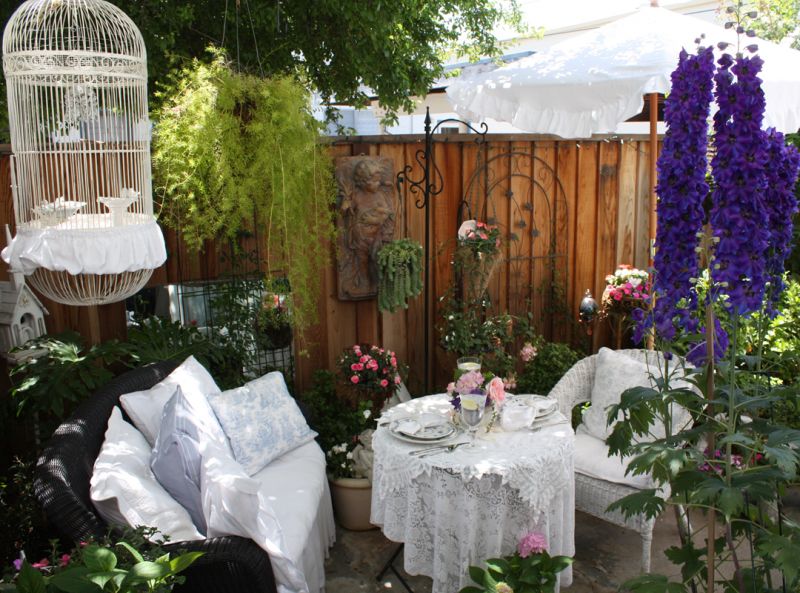 Small yards like that lend themselves especially well to cottage gardens, Asian gardens, and formal gardens that take advantage of the tight confines with strong symmetry and geometrically-shaped beds. Maybe you live on the top floor.  (You know, "… in a deee-luxe apartment/in the sky-y-y…"  Hey, if I'm gonna have "The Jeffersons" theme song in my head all day, I'm not gonna be the only one.)  Movin' on up gets a whole lot greener when you've got a rooftop garden to come home to.  Here's Diane Bowen's little piece of penthouse perfection in Milwaukee, WI: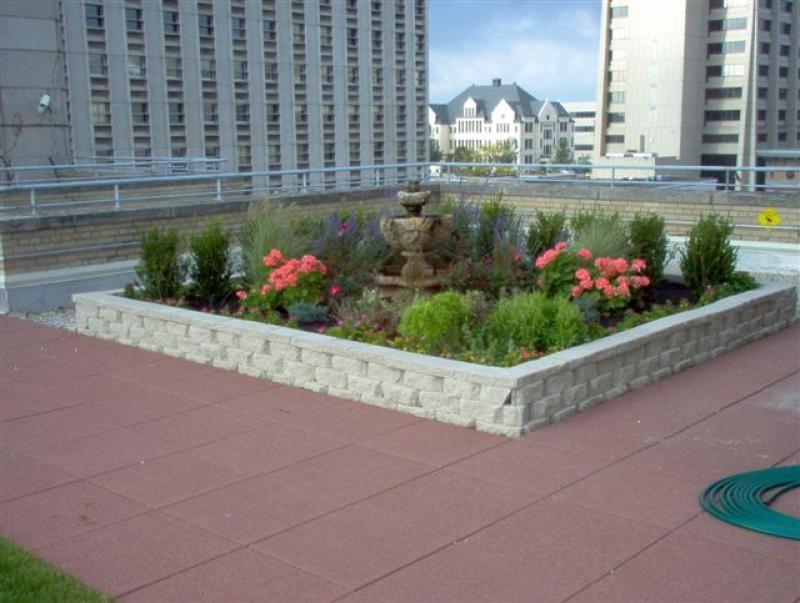 You'll probably want to consult with an expert before you start trucking wheelbarrows full of topsoil through the building's lobby or lugging pallets of sod into the elevator.  Rooftop gardens require a lot of specialized planning and careful consideration, to make sure you don't overload the roof's weight capacity or penetrate any of the building's waterproofing layers, both of which would be monumentally awkward ways to meet your downstairs neighbors.  And thinking through how (and where) your rooftop beds will drain is key. But even landlubbers can create a smaller-scale funky rooftop garden on a toolshed, playhouse, or other outbuilding.  I've even seen plantings placed on a chicken coop!  Avant Garden Inc transformed the top of this 10 x 12 cabana in San Anselmo, CA into a living piece of the landscape: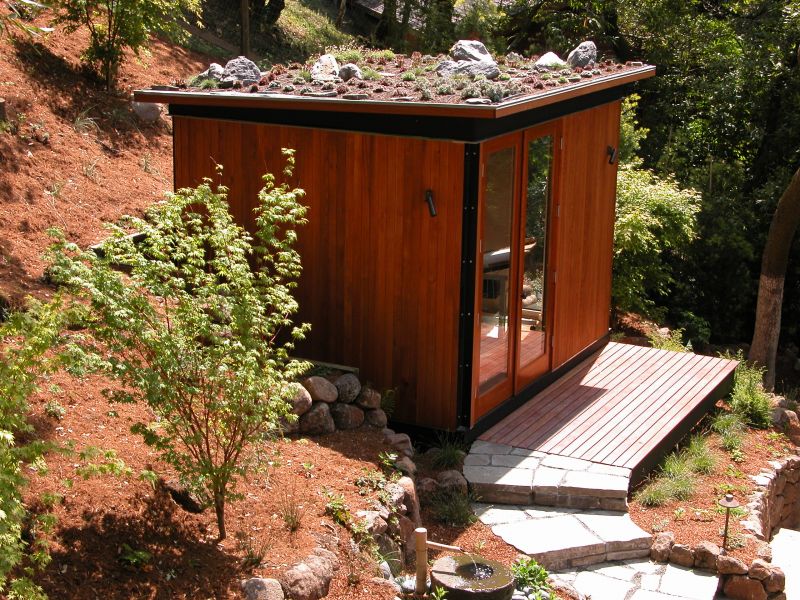 Again, a pro will probably need to help you map out proper drainage, but a living roof can be a space-saving way to increase your yard's greenspace, while providing insulation for the structure underneath… and a cool conversation kickstarter to boot. Live in the big city with literally no yard?  Go a little off the wall, like Darlene did outside her Long Island, NY home: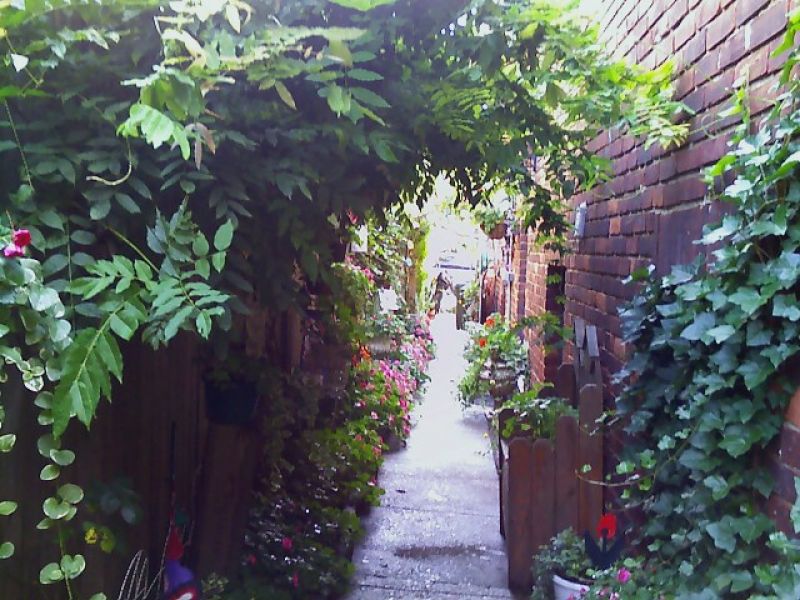 A narrow walkway normally relegated to trashcan storage becomes a lush garden path, with beautiful foliage tucked into pots and hanging from the facades of the building and fence.  There's even a "borrowed" canopy overhead from a tree that looks like it lives next door.  Darlene calls her landscape a series of "vignettes;" I call it a genius way to turn an otherwise wasted space into an outdoor destination spot. Speaking of wasted space, that's what most people would have thought when they looked outside this Houston home and saw a 20 x 20-foot yard, completely surrounded on all sides by a 12-foot concrete wall: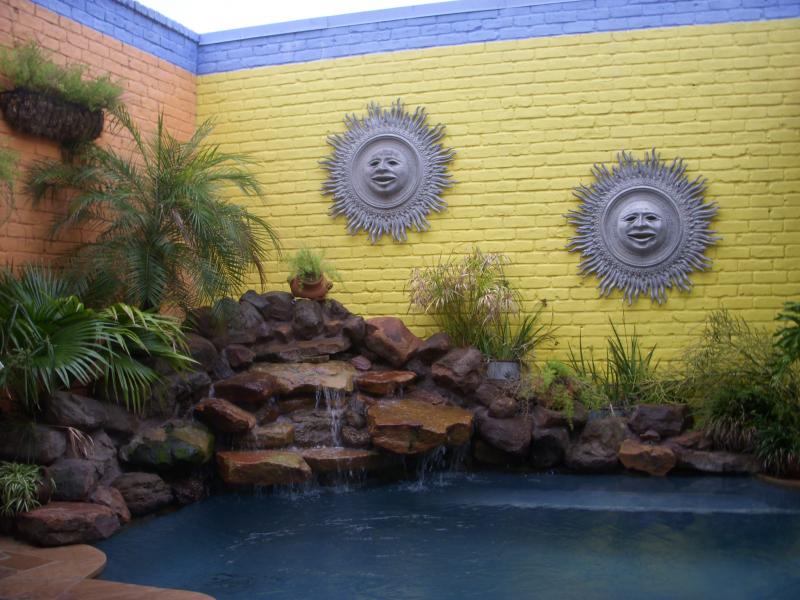 Obviously, Mike saw something else.  He turned that 400-square-foot courtyard cave into one of the splashiest pool landscapes you'll ever see.  Talk about thinking outside the box! It's a good reminder that sometimes, the smallest landscapes are just begging for the biggest ideas.