In the Biblical story of creation, water shows up on the universe's very first to-do list on, like, the third day.  So why is it that so many backyard landscapers forget to include it entirely? There's something primal and instinctive about having water in your surroundings.  Villages, towns, and cities were historically located on or near naturally-occurring sources of water.  And to this day, the ultimate dream of many is to live within sight and sound of a peaceful lake, lazy river, or roaring ocean. But a water element can be introduced to any landscape on a much smaller scale, almost always with big results.  See how these YardShare members have made a splash in their own gardens. For many people, the fancy landscapers' term "water feature" brings to mind a pond.  With a shallow hole in the ground, a rubber liner, and some strategically-placed boulders and rocks, you can put a pond in any corner of your yard.  It doesn't take a huge chunk of land to create a cool spot next to a patio, as shown in this Jonesboro, GA garden from Duncan's Landscaping: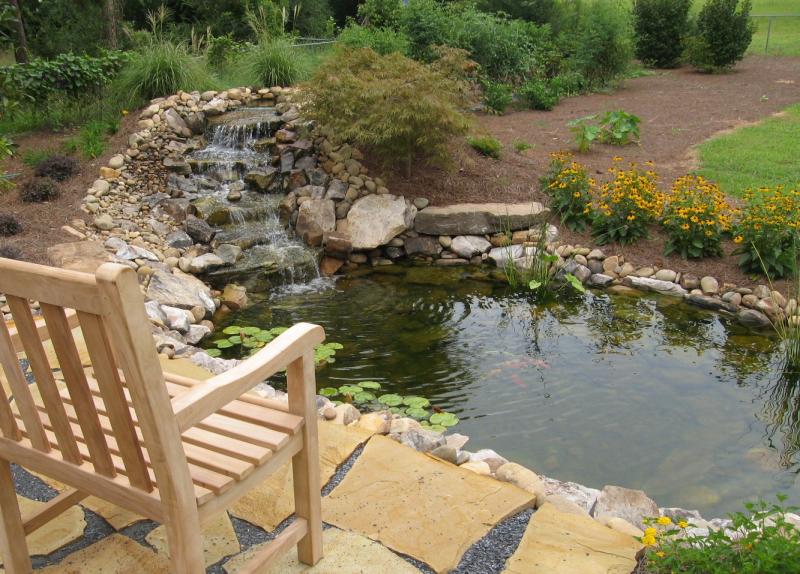 Ponds offer a great opportunity to incorporate some wildlife to your landscape.  Most will naturally attract frogs, birds, and other critters for short visits, but many people like to permanently stock their ponds with fish.  And that's a surefire way to get your family and friends hooked on interacting with Mother Nature on an up-close-and-personal basis, like in this shot of Terry Nussbaum's koi pond: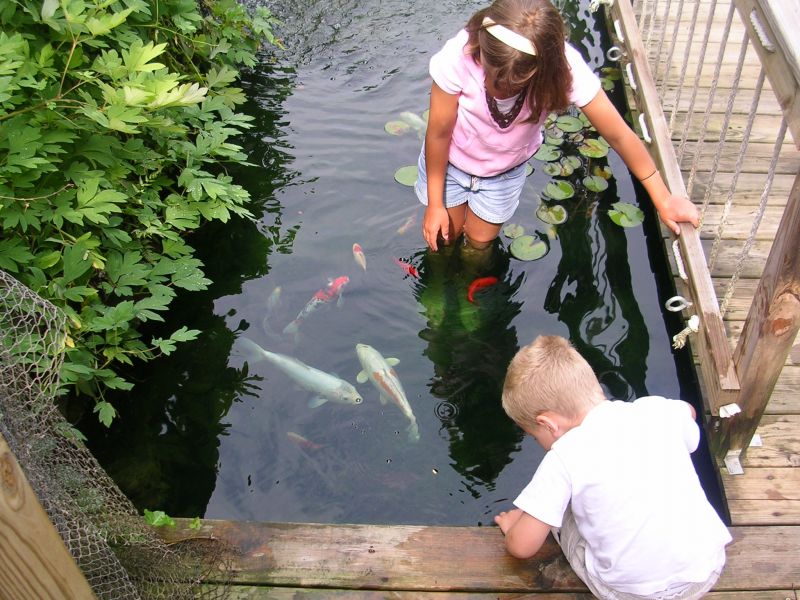 As great as ponds are, without some movement to the water, they can become stale and stagnant pieces of still life.  Most pros, when they construct a pond, also build a waterfall to feed it with continuously-recirculating water.  The effect is dramatic, as the sight and sound of flowing water- rushing down rapids, cascading over rocks, and tumbling into a pool- is almost always a showstopper.  Here's another example from Duncan's Landscaping, this time in McDonough, GA: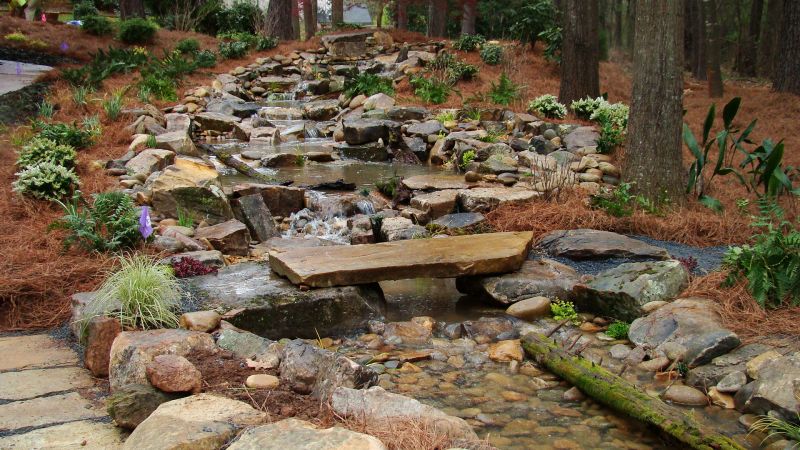 See?  A "waterfall" doesn't have to be Niagara Falls to take your breath away.  But then again, if you have the right topography, bigger can be even better.  Check out David Browne's falls in Berlin, CT: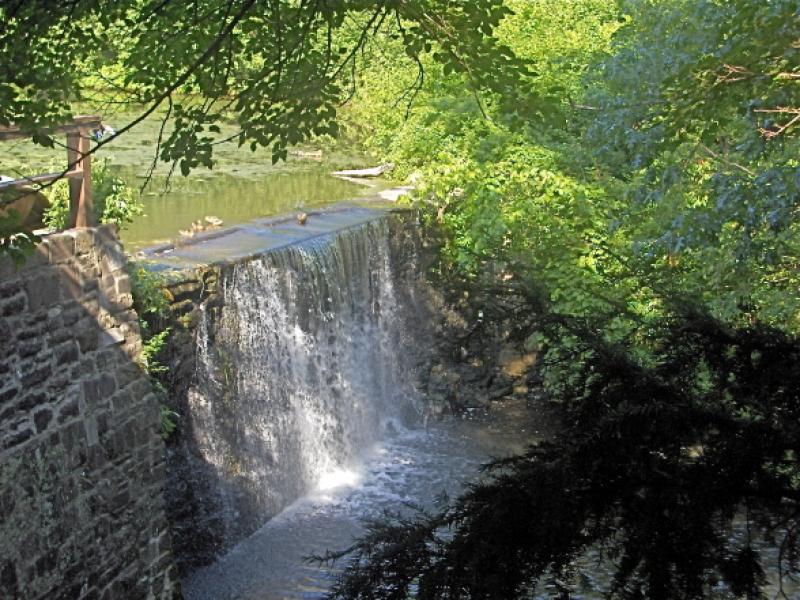 But you can have that same soothing essence of falling water without trying to create a mountain stream  in your suburban cul-de-sac lot.  Fountains capture that same unmistakable sight and sound, and do it in a self-contained unit.  You can place an elegant fountain on a porch, a deck, or even a balcony… places where a real waterfall would be impossible or impractical.  GallantfoxMH in Morgan Hill, CA has all the trickling and splashing in a formal courtyard, where a rustic cabin-in-the-woods look would be out of place: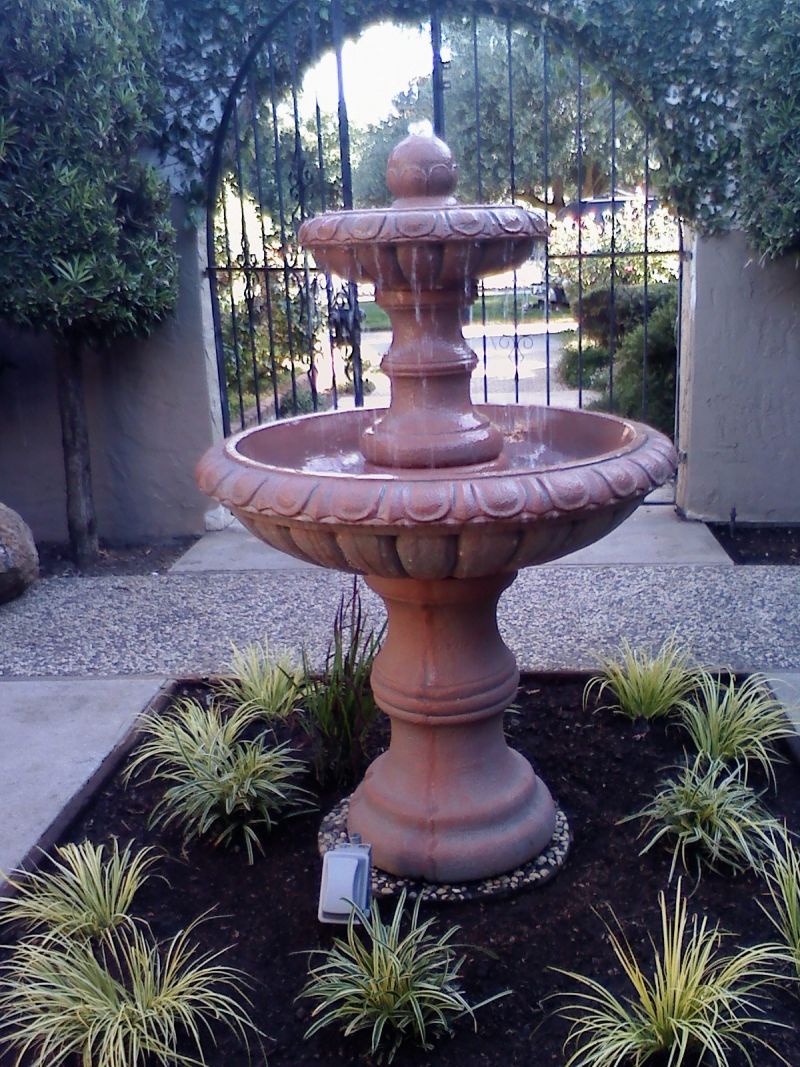 Dropping an almost-identical fountain into a large decorative bottom basin will amp up the sound considerably, making it perfect for masking unwanted nearby noise.   That's what Sharon McBride did near her cozy Bakersfield, CA patio, which abuts a golf course: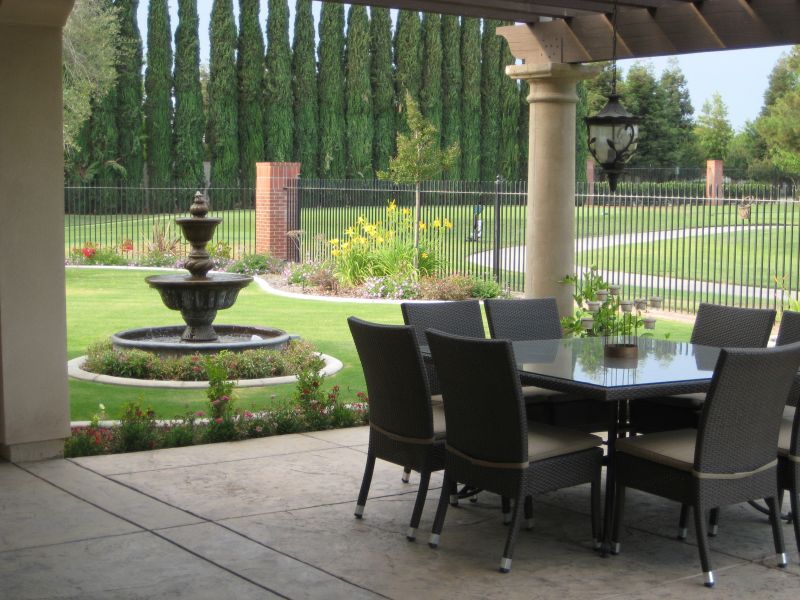 The best part about a fountain is that the fountain itself is a work of art, making an architectural statement even if the water isn't flowing.  This allows you to match the style of your home, the theme of your garden, or just about any mood you want to evoke.  Looks run from classic Roman basins, Greek urns, fat naked cherubs spitting water, or something more modern and sleek, like this sculptural piece from sweetie in Prattville, AL: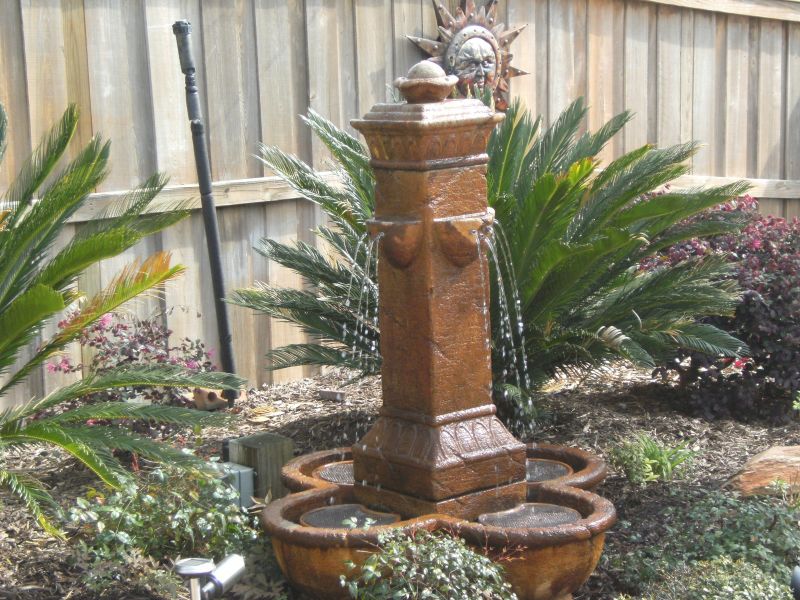 Or maybe a giant rock just works best.  Take a look at what crews did to this half-ton boulder in the York, ME yard of Bob Lovo: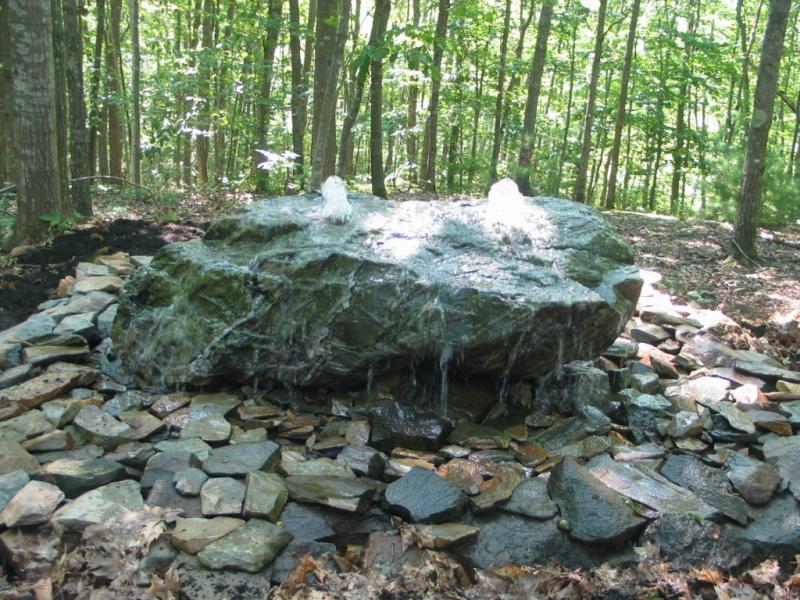 There's almost no limit to what you can create with a little H2O.  Take your imagination, some cues from your surroundings, and just add water.  Like Ann Simmons of Tulsa, OK, you might just come up with something that's more wet and wild than even The Great Landscaper in the Sky dreamed of when he made the stuff to begin with!