There may not be a landscape feature that allows for more wild creativity, extreme customization, and personal expression than a swimming pool.  It used to be that the only pools you saw were either above-ground circles or in-ground rectangles.  There might have been a diving board or a big plastic slide… or maybe both, if the pool owner had gotten really wacky.
Not so anymore.  Pool designers now have countless ways to turn the ol' backyard swimmin' hole into your own personal waterpark, with tons of bells and whistles guaranteed to make a big splash.  From beach entries that let you wade into the water to negative (or infinity) edges where the water seems to drop off into nothingness, the sky really is the limit when you're tricking out a pool.  I've even seen a swimming pool put on the roof of a three-story home… with a glass bottom… over the master bedroom.  Okay, while that may not be everyone's cup of tea, check out these swimmingly swell ideas from some of your YardShare neighbors.
If the word "spa" conjures up an image of a small, round hot tub attached to your pool… or worse yet, a big fiberglass box set in a wooden crate… look at the difference made by a few curves in the freeform spa on Mary Stevens' pool: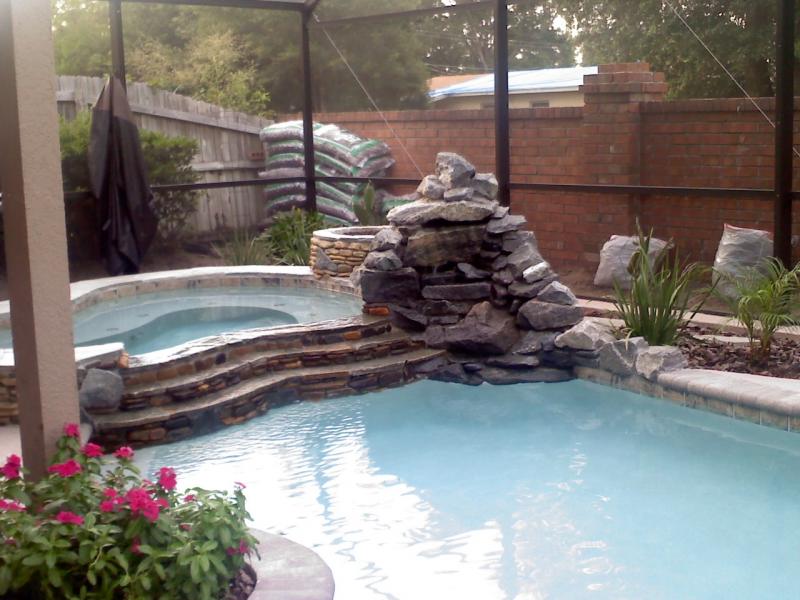 The "shallow end" used to be the boring end of the pool, where the little kiddies tried out their arm floaties, or your Uncle Frank always wanted to string up a volleyball net.  But by making the shallow end really shallow- like 8 to 12 inches- you've created a sunning shelf: an awesome place to sit and hang out and bask while staying totally cool.  Here's a nice one just off the spa from onegr8gem: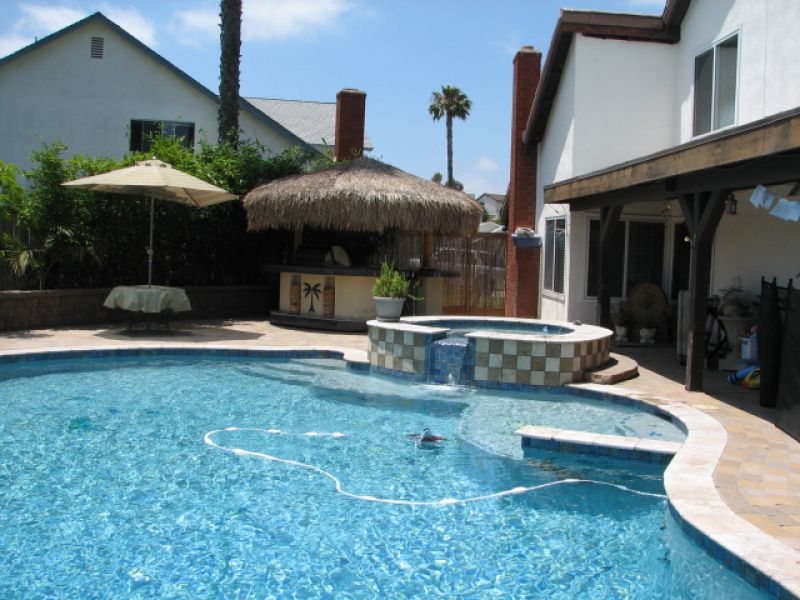 Pools are meant to be entertainment spaces.  Yet a lot of pool owners don't treat the surrounding pool deck as anything more than a thin concrete border.  That's prime real estate for cookouts and pool parties; super-size it and turn it into a destination that's also usable square footage, like Michael and Joyce Anderson did with their Desert Hills, AZ oasis: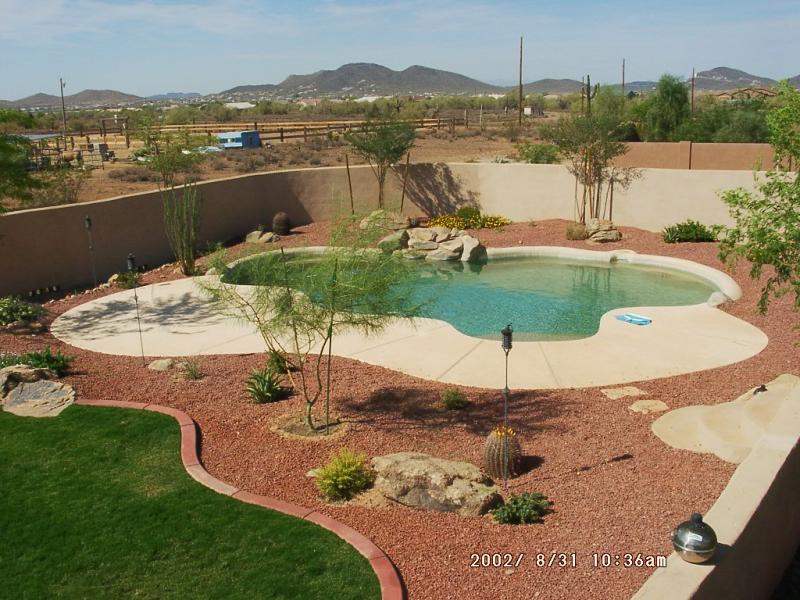 As long as you're entertaining out by the pool, why not have a comfortable place for folks to get in out of the sun and have a hot dog or a cool drink?  More and more people are opting to build cabanas near their pools.  They can be stripped-down little tiki huts, or they can be monster-sized surf shacks with all the toys, like the one Wendell Amos built off his Walkertown, NC pool: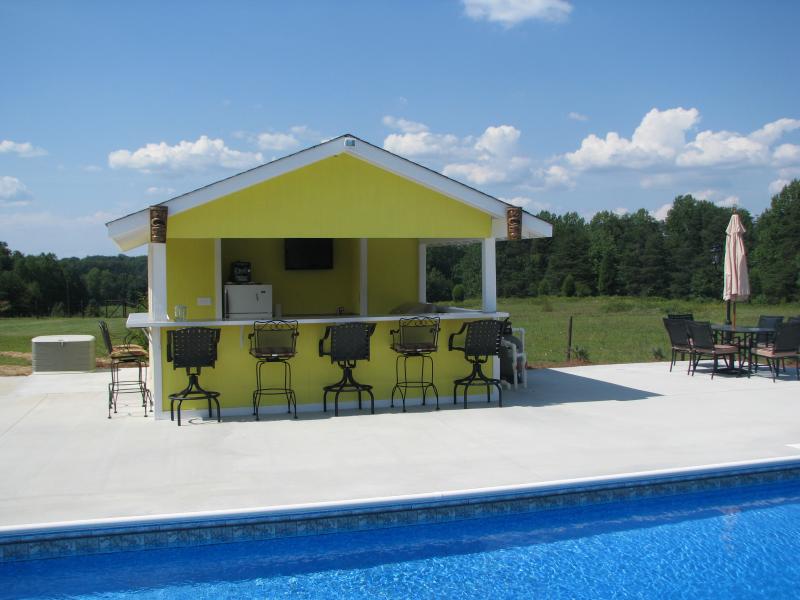 Or put the serving and seating space in the pool itself.  Formerly reserved for the swankiest of island resorts, swim-up bars are becoming all the rage in backyards everywhere.  The bar is usually built into the side of the pool where it's accessed from outside the pool by a bartender who stays dry, while stools are molded into the pool shell, either out of plain concrete, or faux boulders, as seen in this Yucca Valley, CA pool by Jeff Alpin: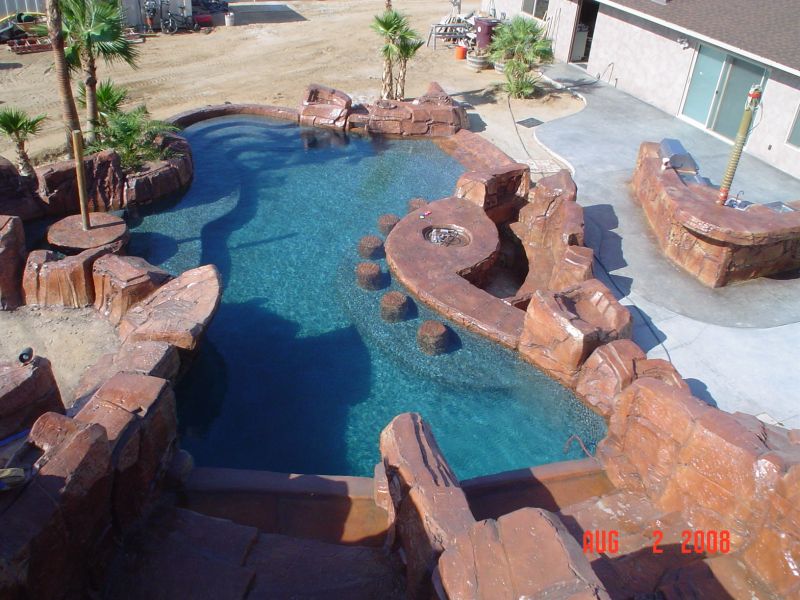 Faux boulders aren't just for zoo exhibits anymore.  You might be surprised at how realistic some wet concrete can look after a talented craftsman gets his hands and shaping tools on it.  Take a gander at this incredible personal waterpark, made mostly out of faux rock by TB Concrete in Granite Bay, CA: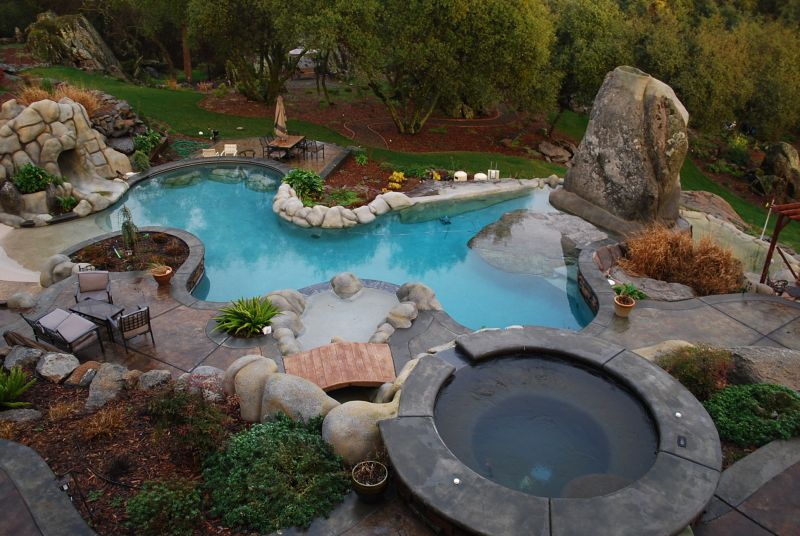 Concrete is even being used these days to re-create that old favorite, the pool slide.  This one is cleverly incorporated into a waterfall/fountain façade in the Arizona pool of Bourgeois: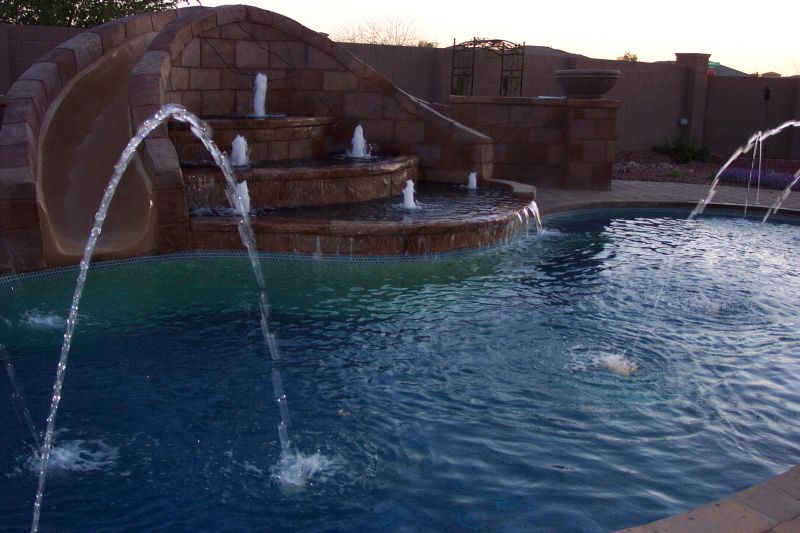 If you think your yard is too small for a pool, think again.  It's amazing what can be accomplished in even the tightest of spaces.  How about a pool in a 20 x 20 walled courtyard?  Mike from Houston did it, and now it's almost like a room of his house: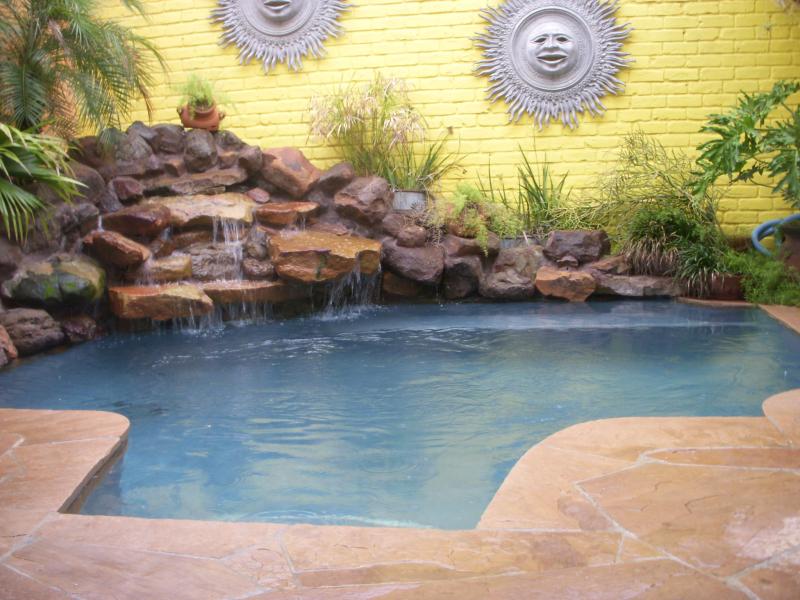 Luxurylister wanted a pool, but knew that the site, smack dab on the Braden River, wouldn't allow crews to dig down more than 18 inches before hitting water.  The result is an above-ground lap pool built into a raised wooden deck that looks fantastic: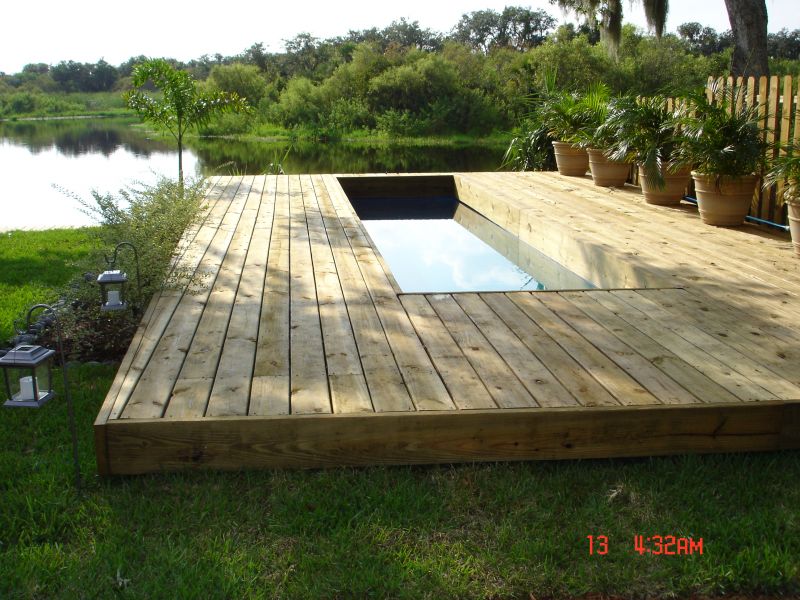 It's almost always a good idea to bring some plant material up near the pool to soften the hardness of the concrete shell and really incorporate the pool into the landscape.  Most people do it with pots.  But try putting true, in-ground beds right at the pool's edge and then filling them with plants that trail and cascade down- even touching the water.  It makes for an amazing effect.  See how Traceydesigns pulled it off in this Damascus, MD pool: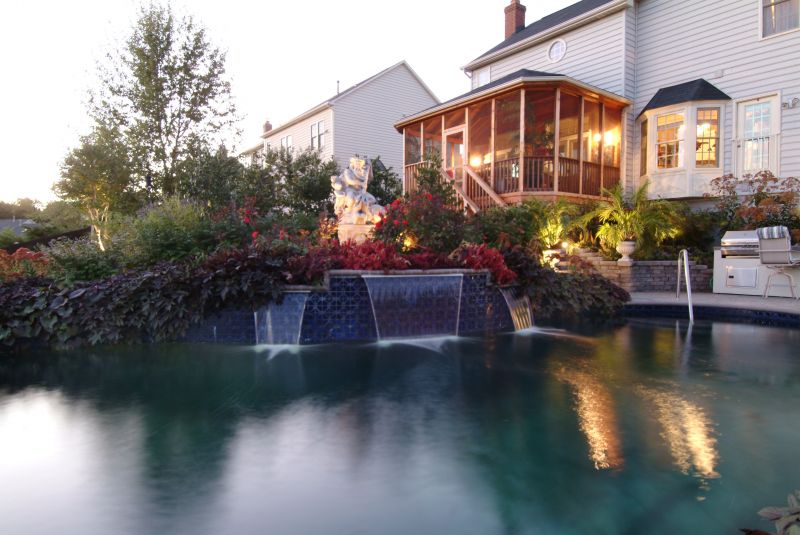 Or maybe you want to introduce some color to the pool in another way.  Ever thought of a design on the pool floor?  It's becoming popular.  Here's a hand-painted example on the tile of a Walnut Creek, CA pool from Christopher Lines and Associates: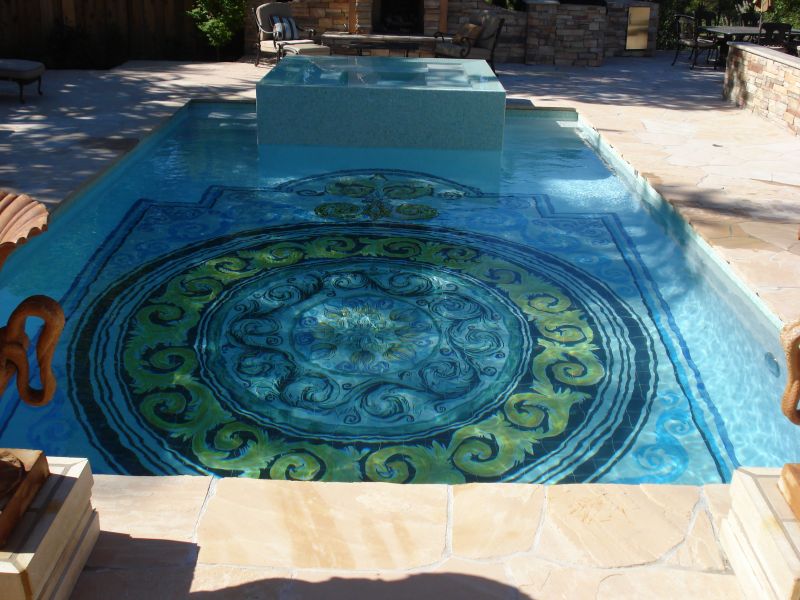 But even if your idea of a pool is still that rectangular hole in the ground, you can jazz that concept up considerably.  Zaynea Niazi of Corona, CA took it to a whole different level with this geometric marvel: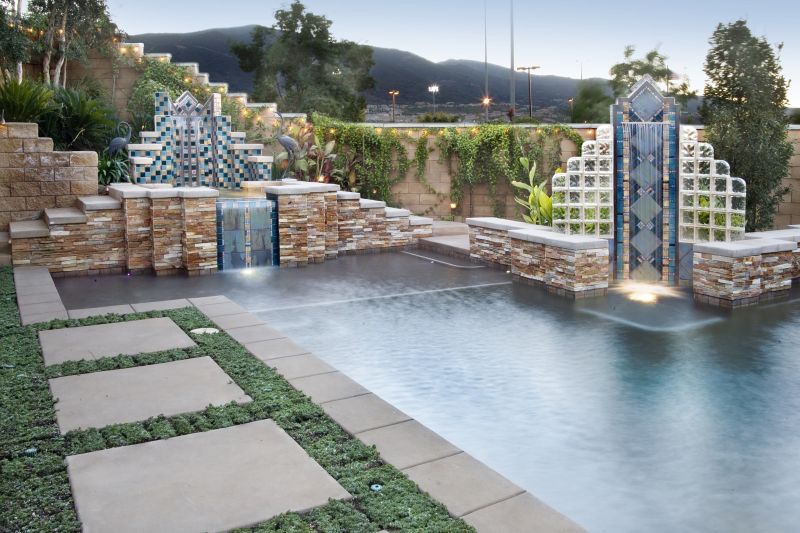 If you're thinking of installing a pool, you can't look at too many others to get ideas.  Ask friends and family what they like, what they don't like, what they'd do differently on their own pools.  Think back to that awesome pool from that vacation spot you enjoyed so much and figure out how to capture some of its essence.  Let your imagination guide your talks with pool designers to find someone who's willing to think outside the water-filled box to give you the pool of your dreams.
But also remember that a bunch of souped-up shenanigans aren't necessary on every single pool.  Sometimes, like when you relax in Puerto Vallarta as beanbucket does, a picture-postcard view may make all the splash your pool needs: