Unfortunately, many of us don't think about "lighting" in our landscapes except for the month of December, when we drape a few measly strings of half-twinkling bulbs over our evergreens or, at the other extreme, fire up an animatronic-reindeer display that would put Clark Griswold to shame.  But your landscape doesn't just stop when the sun goes down.  By using a few simple night-lighting tricks, you can extend the usability of your yard for just a few pennies a day and even create new spaces you didn't know you had and effects you didn't know were possible. The best and easiest place to start when considering landscape lighting are the high-traffic thoroughfares in your yard: the pathways, stairways, and walkways that you use to get from Point A to Point B.  In darkness, those areas can become difficult to navigate or even downright dangerous.  Just a few low-voltage path lights can change that with the flip of a switch.  Look at this yard from Jeff Cook in Oakview, CA: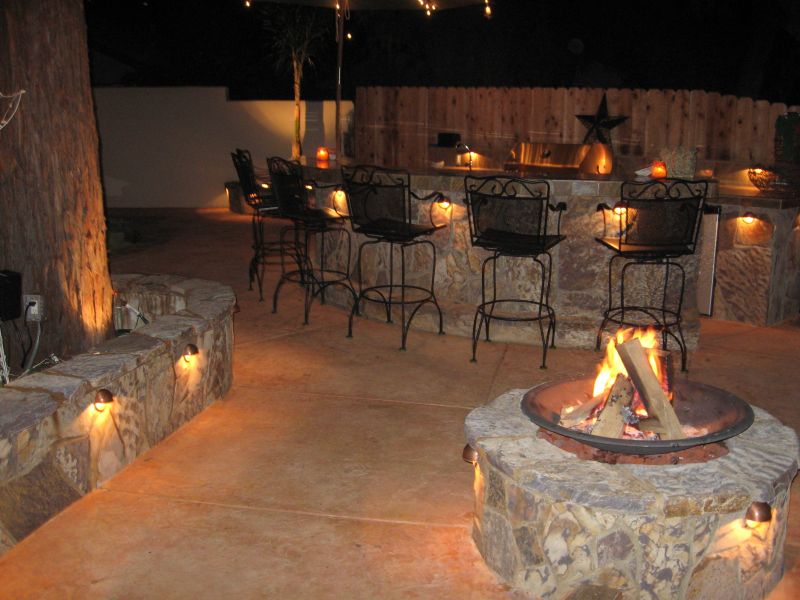 Those little downward-facing lights on the stone wall and firepit are key.  Whether you use high-end fixtures like these or a set of the stab-and-stake kind from your local big-box store, make sure you use enough of them.  Each fixture usually puts out a circular pool of light; the idea is to stagger the fixtures along your walkways and such so that the pools just touch each other.  If there's darkness between one fixture and the next, you need more lights.  And pay special attention on the stairs, like in L Perini's Gilbert, AZ landscape: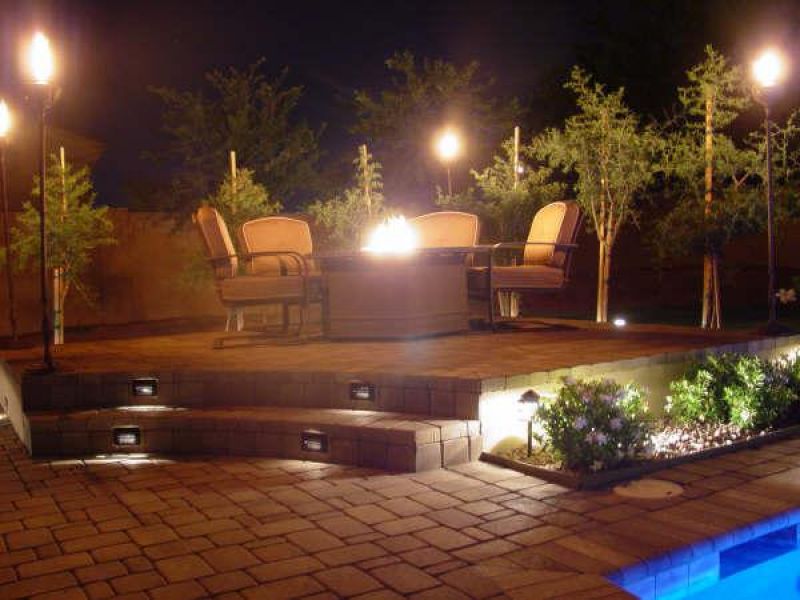 The small fixtures set into the stair risers not only make the patio up top more inviting by leading your eye there when lit, but they make the steps safer to use after-hours… especially if there are a few nightcaps being served. Another popular technique is to use lighting fixtures to literally put a spotlight on certain focal features in the yard.  Here's how Brad did it in his Walnut Creek, CA yard: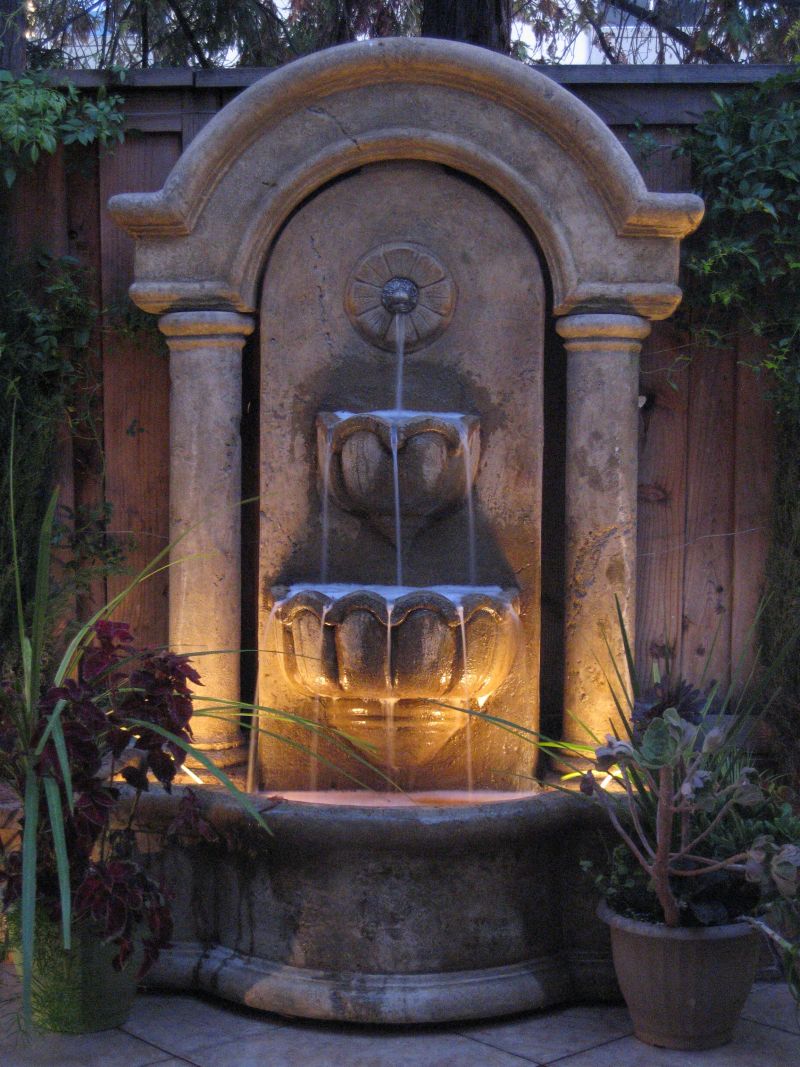 The plants and the fountain are what he wants you to notice, so a small fixture goes in at the base and shines a light straight up at the star of the show.  Pros call it "uplighting," and there's no quicker way to draw your attention to a particular landscape feature (or away from something you want to minimize) at night.  Even in a smaller space, this trick works wonders.  Check out what Tony did in Eau Claire, WI: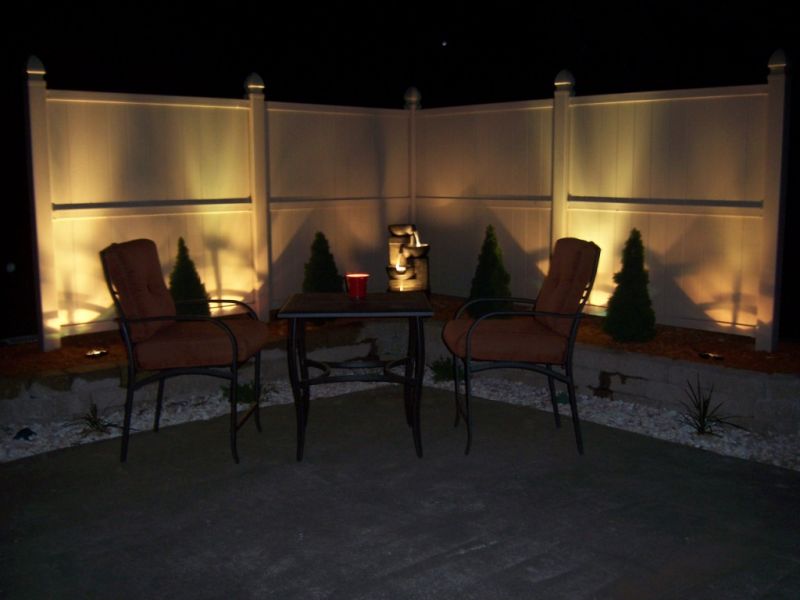 That "boring" slab of concrete almost vanishes, because what really pops is the dramatic sections of fencing that serve as an urban courtyard wall and the nifty little fountain in the corner. Some landscape elements lit up by themselves make a statement all their own.  Check out the contrasts between light and darkness in this shot of Nick Cedeno's backyard in East Meadow, NY: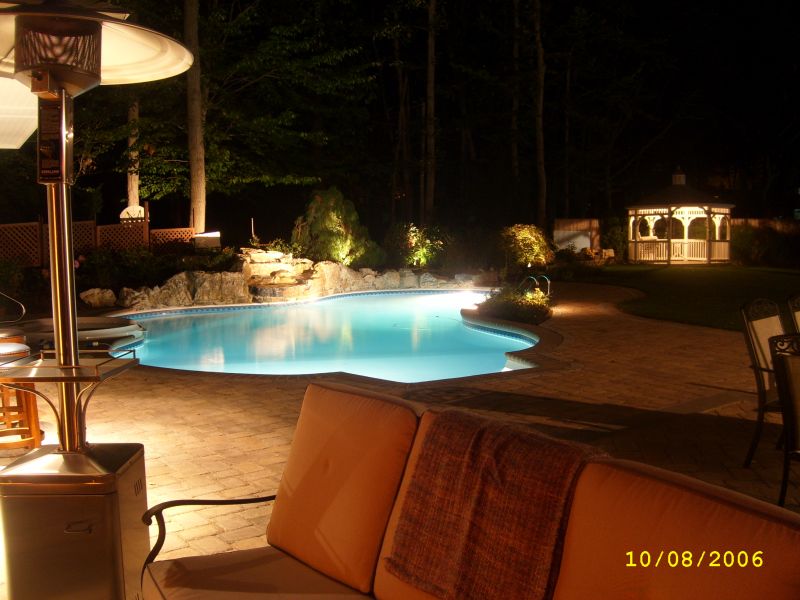 That gazebo just jumps right out at you, lit up like Broadway out there in the back corner of the property.  Kind of makes you want to go check it out, doesn't it?  And how about the pool lighting?  Don't underestimate how amazing even a modest swimming pool can look with underwater lighting.  You'd be amazed how many pool owners never turn theirs on, or have burned-out bulbs that just stay un-replaced.  They're missing a great opportunity to let that bright blue mass of shimmering water shine in the night.  (And lots of pools now feature multi-colored lighting options, so you can make your pool orange, purple, or green with the push of a button.  I even heard of one guy who planned to turn his entire pool blood-red for a Halloween party and dump in blocks of dry ice!) But of course, there's no cooler lighting element than a roaring fire.  Flames are as dramatic and as eye-catching as it gets, and it's hard to imagine any landscape that wouldn't benefit from a little safely-contained fire here and there.  Lori and Phil in Moorpark, CA have a perfect centerpiece with this firepit: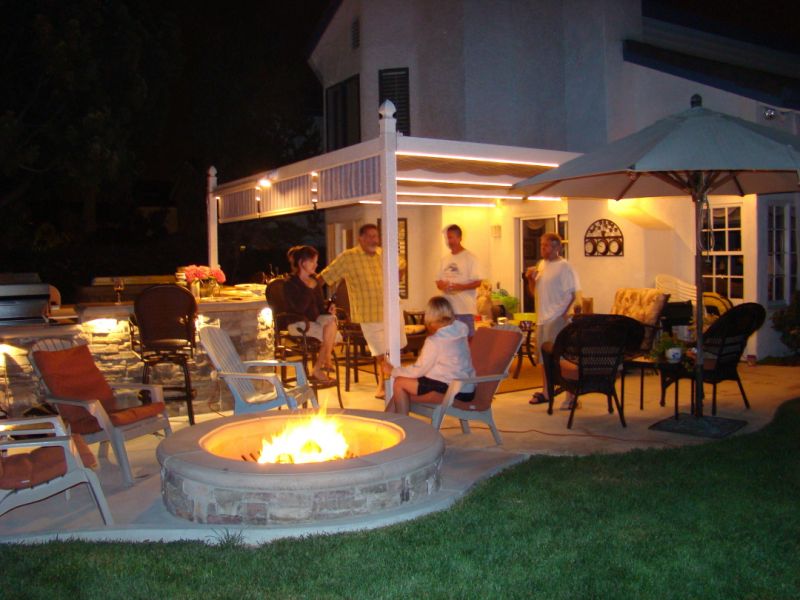 Or get a load of what Howard Boehm did: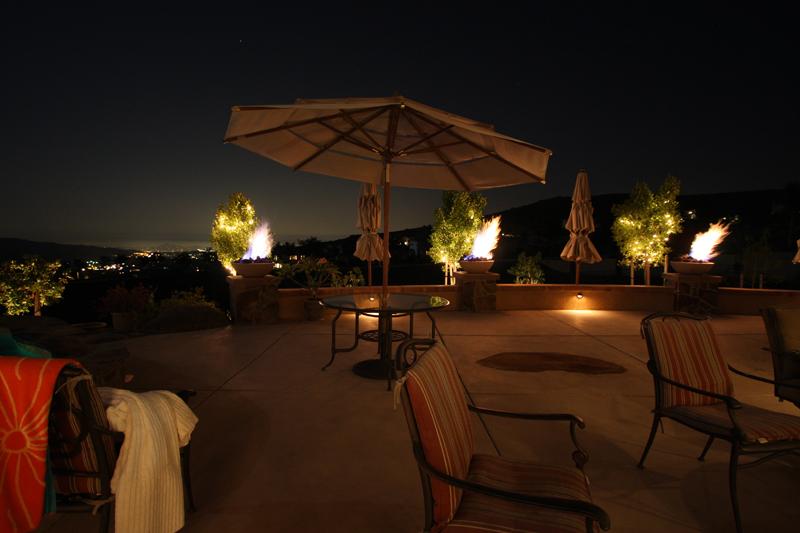 Hard to compete with the commanding view looking down on the city lights and hills near San Diego, but it's darn near impossible to take your eye off those flaming cauldrons along the wall.  They actually enhance the panoramic view and make it even more of a focal feature. So grab a flashlight, get out in your yard, and do a little nighttime exploring.  Look for those features and spots that could be used or highlighted after dark.  You just may stumble across some bright ideas that will put your yard in a whole different light.