Take a look at this backyard, shared by Cheryl & Bill in Conway, South Carolina.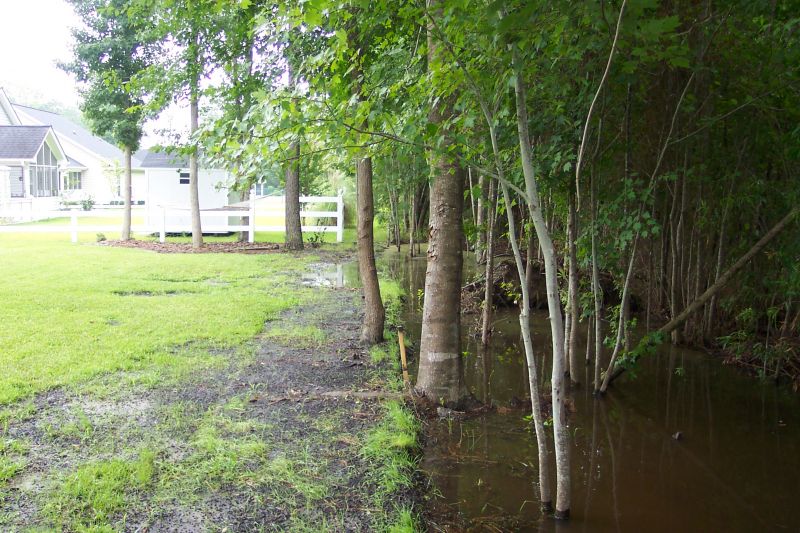 Wow.  That's a lot of water.  It would be interesting to know if that is after just one ordinary rain event. Drainage is a huge consideration when it comes to almost any landscaping project.  One professional landscaper I know has told me that drainage is far and away the top item that he fields calls about.  Seems like everyone thinks they have some sort of drainage problem… but do they really?
Find the source: The key to solving a drainage issue is to first figure out where the water is coming from and why.  If we're talking about a low spot that gets soggy after a rain and then dries out, it's probably not really a drainage problem.  Water flows to low spots.  That's the way it's supposed to work.  It's not a problem at all.  What may be a problem is what you've decided to put there.  If pooling water is killing the new sod you just put down or flooding your new patio, you probably shouldn't have put it there to begin with.  Don't fight Mother Nature; you'll lose every time.
Don't compound the problem: It may be real tempting to find a way to just divert that extra water out of your yard.  You can change the grade of the ground or use other means (like hardscapes or an underground French drain) to move water away from someplace you don't want it.  But simply sending it cascading into your neighbor's yard is a bad idea.  Now you've just created a headache for someone else.
Turn a negative into a positive: Think of that low spot as an opportunity instead of a liability.  You can line a drainage ditch with rock to create a dry creek bed effect, like Laurie La Follette did in her yard.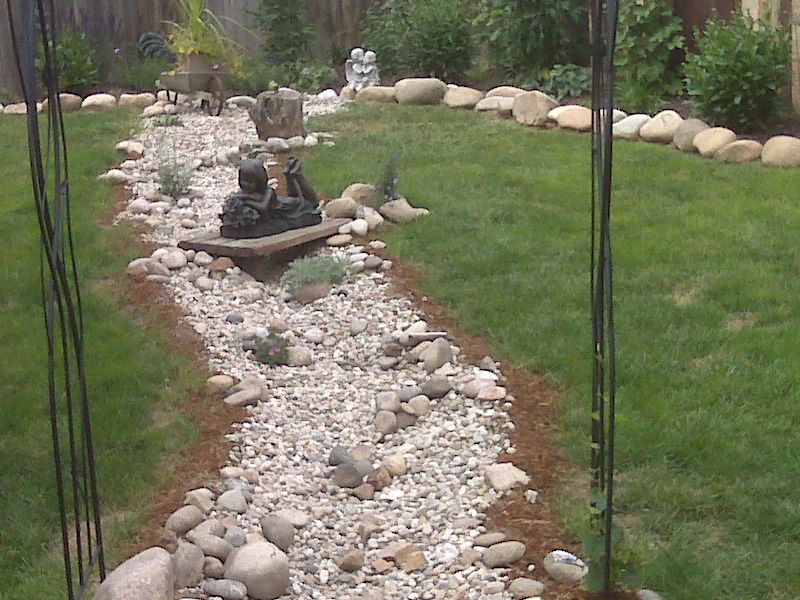 Use the actual drainage pattern as your guide in shaping the creek bed.  Use a mix of different-sized rocks to keep it looking natural.  Drop in some plants that like wet conditions (iris, acorus, ornamental grasses) and look at home along a creek's banks.  You can even add boulders for seating, or foot bridges for access to the other side.  The rock looks good when it's not filled with water, and keeps water moving along when it's full.  Again, let the site dictate the plants.  Don't try to force plants in a wet location if they can't take it.  Check out what Deronda did with water-loving varieties in an area located at the mouth of a storm culvert.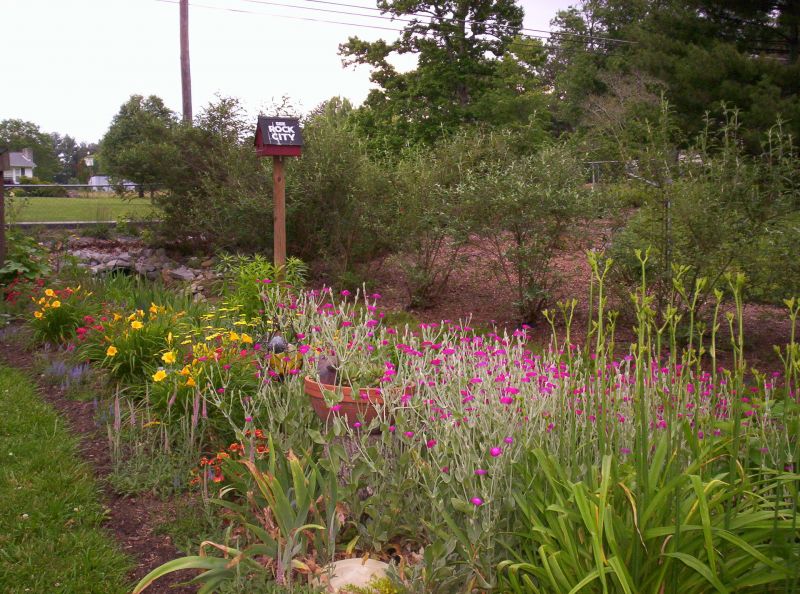 Berm, baby, berm: Sometimes the old out-of-sight-out-of-mind approach is best.  If that soggy patch won't work as a focal feature, you can sometimes block it from view and let it be.  Bring in truckloads of soil to create a berm, or a raised mound, in the landscape, then plant on top of to incorporate it into the yard.  Think of it as a little rolling hillside like you'd find on a golf course.  You're basically creating more high ground and hiding the low spot behind.  But be careful- if you locate a berm in the path of the drainage, you could end up trapping the water and just creating a new low spot.  In Cheryl and Bill's example above, if the water is coming off their own property and flowing to the back treeline, placing a berm in front of the treeline will just hold the water on the lawn.  If all of that water is coming from one of the sides and moving across the yard, a berm in front might effectively hide the problem.
Professional landscape companies charge big bucks to install natural-looking water features in yards every day.  Take a look at your own yard.  You could discover that Mother Nature has already given you a head start on one of your own.  It's up to you to maximize on it.