One of the main reasons a lot of us do not spend more time outside is the heat.  No matter how great your yard is, who wants to go hang out and get battered by the blazing hot sun?  Shade is a necessity for any landscape that's meant to be enjoyed.  In fact, I'd be willing to bet that there's a part of your yard right now that you would use more often… if only there was some shade overhead. That's where arbors and pergolas come in.  Besides filling a crucial role by creating vertical height and interest in a landscape, they do a lot more than that.  They help define living spaces.  We all talk about creating "outdoor rooms."  Well, if the grass or paver patio or redwood deck is your floor… and shrubs and hedges and stacked stone make up your walls… then the arbor or pergola provides the all-important ceiling of your room.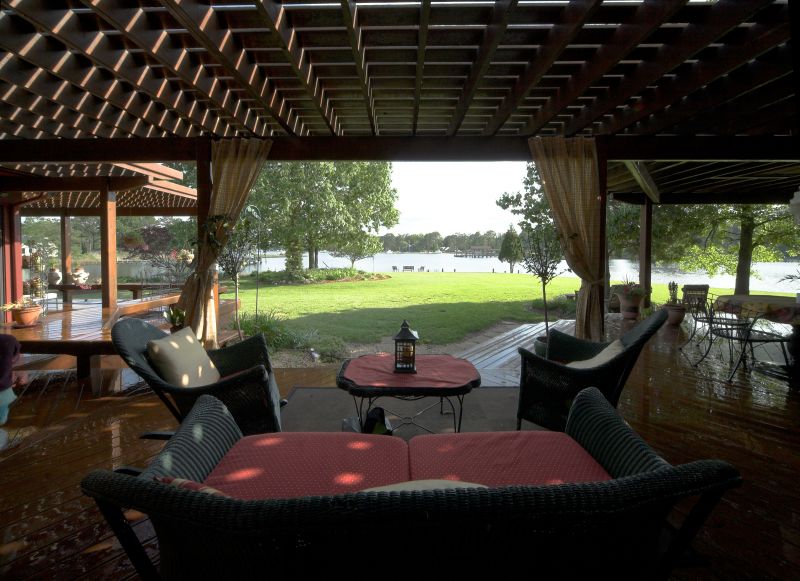 While the two terms are sometimes used interchangeably, arbors are generally thought of as being smaller than pergolas.  If you've got a simple archway over a path, you can probably call it an arbor.  If it's a big, beefy structure with four or more columns and an elaborate gridwork of lumber overhead, it's more accurately a pergola.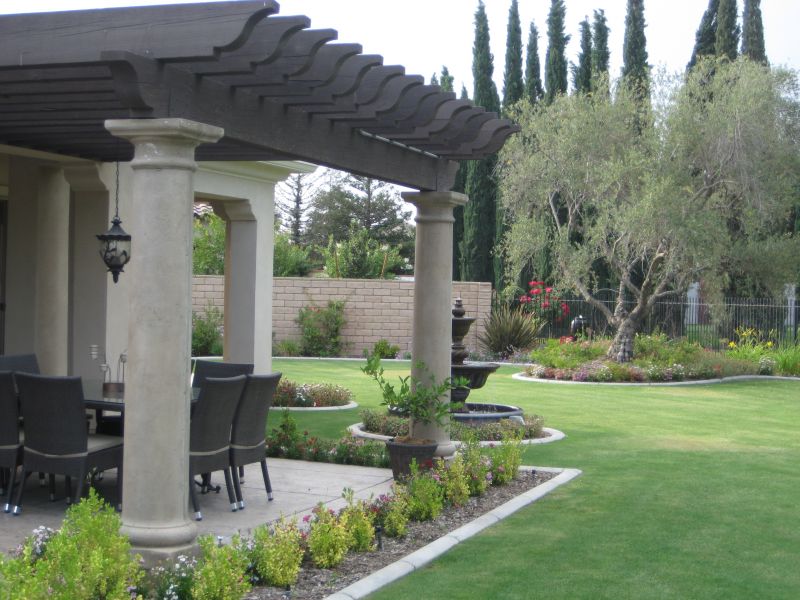 Some Things to Think About
Columns: No matter how big or small yours will be, the columns must be securely anchored in the earth.  We're talking about digging post holes and sinking them in concrete.  Go deep and go big.  If you're going with lumber, 4-by-4s are the bare minimum.  Some pergolas sit on columns of stacked stone or brick, or even on architectural columns.  Depending on how decorative you want to be, they can have collars at the floor (called bases) and/or at the top (called capitals).  Either way, these vertical supports are what hold the whole thing up in the air, so don't wuss out on the columns.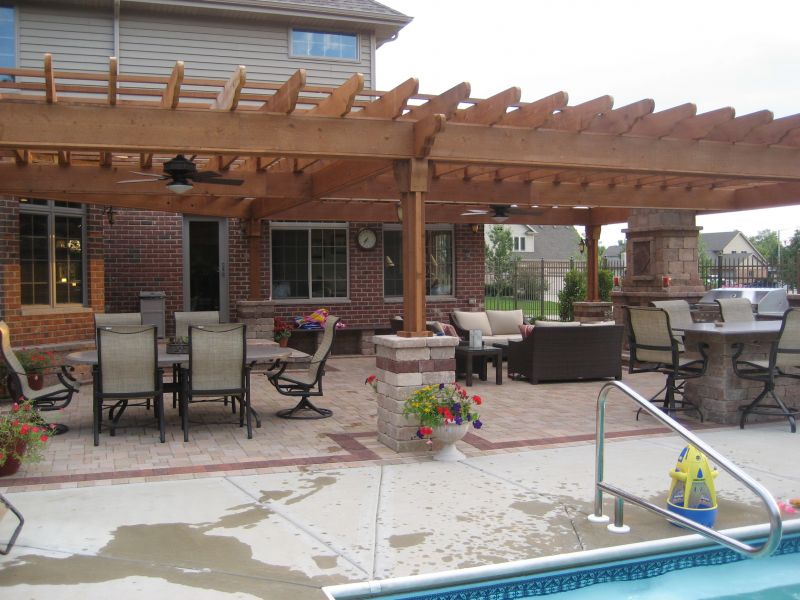 Lintels: These are the horizontal boards nearest the ground, the first and biggest set.  (Often, you'll see 2x10s, 2x8s, etc.)  The tops of the lintels usually sit between 8 and 10 feet off the ground, and are often used in pairs to sandwich the columns.  They often have decorative cuts on the ends, and they're really just there to support the next set of boards.
Rafters: These boards will be smaller (think 2x4s) and sit on top of the lintels at a 90-degree angle.  Here's where you start creating shade.  The space between the rafters can be adjusted depending on how much shade you want to create and how much sun you want to let in.  Again, decorative cuts on the ends are an option.
Purlins: Sometimes there will be another row of even smaller boards (like 2x2s) on top of the rafters.  Purlins are set at a 90-degree angle to the rafters, which will make them parallel with the lintels.  They're usually spaced even more tightly together than the rafters, rarely have decorative ends, and are another way to control the amount of shade/sun under the structure.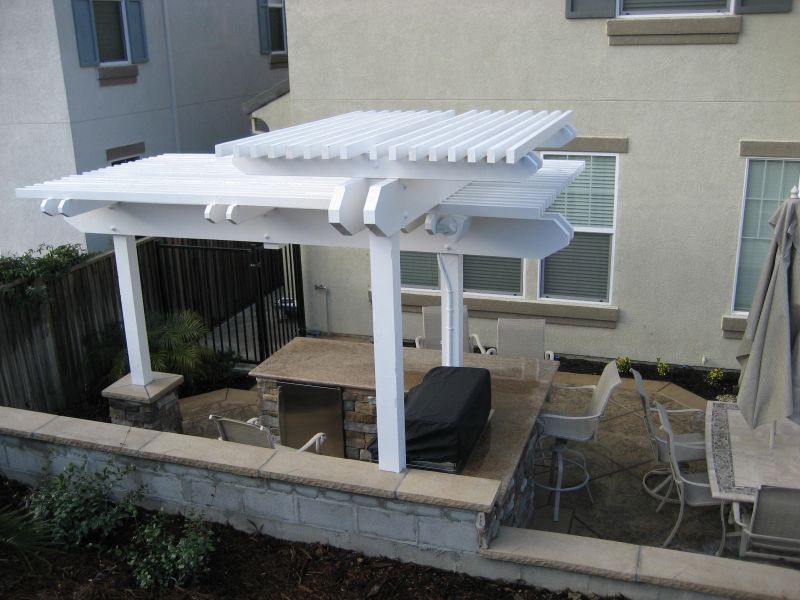 Plant material: The first arbors were simply vines or branches trained to overhang a space and provide shade.  Arbors and pergolas can be strictly architectural, or be wrapped in living plant material for even more shade and interest.  Vines can grow up the columns and then creep across the roof structure to, in some cases, close off the canopy entirely.  (Don't pick overly-aggressive plants; they can rip a pergola apart as they grow!)
Fasteners: Arbors and pergolas weigh a lot.  You've got a lot of lumber up there right over your head.  Plants and vines create even more weight.  Don't skimp on the fasteners.  Nails can wiggle loose over time.  Too much weight can shear deck screws in half.  Nuts and bolts make for a more secure lintel-to-column connection.  Consider using metal strap-type connectors for the rafters.  And always use fasteners that are rated for outdoor use and exposure to the elements.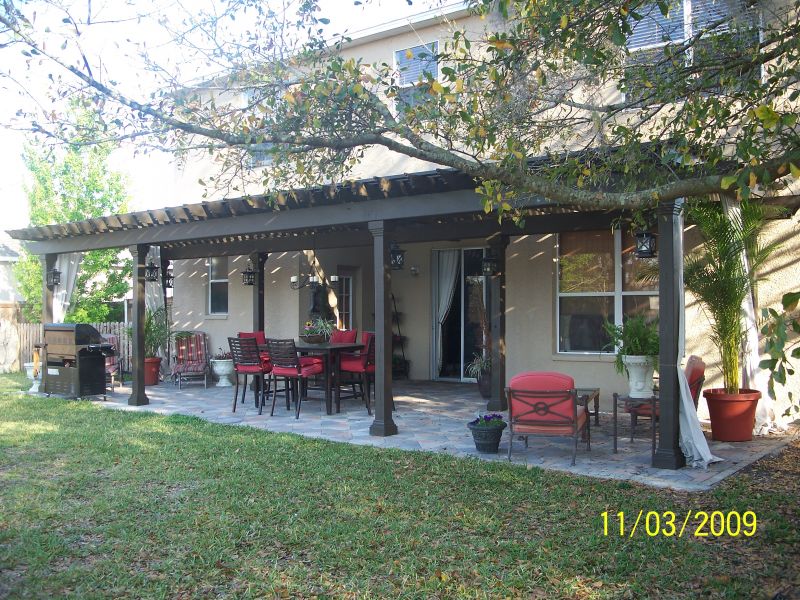 Once it's up, your arbor or pergola can accommodate outdoor ceiling fans, and lighting.  It can provide an opportunity to introduce more plant material to your outdoor room.  It can give a plain façade some much-needed oomph.  Ultimately, it can make your landscape more beautiful and much more comfortable.  Talk about having it made in the shade…