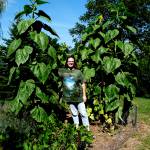 Dawn Swingle
I have lived in CT all my life. We have a large yard, and love to garden. We plant flower and vegetable gardens every year. It's sometimes a struggle to keep the local wildlife from devouring/digging/ruining the plants, as we live in a rural area, but I do enjoy watching the wildlife in the yard -- we've seen black bear, coyote, bobcat, deer and fox, and lots of other assorted creatures. The rabbits and chipmunks in particular love to dig and eat!
My Yards
Dawn Swingle hasn't shared a yard yet.
My Favorite Yards
Dawn Swingle hasn't favorited any yards yet.