Back Yard Pictures & Design Ideas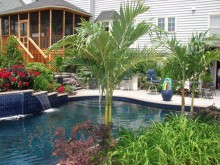 Most of the landscapes featured on YardShare are residential areas designed by homeowners (and they do a great job!) But we also get a chance to peek at how the other half lives, too. The concepts presented in these glamorous resort landscapes can be used to make your own yard look even better. ...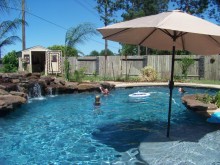 With summer fast approaching, your teenagers will soon be out of school. This time of year, teens need a place to gather that's safe and fun. Why not make it your back yard? If you make your yard inviting enough, yours can be the "cool" house where all the neighborhood teens gather. ...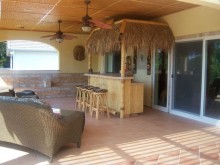 Whether you're a Jimmy Buffett "Parrothead" or just daydreaming of the warm sands of Waikiki, nothing says "tropical" better than a tiki bar. So tune up the Macaws and Birds of Paradise, mix up some Mai Tais, and join us on our virtual tour of Polynesia as we visit some great tiki bars!...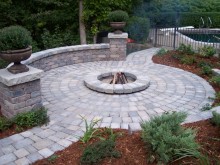 Since the dawn of man, people have gathered around fires. Fire has protected us from wild animals, kept us warm, and cooked our food. While most of us no longer need protection from wild animals, a back yard fire pit can be a great place to keep warm on a chilly night, roast weenies and marshmallows...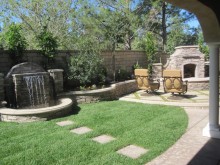 Are you self conscious about the size of your...yard? Having a limited lot isn't anything to be ashamed of. Lots of people have this issue and still manage to live happy and fulfilling landscaping lives....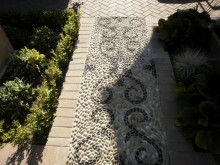 A pathway that "leads right to your door" is a core element of landscaping design. Of course, there's a big difference between a path leading to your front entryway and one that meanders through the garden behind your house. ...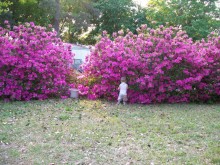 Questions about how to make the most of a small space are pretty common. But it can be just as hard - and much more expensive - to landscape a large yard. If you are staring out at a great, yawning expanse of lawn, here are some ways to fill in the blanks....
Yards are simply an outdoor extension of your home. The front yard is like your porch…everyone can see it and walk up to it. But only those invited in can see the inside of the house…just like your back yard. So how do you create privacy in a yard where you have neighbors, streets, or public walkway...